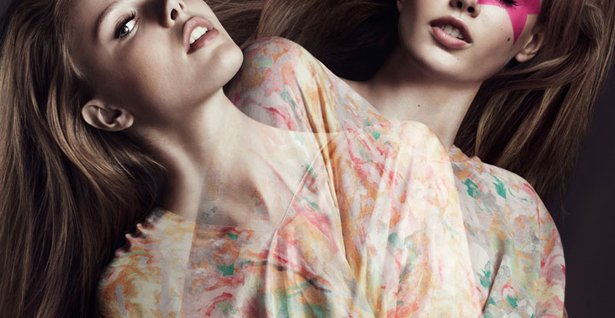 ShareThis
Are you afraid of prints? You better come to terms with that fear quick because this Spring is going to be full of them. From fruit bowls to flower beds to planets in space (courtesy of JPG), designers were taking inspiration from loads of different places and splashing them on everything from tops to jumpsuits for their collections. Check out the most popular – and eye popping – prints of the season and try the trend out on a few patterns perfect for testing out the look!
The Print – Fruity Pebbles
Stella McCartney and Miuccia Prada were digging through the fruit bin for their Spring collections. Are you brave enough to sport a banana printed shirt or pay homage to citrus fruits on your suit jacket?
The Print – Punchy Florals
Head-to-toe print is hard enough to pull off on it's own – I envy the girl with enough gusto to sport giant floral head-to-toe print! It's definitely not for everyone.
The Print – Mixed Media
Even harder than sporting one print is mixing them. The trick to mashing up your prints is to make sure they're in the same color family. Find a similar shade between the two and try to mix prints that are very different from each other, that way it looks a little more purposeful and not like you got dressed in the dark.
If you need a bit of guidance, SUNO executes the mixed print look perfectly. Zebra and polka dots? Shouldn't work, but somehow they make it look chic and effortless.
The Print – Boho
Are you tired of the boho trend yet? I can do without hippie fashion myself, but these bright paisley and ethnic prints are decidedly more refined and give off that whole gypset air.
The Print – Graphic/Digital
Totally modern, these digitally printed pieces are nothing short of wearable art. I'm especially fond of the large scale prints on Mary Katrantzou dresses, and I love how she uses the graphics to accentuate interesting details and cuts on her garments.
And you can't talk about prints without talking about Missoni! While they're known for their weaving – not printing, they are the masters of creating and mixing different colors, textures and prints. If you need inspiration, look no further.
Are you ready to try prints out for yourself? Check out these patterns to get you started!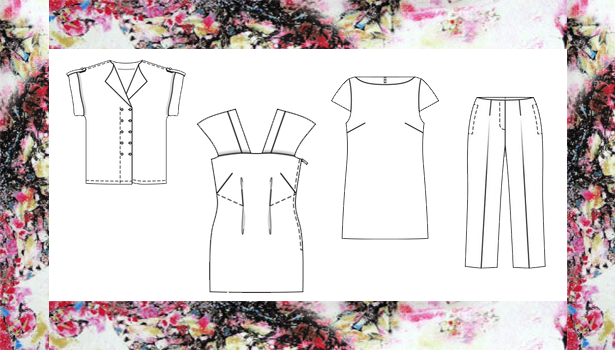 -Simple shapes are a really good place to start when you're working with prints. The Slouchy Blouse is easy to work with so you can worry about other things like making sure those prints match up!
-The Jocelyn Top is the perfect piece to channel Mary Katrantzou's digital architecture. Use the interesting shape to bring out a cool, abstract print.
-Another great simple shape is a Cap Sleeve Mini Dress which is also a fantastic backdrop for a large print.
-Daring enough to try out a printed pant? It's not as scary as you think! Cropped Pants are really popular for spring and you want to make sure that if you are putting prints on your lower half that the silhouette is sleek and tailored.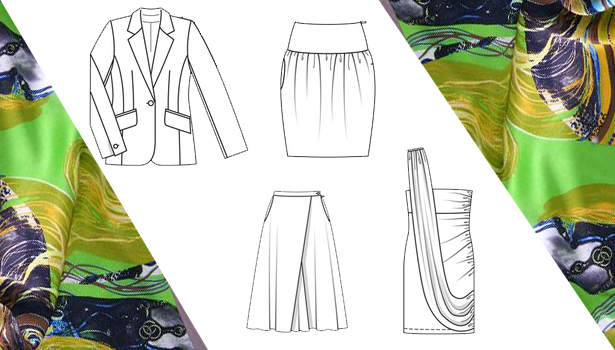 -If you're more skilled in the ways of crafting garments, try making a Suit Jacket with printed fabric. It's a fun way to dress up your more basic pieces.
-An all over print Bubble Skirt might be a bit much, but using one large print (like in the case of the Jil Sander ensemble) will be on-trend but not overwhelming.
-Embrace boho chic with a printed Maxi Skirt, but remember the difference between hippie and refined is all in the pattern you pick. Opt for bright paisleys and ethnic ikat prints.
-From the minute I saw this Dress with Scarf pattern I thought it would be great to make the dress in a solid color and the scarf in a lightweight, printed silk or jersey. What do you think?
Do you have any tips for working with prints? What is your favorite way to utilize printed fabric? Garments? Trim? Accessories?