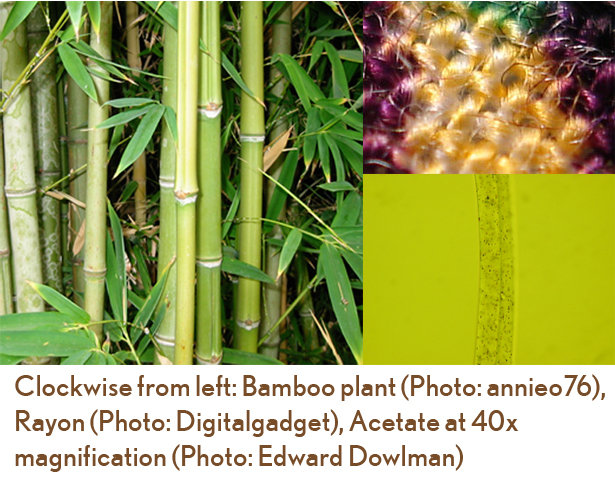 ShareThis
Last month when I wrote about natural fibers, I was pleased that several of you asked about bamboo. But before I answer your questions, I want to tell you about manufactured fibers and how they are made.
Originally, manufactured fibers were created to mimic more expensive natural fibers like wool and silk. Today, manufactured fibers are engineered specifically to have certain properties that natural fibers don't. Manufactured fibers come in two primary types: cellulosic, which are plant-based, and petroleum-based.
So, yes, some manufactured fibers do in fact originate from plants. In the manufacturing process the plants are broken down into chemical solutions which are then forced through tiny holes to make filaments, much like a silkworm extrudes a liquid that hardens into filament.
Here are some common cellulosic-based fabrics and their qualities:
Viscose is the generic name for Rayon, which is its brand name. Chemically, Viscose resembles cotton, but it can also take on many different qualities depending on how it is manufactured. It is strong, absorbent, soft, comfortable to wear (especially in hot climates, since it doesn't retain heat), inexpensive, and it drapes nicely. On the downside, Viscose shrinks when washed, deteriorates with exposure to light, is susceptible to mildew, and the fibers weaken when wet. Use a cool iron when pressing Viscose, since it can melt.
Acetate has excellent drape, feels and looks similar to silk, is comfortable to wear in all seasons, doesn't shrink much, and resists moths and mildew. Acetate should be dry cleaned or carefully laundered because the fibers aren't very strong, especially when wet. Acetate dyes beautifully, but the colors tend to fade with wear and cleaning. Use a cool iron when pressing acetate, since it can also melt. When blended with other fibers, acetate can give a fabric wrinkle resistance and nice drape.
Lyocell, more commonly known by its brand name Tencel, is soft and absorbent, strong, takes dyes nicely, drapes well, and is resistant to wrinkles and shrinkage. The process for manufacturing Lyocell requires very little water and produces little air pollution, which makes it more environmentally friendly than other cellulosics. It can also be given a variety of textures during the manufacturing process to make it resemble suede, leather, and even silk.
And you may have guessed by now that bamboo is also a manufactured fiber. There has been quite a bit of controversy over this fiber recently because it was initially touted as an environmentally friendly natural fiber with bacteria-resistance, moisture wicking capabilities, biodegradeability, and sustainable qualities. Unfortunately, however, many of these beneficial qualities are actually lost during the chemical manufacturing process. If you would like to learn more about bamboo fibers and the controversy surrounding them, you can review this FTC Consumer Alert and this article from Super Eco.
Next month I'll introduce you to the petroleum-based manufactured fibers and their qualities.
—Liesl Gibson
Liesl Gibson designs the popular Oliver + S line of sewing patterns for children's clothing. Read more of her writing on the Oliver + S blog.