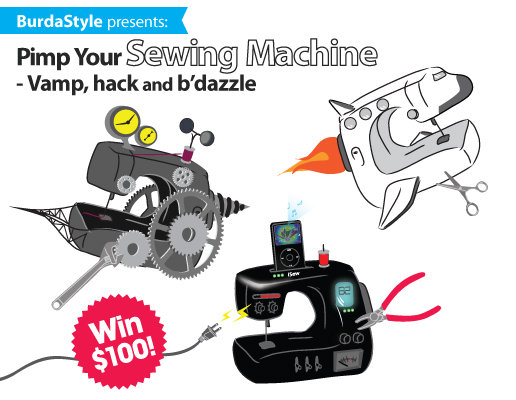 ShareThis
BurdaStyle Presents:
Pimp Your Sewing Machine Contest!
-Vamp, hack, and b'dazzle
What if your sewing machine flew like a spaceship, played music while you were sewing, or took part in the steampunk movement?
BurdaStyle would love to see your dream sewing machine!
Join us in the Pimp Your Sewing Machine Contest and win $100!
Send in drawings, video or photos of your pimped out machine to team(at)burdastyle.com.
The prize for a great pimped out sewing machine drawing will be $50. However, if you send in photos or video of your pimped out machine you could win $100!
Send in as many entries as you would like. Just get them to us by 11:59 pm, November 30th 2008
Once all of these are collected, you will get a chance to vote for your favorite!