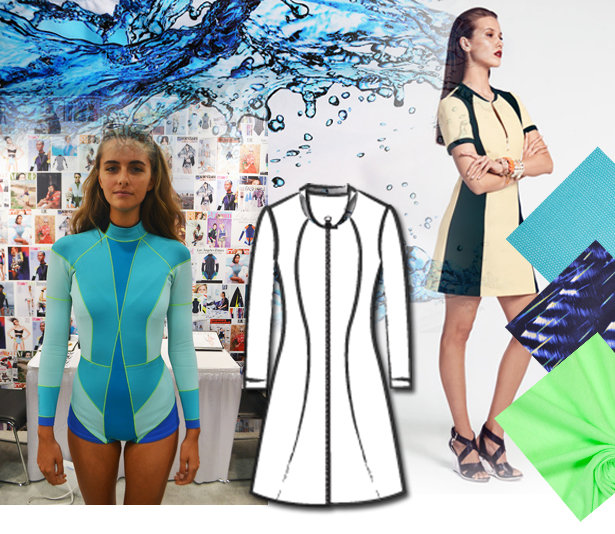 ShareThis
Concept boards are a great place to explore design and fabric ideas for your garment, so you can narrow done construction details, design ideas, and styling. I like to do a concept board after my moodboard to give me a better direction of what I want my final design to look like. The moodboard is more about inspiration and the concept board is about getting down to those design ideas getting you closer to the finished garment.
Here is an example of my concept board for my next Meg's Magazine Mash Up for the July issue. I choose to 'mash up' our edgy Zipper Neck Dress pattern. I loved the style of it, and in making my concept board I decided to collage and explore a scuba theme using neoprene fabric and scuba style zippers. I also designed the dress with long sleeve like the suit I found inspiration from on the left.
Concept board are so fun to make and collaging images is very inspiring. New to making concept boards? No problem, since we are running a new course Concept Boards for Fashion Design presented by the talented Donald Procunier.
Last month I decided to 'reveal' my mash up patterns before publishing mine so you can have to opportunity to make a variation of your own to be featured in my monthly post. Check out my last month's post here to see my latest mash up with member projects as well.
So if you want to make your own mash up of this dress and be featured in my next post, publish your project by Sept 1st and make sure to link to the pattern!
Excited to get sewing my design!
Meg