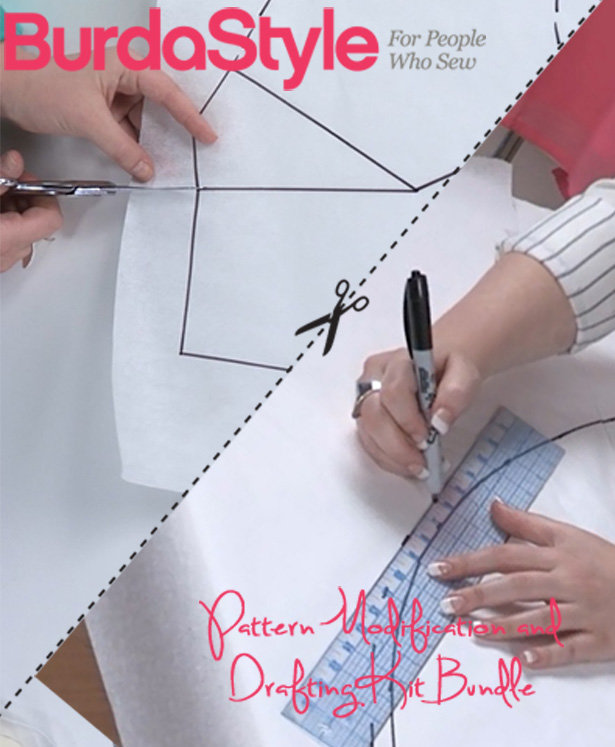 ShareThis
February is the month of pattern drafting! Don't miss another chance to get November's best selling Pattern Modification Kit.
Adjusting the Bust Size of a Pattern
This month's limited edition Pattern Drafting Kit goes beyond basic bodice and skirt patterns to draft collar treatments, gathers, and skirts. You'll learn to draft your own bodice and skirt slopers with Meg Healy's popular web seminar, and build on your skills with three technique videos. We didn't want anyone to miss out on the foundation for this great kit, so we're relaunching the beginner friendly Pattern Modification kit!
Sewing the Perfect Dart
The Pattern Modification Kit shows you how to interact with and adapt sewing patterns to suit your curves and your style. Videos are included for adjusting the bust size of a pattern, sewing the perfect dart, and drafting garment facings. Meg Healy's "How to Modify Pattern Styles" web seminar shows you tips and tricks like changing pleats and necklines, adding pockets or gathers, moving style lines, and drafting collars.
Get started designing with this jam packed digital kit. You'll also receive basic patterns for a skirt and bodice to get those design ideas flowing!
You can also get both kits together for $49.99. That's 30% off!
Buy the Pattern Drafting and Pattern Modification Kit bundle