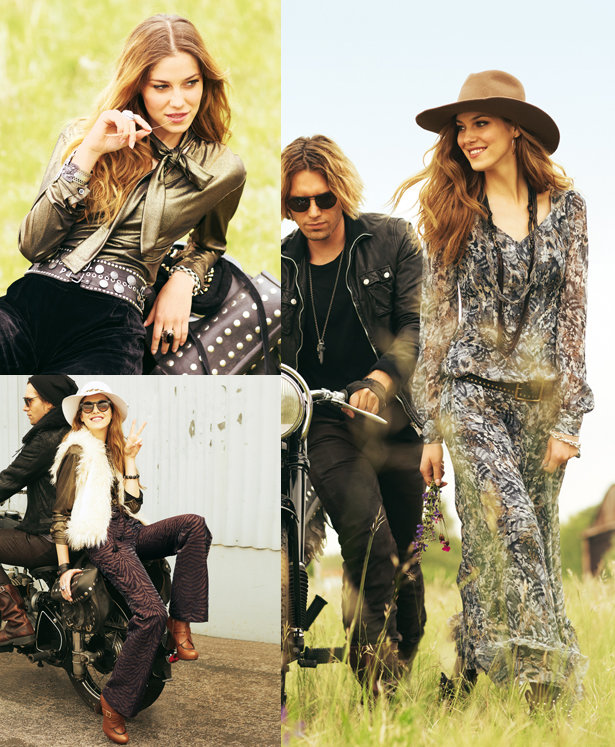 ShareThis
Fill the tank and hit the road on an autumn adventure. These blouses, dresses, and layering pieces have a bohemian style to take out for a ride. This collection is from the October 2011 issue of Burda Style magazine. All instructions to previously published patterns have been updated.
A beginner friendly dress pattern goes glamorous with flowing metallic jersey. The Metallic Wrap Dress is a great piece to have in your rotation for all occasions. Change up the look with a print or plain black jersey.
Rock and roll in a leather mini skirt. The classic 5 pocket style looks just as good in denim or corduroy. Complete the look with the Chiffon Blouse with Tie Band in a cool psychedelic floral, textured tights, and a floppy hat.
The Wrap Dress is a beautiful vintage design that never goes out of style. This is a beginner friendly dress pattern you can make totally your own with accessories.
A necessary pair of high waisted Bell Bottoms with a full fashioned zip fly, hip pockets, and belt loops. Keep pleats stiff for a menswear look.
The Jersey Tie Neck Top accessorizes itself! The cute scarf tie makes a keyhole neckline and you don't even need jewelry. Make it extra edgy in metallic jersey or lurex.
Polish up your look with a fitted Corduroy Waistcoat. It's short with a deep V neckline for a feminine fit. A playful finish for any outfit.
A super easy Long Hippie Coat can be styled up with vintage fabric, patchwork denim, whatever you like! This style looks great with a belt.
The enchanting Boho Crepe Chiffon Long Dress will transport you right to the seventies. It's easy to sew but has lots of detail: a sweetheart neckline, puffed sleeves with buttoned cuffs, waist darts, hip pockets, and a ruffled hem. Try making the bodice in a contrasting solid fabric for a different look.
Even beginners can sew this whimsical Fur Vest. It's a fun topper for denim shirts, folky dresses, or finishing off a costume. Why not make the Trousers with Side Leather Lacing and go as Janis Joplin or Jimi Hendrix for Halloween?
Wear these pants when you want to feel like a wild child. They lace up with suede cord along the thigh so you can hit the stage in style.
Layer one or a few of these pieces into your outfit for a hint of rock and roll. Fall is the time to experiment with your look! A little leather, some fur or fringe, and a drape of metallic jersey pair perfectly with your favorite boots and wide belts.
Happy sewing!