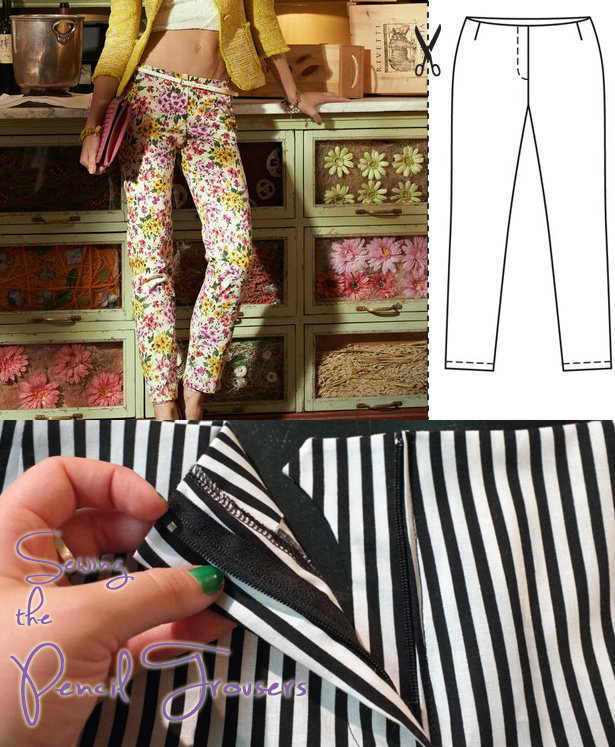 ShareThis
October's Limited Edition Pattern Kit is on sale now! Take a look at what's inside. This month, we're sewing up the member favorite Open Back Dress.
The BurdaStyle Kit of the Month provides everything you need to create your own customized version of a popular Burda pattern, all in one discounted package. Start off with a PDF pattern and in-depth sewing tutorial. Bonus technique videos are included to guide you through tricky techniques and customization options, like adding quilted leather knee panels. Next, take a look at our styling guides to put your look together. You'll also get a 10% discount code to Mood Fabrics to pick the fabric of your dreams!
October's kit features the Pencil Trousers. These flat front pants have a slim, cropped fit. We'll cover techniques like the zip fly, and show you how to add pockets and leather embellishments! This special kit includes the pattern PDF and instructions, plus all the extras you need to sew a one-of-a-kind piece, all at one low price of $29.99. Take a peek at what's inside…
Pencil Trousers
pattern PDF and instructions

These narrow trousers don't have a waistband for a slim fit. Darts on the front and back fit them beautifully to your figure. Great for a vintage look!
RETAIL: $5.40
Sewing the Pencil Trousers Tutorial


An in-depth tutorial by instructor and BurdaStyle editor Meg Healy guides you through each sewing step, from cutting the pattern to sewing the inseams and zip fly. You'll also learn how to add leather trimmed back pockets and decorative knee panels.
RETAIL: $19.00
Technique Video: How to Sew a Fly Front Zipper with Waist Facing
Video

With this video, you'll learn how to perfectly sew a fly front zipper and open a whole new world of garment sewing.
RETAIL: $16.99
Technique Video: How to Sew in Leather Knee Panels
Video

Learn tips for sewing with leather and see how to add fun decorative knee panels to a pair of trousers. This is a fun technique for adding a custom look!
RETAIL: $16.99
BurdaStyle Styling Guide
PDF

Finish your look with styling tips from the BurdaStyle editors. Meg, Dani, and Mandie share their picks!
RETAIL: $4.99
10% Off at Designer Fabric Store MoodFabrics.com


Make these stylish pants in designer fabric from MoodFabrics.com. You'll receive a code for 10% off your entire purchase with this kit.
Value: $6.00+ (based off fabric and notions needed for pattern)
Get yours now!