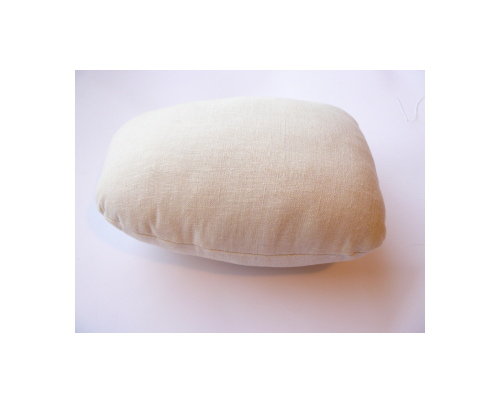 ShareThis
Where has the past week gone?! Life seems to be so full at the moment that time just goes by in a flash. I still haven't managed to work on my Jorinde blazer or finish my JJ blouse. I did however manage to make myself a tailor's ham. I figure that since I've spent a lot of money on the fabrics I'm using for the blazer I should really make sure I do a good job of making it. The most important part of making a garment look good is pressing as you go so I decided to look into the tools of the trade. I came across these posts on The Sewing Diva's website with heaps of info.
I'm in the process of making my own set of tools and will post how-to's here on BurdaStyle so you can make your own. A tailor's ham is probably the most often used pressing tool, it is used for pressing any seams that you find hard to press on a flat ironing board, you will find my how-to here, it is very easy to make. Next is a seam roll, useful for pressing long seams such as sleeves and pant legs. I have partly made my own version using a rolled up newspaper, batting and cotton fabric, I have just a few last minute touches to make and need to take a photograph of the finished roll and I'll post my how-to. Next I'm going to make a few pressing cloths which are basically just squares of lint free fabric such as muslin or cotton drill. I'll also make a pressing mitt using some terry toweling. I'm not sure how much I need the wooden tools such as a clapper or press blocks, although I do like the idea of beating the hell out of a piece of fabric, it would be great stress relief! If and when I do need such tools I'll look into making them myself or having someone make them for me locally. Do you use pressing tools when you sew? Do you have any tips or recommendations?
Now, onto the sew along. April's sew along pattern, 'Nichola' has been quite popular and has also had an extra few weeks running time due to me not being around but now it's time for something new. I have set up a new thread in the forum for our new sew along which will be the Ellinor blouse. For those about to enjoy the summer months this could be made in a light weight fabric and for those of us about to enjoy winter it could be made in a heavier fabric. I've made one of these before and hopefully will find the time to make another for this sew along. Let us know your plans for sewing this pattern, show us your fabric choice and tell us of any changes you plan to make. Don't be shy and ask questions if you are unsure of anything.
Make sure you take the time to check out the Nichola pants of member that took part in April's sew along. You can also read about any problems members came across, their solutions and any changes they made while sewing this pattern in the forum.