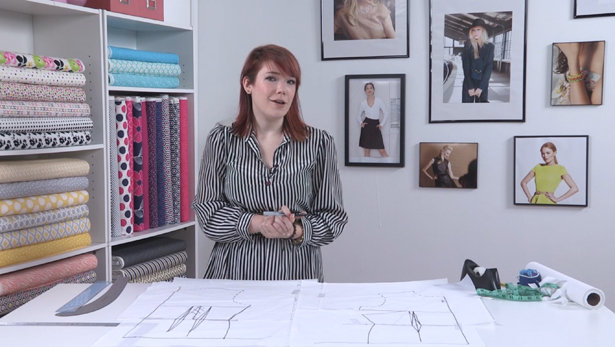 ShareThis
Learn how to draft a torso bodice foundation that can be modified to a fitted dress or top of your dreams!
Check out our newest video here: How to Draft a Torso Bodice.
In this video tutorial, Meg Meg will show you how to draft a torso bodice foundation using your measurements and a basic bodice pattern. The torso foundation is a bodice and skirt combination without a waistline seam, and it ends at hip level. The great thing about this draft is that it can be easily modified to a dress, and even transformed into other foundations like a dartless knit top!
Check out a preview of this week's video here:


You want to incorporate body darts in your designs.
You want to transform your waist level bodice pattern into a fitted bodice ending at hip level.
You want to learn more about draft with lines as well as using existing patterns.
You want to learn how to divide body darts.
You want to start designing and sewing fitted dresses.
What you'll learn in this video tutorial:


The specific measurements you need take from your body or a dress form, and where exactly to take them.
How much ease needs to be added to the measurement to obtain a proper fit.
How to draw the starting lines on your paper and incorporate your existing bodice pattern.
How to divide and create new darts.
How to blend a new side seam.
Click here to get the How to Draft a Torso Bodice video tutorial and start your next project!
With new technique and tutorial videos added weekly, BurdaStyle Videos has all the sewing, fashion, and DIY inspiration and instruction you'll ever need, so check us out!
Get access to a library of high quality instructional sewing videos, starting as low as $19.99 a month for everything from sewing fundamentals to advanced tutorials and techniques from our experts. You can stream the videos on your PC or Mac computer, or take it on the go with the latest generation iPhone, Kindle Fire, iPod Touch and iPad. You can even watch BurdaStyle videos on your living room TV, from an iPhone or iPad with AirPlay & the latest AppleTV!