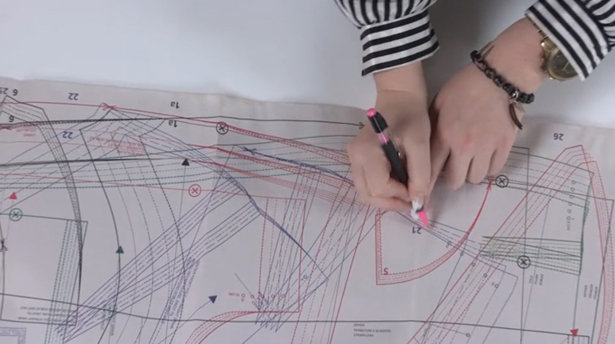 ShareThis
If you're like us, you love getting the newest issue of BurdaStyle magazine so you can sew up all those awesome patterns! This week's new BurdaStyle video demonstrates the best practices of tracing pattern pieces from BurdaStyle Magazine USA.
Check out a preview of this week's new video:

Whether you're making a pair of rockstar leather trousers or a glittering sequin mini skirt from our latest issue, this week's video tutorial will teach you some best practices for tracing those patterns!
Check out our newest video here: How to trace a pattern from BurdaStyle Magazine.
In this video tutorial, Meg takes you through all the steps you'll need in order to properly trace pattern pieces from BurdaStyle Magazine USA, including showing you how to locate which specific pattern pieces you will need, as well as the best practices of tracing them accurately.


You are new to BurdaStyle Magazine.
You are confused when looking at the pattern sheets in the magazine and don't know which pieces you need for a specific project.
You are unsure of different symbols on the pattern pieces.
You would like to learn more about methods of tracing out pattern pieces.
You don't know where to start when wanting to start a new project from BurdaStyle Magazine

USA

.
What You'll Learn in This Video Tutorial:


How to identify the various pattern layout sheets
Where in the sewing instructions to check which pattern pieces you need
How to identify which pattern pieces are on which pattern layout sheet, and how to locate them.
How to trace off the pattern pieces and join them if necessary.
Click here to get the full How to trace a pattern from BurdaStyle Magazine USA video tutorial and start your next project! This 13 minute, professionally produced, expert-led, high quality streaming video tutorial is for sewers who might need or prefer extra visual help starting a Burda project and using pattern tracing tools.
With new technique and tutorial videos added weekly, BurdaStyle Videos has all the sewing, fashion, and DIY inspiration and instruction you'll ever need, so check us out!
Get access to a library of high quality instructional sewing videos, starting as low as $19.99 a month for everything from sewing fundamentals to advanced tutorials and techniques from our experts. You can stream the videos on your PC or Mac computer, or take it on the go with the latest generation iPhone, Kindle Fire, iPod Touch and iPad. You can even watch BurdaStyle videos on your living room TV, from an iPhone or iPad with AirPlay & the latest AppleTV! Click here to subscribe.
We also offer free instructional how to guides and on BurdaStyle projects. Click here to check them out! anyone who needs a little extra help putting together their Burda pattern. Project instructions for the magazine's tear-out patterns and valuable tips on Burda patterns are also included in BurdaStyle magazine. Get your sew on!