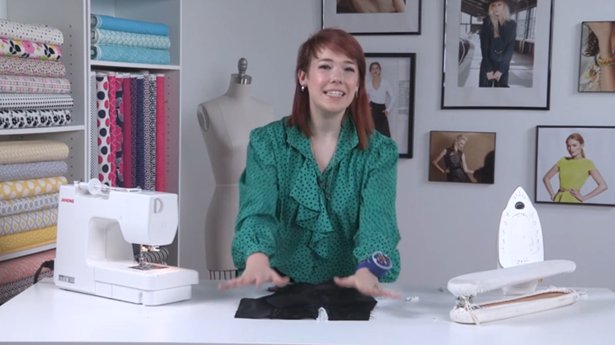 ShareThis
Learn how to sew a perfect bias-bound slit in this week's new video!
Preview this week's video here:
Want to see more sewing tutorials like this? Click here to subscribe and get unlimited streaming of this video and our entire video tutorial library, PLUS new videos added each week, for just $19.99 a month!


This video demonstration is great if you're sewing classic shirt sleeves where there is a buttoned-up cuff sewn on the sleeve hem. Meg goes over every step in detail so you'll be sure to get it right the first time! These types of slits are usually found on sleeve hems, but can also work great for a back keyhole in your garment. Click here to get the full tutorial.

Use the technique demonstrated in this tutorial with our with our Ribbon Neck Blouse and Keyhole Blouse with Ruffled Collar.


You are making a garment that requires a sleek slit opening
You want to learn more about working with woven bias strips
What You'll Learn in This Video Tutorial:


How and how-not to cut the slit in your fabric
How to pin on and sew the bias strip
How to maneuver that tricky point at the top of the slit
How to flip your bias edges around the slit, finishing it off beautifully
Click here to get the How to Sew a Bias Bound Slit video tutorial and start your next project!
With new technique and tutorial videos added weekly, BurdaStyle Videos has all the sewing, fashion, and DIY inspiration and instruction you'll ever need, so check us out!
Get access to a library of high quality instructional sewing videos, starting as low as $19.99 a month for everything from sewing fundamentals to advanced tutorials and techniques from our experts. You can stream the videos on your PC or Mac computer, or take it on the go with the latest generation iPhone, Kindle Fire, iPod Touch and iPad. You can even watch BurdaStyle videos on your living room TV, from an iPhone or iPad with AirPlay & the latest AppleTV!