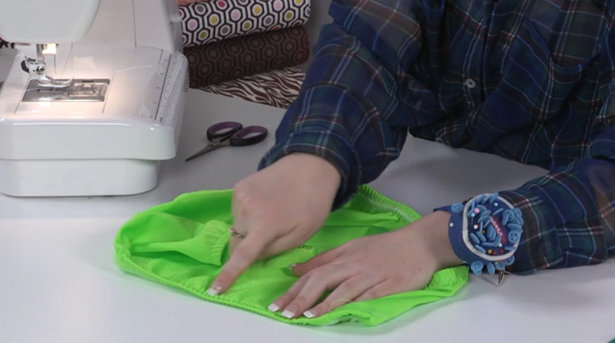 ShareThis
In this week's new BurdaStyle video Meg demonstrates how to make a spandex bandeau from start to finish, no pattern needed!
Preview this week's video here:
Click here to get 6 months of unlimited streaming of this video tutorial for $16.99
We're loving the trend of a bandeau peeking out of blazers and gowns, and with this video you can learn to make your very own!
You can add some sass to a dress like Katniss Jennifer Lawrence here or let it peek through a blazer like Vampire Queen of Louisiana Evan Rachel Wood:

Bandeaus make a great bathing suit top and are suitable for a range of bust sizes. In this new video tutorial, Meg will show you how to calculate your bandeau length and width, and she demonstrates a variety of sewing techniques on different sewing machines.
This is a great project to make use of scrap spandex fabric, plus you can finish it in less than an hour! Click here to get the full tutorial.


You want to make a new bandeau based off your measurements
You want to learn more about sewing and working with spandex fabrics
You want to see different techniques of finishing spandex edges
What You'll Learn in This Video Tutorial:


How to take your bust measurement and calculate the bandeau length
Cutting out the bandeau with a rotary mat and cutter
How to sew the bandeau together and elasticate the edges
How to finish the edges with various stitches on your sewing machine
How to sew in the gathered pinch into the front of the bandeau
Click here to get the How to Make a Spandex Bandeau video tutorial and start your next project!
With new technique and tutorial videos added weekly, BurdaStyle Videos has all the sewing, fashion, and DIY inspiration and instruction you'll ever need, so check us out!
Get access to a library of high quality instructional sewing videos, starting as low as $19.99 a month for everything from sewing fundamentals to advanced tutorials and techniques from our experts. You can stream the videos on your PC or Mac computer, or take it on the go with the latest generation iPhone, Kindle Fire, iPod Touch and iPad. You can even watch BurdaStyle videos on your living room TV, from an iPhone or iPad with AirPlay & the latest AppleTV!