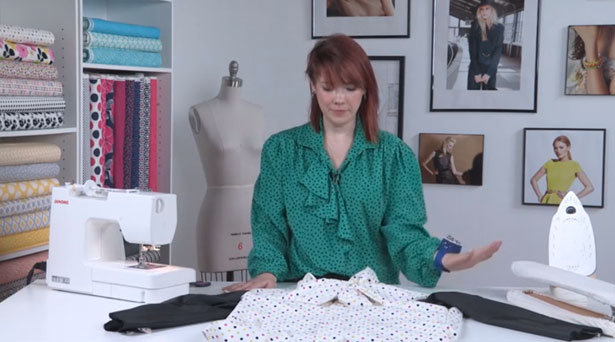 ShareThis
Check out this week's newest BurdaStyle Video, How to Draft and Sew an Attached Neck Bow for a demonstration on how to draft and sew a cute neck bow!
Neck bows are perfect for a vintage look. Check out Joan and Peggy's neck bows. So cute! So retro!
Preview this week's video here:

Want to see more sewing tutorials like this? Subscribe and get unlimited streaming of this video and our entire video tutorial library, PLUS new videos added each week for just $19.99 a month!


This 19 minute video demonstration is great if you want to climb the corporate ladder looking like Peggy, and it's applicable whether you want to customize the size of your bow to a big loopy power bow or a tiny dainty one. Click here to get the full tutorial.
Try it out with these patterns:
Techniques Demonstrated in this Video Tutorial:


Taking accurate neckline opening measurements.
Transfer your measurements to drafting paper and using curved rulers to make the bow shape.
Sewing the neck bow on while concealing all seam allowances.
Click here to get the How to Draft and Sew an Attached Neck Bow video tutorial and start your next project!
With new technique and tutorial videos added weekly, BurdaStyle Videos has all the sewing, fashion, and DIY inspiration and instruction you'll ever need, so check us out!
Get access to a library of high quality instructional sewing videos, starting as low as $19.99 a month for everything from sewing fundamentals to advanced tutorials and techniques from our experts. You can stream the videos on your PC or Mac computer, or take it on the go with the latest generation iPhone, Kindle Fire, iPod Touch and iPad. You can even watch BurdaStyle videos on your living room TV, from an iPhone or iPad with AirPlay & the latest AppleTV!