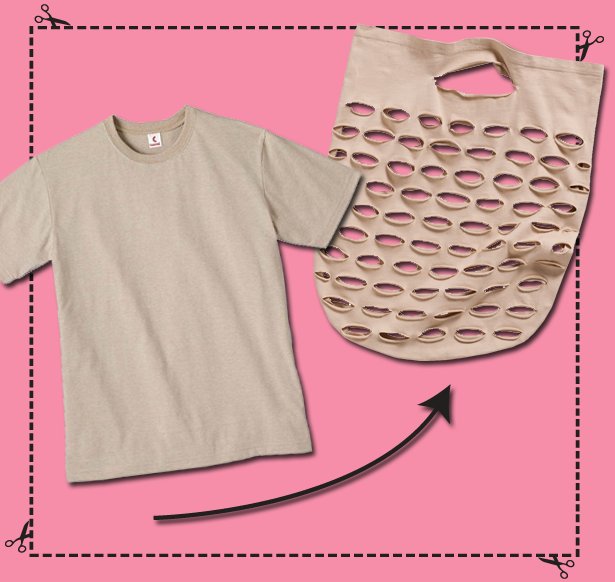 ShareThis
Total transformation with minimal effort. Make a designer shopping bag from a plain T-Shirt! To make this net-look bag you need only one machine-stitched seam and a whole load of slits. Mark the slit positions with a fabric pen then cut them out with scissors.
For each bag all you need is:
One T-shirt.
Sewing thread.
Magic chalk.
Scissors, or craft knife or rotary cutter and cutting mat.
Turn shirt wrong side out. Lay front and back smoothly one on top of the other. Use magic chalk to mark to lower bag curve, close to neck edge and sleeve attachment seams – the hem edge of the shirt will be the upper edge of the bag.
Stitch along the marked curve. Trim away sleeves and neck edge close to stitching.
Mark slits: Mark a horizontal line 12 cm (4 3/4 ins) below upper edge of bag. Mark further lines below the first line, spaced 1 to 4 cm (3/8 to 1 5/8 in) apart (on blue bag, lines are 1 cm/ 3/8 in apart; on red bag, 4 cm/ 1 5/8 in apart). Mark lowest line approx. 5 cm (2 ins) above lower bag seam (meas­ured at center of bag). On these lines, mark slits, 3 cm (1 1/4 in) long, stag­gering slits from line to line. Cut slits, cutting slits on front and back at the same time and always ending 1 cm (3/8 in) from the side seams. Mark the 15 cm (6 ins) long carrying slit in center of bag, approx. 5 cm (2 ins) below upper edge.
Cut slit as marked. Turn bag right side out and stretch slightly horizontally, to make slit edges roll under.
Happy DIYing!