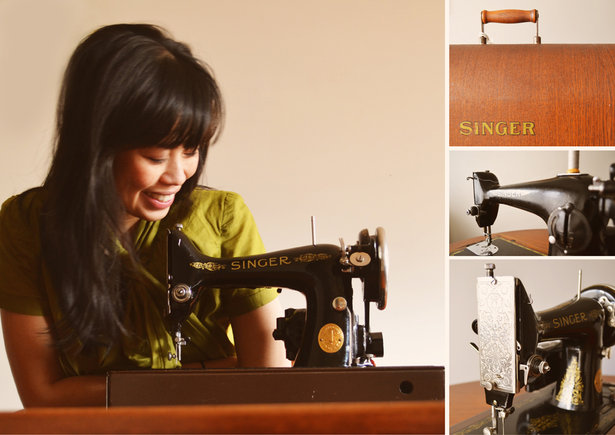 ShareThis
To celebrate the 160th anniversary of SINGER®, we asked a few of our members to share their sewing stories. This week we spoke with Aussie member EllaLeoncio to get the lowdown on how she started sewing, her inspirations, and the history behind her Singer machine. Stay tuned through the month of September for more stories and head over to MySINGERStory.com and share yours for the chance to win a brand new Singer 160™ machine!
Where are you from and where do you live now? What do you do other than sew?
I was born in the Philippines and moved to Melbourne, Australia when I was four years old. I've been living in Melbourne ever since. When I'm not sewing I work as an architect, which I really enjoy. Outside of work, I'm the author of the blog, "moleskine" which is design blog that looks at fashion, photography, architecture, interiors, art – basically anything that I find interesting and inspirational! Contemporary dance is also a huge part of my life.
How did you start sewing?
I remember sewing clothes for my Cabbage Patch Kid so I must have started quite young. My mum taught me the basics and I developed my skills at high school. For the next few years, I was sewing sporadically using my mum's machine but rarely felt confident enough to wear anything I had made.
About a year or so ago, there were two things that sparked a rather explosive sewing obsession: buying my own sewing machine (my first vintage SINGER!) and finding a few sources of good patterns, namely the BurdaStyle website and magazine and Japanese pattern books. At last I felt comfortable sewing and was producing things I actually wanted to wear. As of last year, almost all my new clothes were made by me.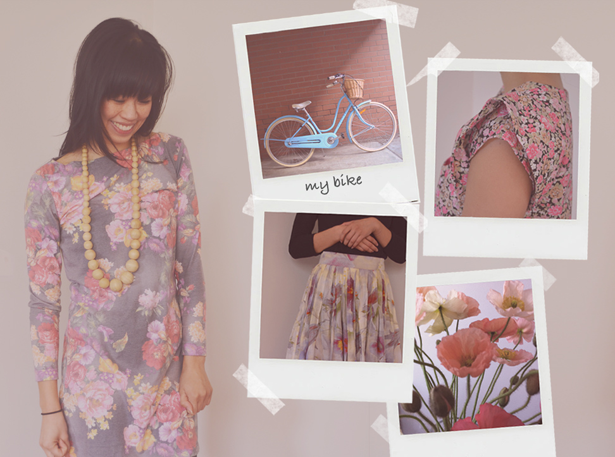 What's your sewing inspiration?
I'd say that my work as an architect inspires me. I find myself most drawn to things with interesting structures like pleats, drapes, gathers and voluminous shapes. Although I like clothing that is "architectural," I'm also conscious of keeping shapes soft, feminine and flattering.
Being a beginner, the ability to explore the structural ideas that I'm interested in can be quite limiting. I really love Japanese pattern books like "Drape Drape" because they allow me to dabble with some unconventional garment structures at my skill level. I'd love to develop my skill base further, particularly in pattern drafting, so I can explore my interests further.
Traditionally, I wear mostly black and grey and use structure and texture for interest. However, more recently, I've been inspired by my sky blue bike. I suppose I see my bike as my biggest accessory so I'm suddenly drawn to gardenia prints and bright colours.
Last but certainly not least, BurdaStyle is a massive source of inspiration for me. I particularly love looking at how other members interpret patterns and make little adjustments to turn commercial patterns into something unique and personalized.
Where and how did you get your sewing machine?
I actually have two SINGER sewing machines, a 99k and 201k, both of which were second hand and found online. Both were pre-loved by elderly women who made clothing for their children. Apparently my grandma had a SINGER too. I really wish I knew where it was because I'd love to have it too.
I really enjoy using these pre-loved machines. There's something romantic and joyous about using a machine that is layered with so much history. In fact, I have to hold back from buying more. I swear, if storage wasn't an issue I'd probably own an entire empire of vintage SINGER machines!
If you were to design your ideal sewing machine, what would it include? What would it look like?
I already love how my Singer 99K looks. The shape, proportion and the beautiful decals make it such a visually stunning machine so aesthetically, there's not much I would change. In terms of function, the 201k offers more functionality than the 99k and I'd say the 201k, whilst still fairly basic, covers my needs. I actually really enjoy the simplicity of it, so again, not much I would change. There are only a few dials which makes using it very intuitive and it's so easy to control. However, I would like to add the option of using a double needle because I love wearing jerseys.
After you headed over to MySINGERStory.com and entered your machine's serial number, what was your reaction to the story behind your sewing machine?
After I bought my machines I did quite a bit of research to find out more, so admittedly, the website hasn't really told me anything new. Having said that, things would have been much easier for me if I could just type in the serial number at the time and have all the information so easily accessible and as beautifully presented as it is on the new website. One thing I think the website could include is an indication of the the model number with a description of the machine's capabilities. I'd also love to know a bit about the first owner, but that would be a major breach in privacy!
From Ella: To celebrate being invited to share "My Singer Story" on BurdaStyle, I'm hosting a giveaway on my blog. Up for grabs is a collection of goodies from local Melbourne vintage haberdashery boutique, L'uccello. Head to my blog for details.
Thanks to Patricia and Big J for helping me photograph my projects and to Little J for helping me collect images for my mood board.
Do you have a SINGER manufactured before 1970? Head over to MySINGERStory.com, type in your serial number and learn about your machine. Share your SINGER story on MySINGERStory.com for the chance to win The SINGER 160™ Limited Edition Sewing Machine!
Show and tell time! We want you to share photos of your sewing inspirations, your machine, or your personal history with sewing to celebrate this important anniversary. Simply submit photos to susan@burdastyle.com with the subject line "mySINGERstory" and your shots could appear in our Gallery album!