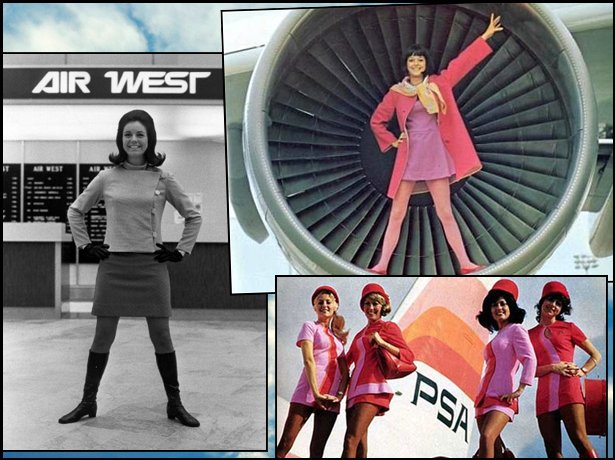 ShareThis
Was it really that long ago that people actually dressed to take a trip? I can hardly remember the time before (much to my visual dismay) sweatpants, backpacks and Ugg boots were considered suitable travel attire. Gone are the days when it was a luxury to fly the friendly skies, now we're just happy to take off and land with all of our belongings and our sanity still intact. Also gone are the days of the uber-hip and glamourous airline stewardess in her micro mini and go-go boots – she has since been replaced by conservative men and women in dark and frumpy sack-like suits usually with little or no attention paid to style and tailoring.
In the 60s and 70s airlines tapped designers like Emilio Pucci, Oleg Cassini and Mario Armond Zamparelli to create ensembles for their flight attendants that exuded the sort of chic, jet-set aesthetic associated with airplane travel during that era. In memoriam of the height of airline style, the Museum of Flight in Seattle, Washington has opened up their archive of amazing vintage flight attendant uniforms and loads of photographs for their Style in the Aisle exhibit running through June 27th.
Can't get to the museum yourself? Check out photos of some of the fantastic designer ensembles created for in-flight crews around the world and even a few ways modern designers are attempting to revamp the dusty image of the airline attendant. No ticket necessary.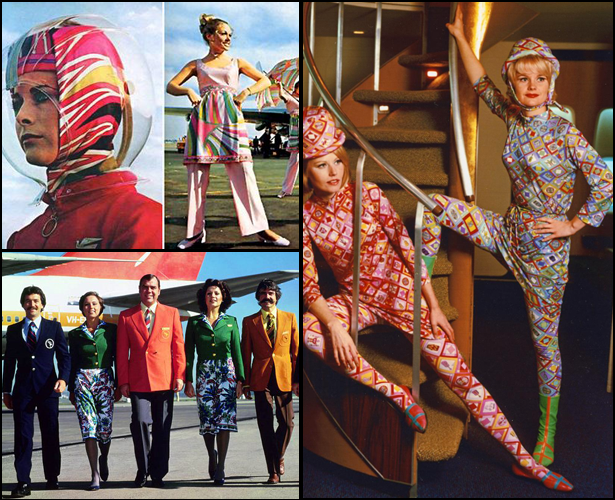 Emilio Pucci designs for Braniff International Airways. Note: the plastic hood (top left) was designed to keep wind and rain from messing up the flight attendant's hairstyles as they were walking across the tarmac between flights.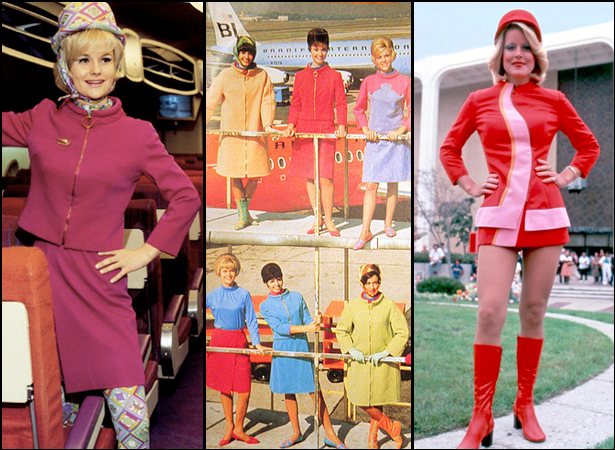 Pucci for Braniff (2 photos), Pacific Southwest Airlines stewardess circa 1973.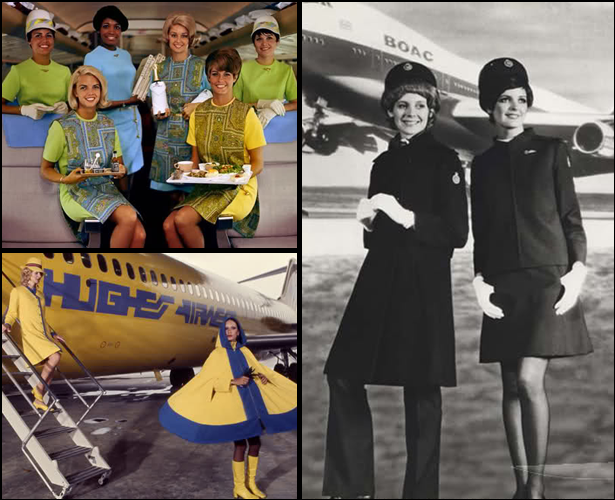 From top left: Delta Airlines circa 1970s, British Airways circa 1960s, Howard Hughes asked designer Mario Armond Zamparelli to design ensembles for his Hughes Airwest stewardesses.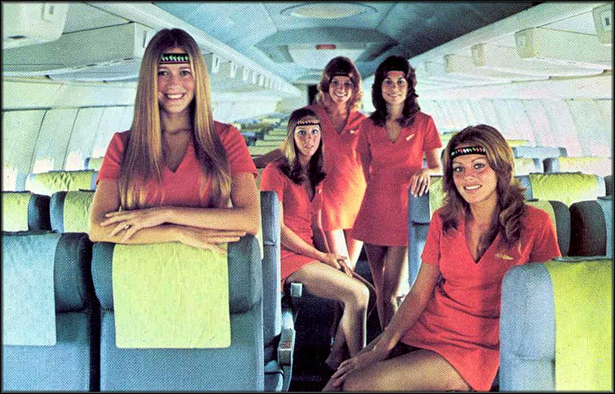 Air Florida circa 1970s.

In the 60s Air France tapped Cristobal Balenciaga to design uniforms for its staff.

Pierre Cardin designs uniforms for both Olympic Airways and Pakistan International in the 60s.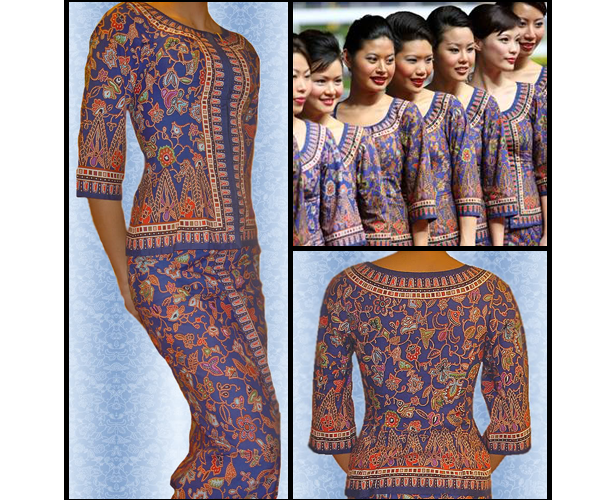 The uniforms Pierre Balmain designed for Singapore Airlines (a variation on the traditional sarong kebayas) has been their official in-flight look for 30+ years.
In addition, Yves Saint Laurent, Roland Klein and Gianni Versace also designed uniforms for Qautas, British Airways and Alitalia respectively.
More recently, designers like Kate and Andy Spade, Christian Lacroix and Gianfranco Ferre have been asked to revamp the image of airlines ranging from Air France to Delta…

Christian Lacroix for Air France – circa 2005

Sketches from Julien MacDonald for British Airways and Kate and Andy Spade for Delta (2003).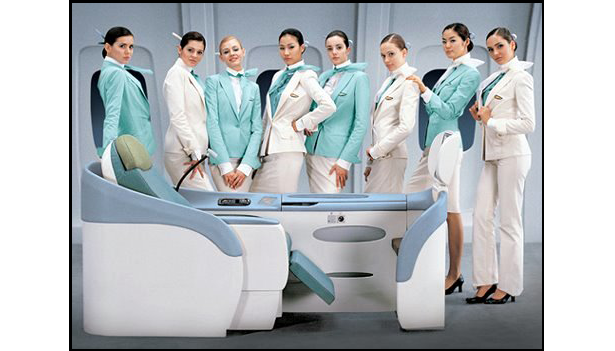 In 2005 Gianfranco Ferre gave the Korean Air staff a sleek makeover.
This March, CNN reported that designer Cynthia Rowley was brought on board to rework the uniforms for United Airlines.

If you're interested in more information about vintage airline uniforms and style, make sure to check out the awesome book Airline: Identity, Design & Culture and as it turns out, there are a good amount of forums and blogs covering the topic including two that I pulled from: Dark Roasted Blend and Vacations.
What designer would you like to see revamp the image of the airline stewardess? Any favorite airline/designer collaborations I've left out?
Top photos from left: Air West uniforms designed by Oleg Cassini, Air Jamaica circa 1960s, Pacific Southwest Airlines circa 1973. Images courtesy of the Museum of Flight, The Fashion Spot, Dark Roasted Blend and Google Images.