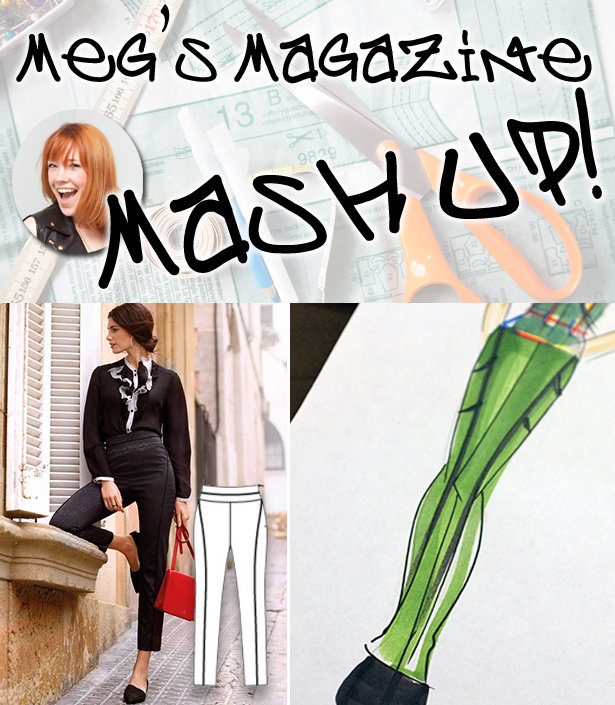 ShareThis
The votes are in and #2 the High Waist Trousers won by one vote! Thanks again to all who voted, I really do appreciate it and now I can start making these pants. Read on to see my first steps in creating these high waist trousers as well as what matching top pattern I'm sewing!
I was excited when I checked to see the winning pattern and that is was our High Waist Trousers, more so because it meant I didn't have to sew a fly front zipper haha. I do love the high waist and the piping detail.
Here is my sketched out plan (using our figure templates of course!) :
I had this stretch green cotton denim fabric and I new I wanted pants in it! It is the perfect pants fabric and I think it's going to be amazing sewn with this high waist pattern. I'm not tweaking to much in this pattern, the main thing is that I'm going to lower the hemline so it not an "ankle pant". I also am going to add a little pocket along the side panel, and I'm going to keep the piping detail. I want to find a leather type piping, I think that will look super sharp with the army green denim.
For the pants I decided to make a size 38. I would typically make a size 40 for pants, but my fabric has quite a bit of stretch in it and I compared my measurements to the pattern and that seemed like the best size to sew!
Ever since this Off The Shoulder Blouse pattern debuted in Monday's pattern collection, I have been in love with it! I have had this plaid forever and I want to make something in it, so I thought this blouse could be sweet and a nice addition to my outfit. I want to do the straps, band and gathered ruffle in black satin though.
Now that I have everything planned out it is time to get tiling! This is the pants pattern.
On piece #2 I added the lines for my pocket. The pocket will be finished on the top and bottom and sew into the seams along the sides.
I extracted my pocket piece using some tracing paper. Don't forget the grainline!
I also notched the piece with the pocket placement along the top edge.
I measured my inseam and funny enough I didn't need to actually lengthen the pattern. The ankle line of the pattern was full length for petite me! So I simply just added my hem allowance and seam allowance around all the edges.
I cut out all my pieces from my paper layout in preparation for cutting.
Seam allowance was also added to my extracted little pocket piece.
All my waistband pieces.
My pieces are all ready to cut out of fabric… now I just have to get my piping!
Early this week I also whipped up this no pattern pleated velvet skirt:
Isn't it cute? I guess I'm really into green now, perhaps the Pantone color of 2017 has me really back in love with green!
Stay tuned for the tutorial post on my pleated velvet skirt.
Happy Sewing! Thanks again for voting, can't wait to wear my pants.