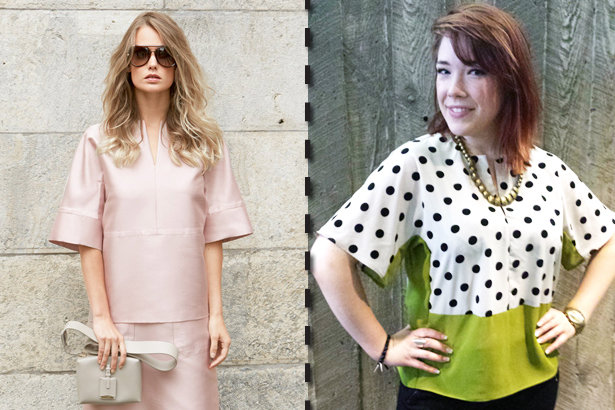 ShareThis
It's the begining of another month, so that means another Mash Up for Meg! I can't believe this will be my 10th mash up this year, and it has been so much fun. Each month I love putting my own spin on a burda style magazine pattern from the current issue, every issue I flip through the pages and swoon over all the possibilities. This month I loved the loose boxy silhouette of the Luxe Tee from our light and airy Feline Attitude pattern collection.
I choose this pattern because I wanted a dressy top / tunic to wear this up coming season. What I liked most about this pattern were the side seam panels that extended to the sleeves. I also loved the front slit and seaming in the top. I love good seaming in garments because I love to mix together fabrics (as you can probably tell from my previous mash ups).
I didn't do to many pattern alterations to this garment, because I liked the original styling so much. The only thing I did was shorten the pattern (by a good 3") because this is a TALL SIZE pattern, and I am a petite. I made a size 80 here, and I usually make a size 38-40 in our regular burda sizes. I also omitted the wide bands on the sleeves. Funny story, I actually cut them out and sewed one in place and I just hated the look of it. Don't know until you try, some things you visualize in your head or in a sketch look great and then in place you see something is not quite right.
I found this cutesy black and cream polka dot fabric a while ago, and never knew what to make with it. I originally thought I would make a skirt with it, but I decided it was too lightweight. When I decided I wanted to make this top in it, I had to find a complimentary fabric to go with it. I went with this green, sheer, medium weight chiffon that perfectly balances the polka dot fabric and makes it a bit more modern and 'me'.
The first thing to assemble was the front faced slit. I sewed the shoulder seams, right sides together, serged seam allowanced together and then pressed to one side. I didn't press any of my seam allowances open on this top because most of my seams are sewed together with a sheer fabric and I didn't want to see any seam allowance from the right side so I always pressed my allowance away from the sheer fabric.
After I sewed together the shoulder seams of the top and facing I pinned the facing to the top, right sides together, matching up shoulder seams. I stitched the neckline facing to the garment starting at each front slit mark in the center front seam.
On each front piece I temporarily flipped up the bottom seam allowances of the front facings and pinned in place. Then I placed the front pieces, right sides together with the slit facing edge still flipped up. Then I stitched the lower half of the center front seam below the slit marking.
Then I unpinned and flipped back down the bottom front facing allowances and placed them right sides together. I stitched the center front seam of the facing only, from the slit marking of the pattern to the bottom edge of the facing.
Now is when I serged around all the lower edges of my neckline / front slit facing. I also under stitched the seam to the facing to keep it from rolling out. I was only able to understitch from about 2" away from the center front on each side of the neckline. You won't be able to understitch down the slit edges. Then I flipped the facing to the inside of my top and gave it a really good press.
This hard part was now done! Next, I sewed each lower seam of my front and back top. I serged the seam allowances together and press upwards. Then I sewed my side seam gusset pieces in place. I made sure to insert a lot of pins so I was sure that each horizontal seam on the front and the back matched up nicely on either side of the gusset. Pins also helped me maneuver the straight edges of the gusset with the curve at the underarm.
After I sewed in each side gusset it was already time to finish the hems! This top was such a quick sew, I made this in about 3 hours from cutting to finishing. On my hems I simply turned up 1/4" and pressed, and then another 1/4" and stitched. I also hand tacked my facing edge to the garment allowances at center front and shoulder seams. Then I gave my entire garment a press and I was ready to wear!
I love the end result of this top. The sheer panels are cool and give it some color and dimension. It makes a great top to through on with pants for a casual everyday look, but you could also wear with a tight pencil skirt for an evening out. I plan on making this top in a sweat shirt fabric to make a stylish "around the house" sweater. I think color blocking different fleeces would look totally cool, and the loose silhouette would accommodate them nicely. What type of fabric would you make this in?
You can check out more images and details of my top here, and if you plan of making one for yourself (it was so easy) get the pattern here. Just remember it is a tall sized pattern.
Happy Sewing!
Meg
Meg Healy is BurdaStyle.com's Online Editor and eCommerce Manager. She has an education in fashion design and earned several awards for her technical skills in pattern making and sewing.