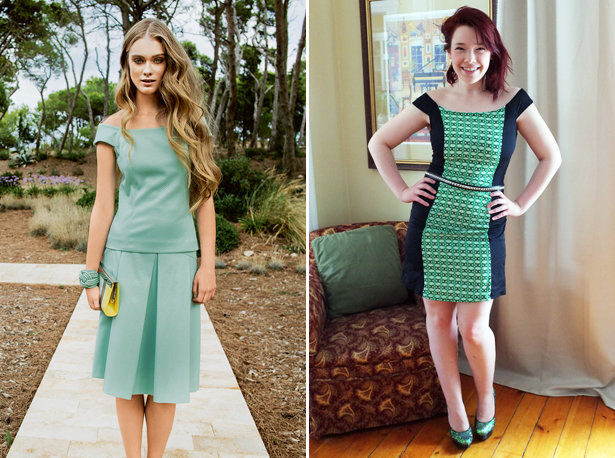 ShareThis
I must say that this year's February issue of BurdaStyle magazine was fabulous! I want to make so many of the patterns featured. After much deliberation I decided to make a style from the feminine Softly Charming pattern collection. I loved the style lines of our Princess Seam Boatneck Top, but I also wanted to make a dress for an event coming up so I decided to turn this off the shoulder top into a dress! Check out my drafting and sewing steps.
I have been on an off-the-shoulder style kick lately, since sewing and wearing my Striped Dress I just love this style on me so I know I wanted another. I am a huge fan of the princess seam in this this top, and I instantly knew I wanted to put black panels on the side because it is flattering on my figure. I bought this green printed fabric a while ago and have been waiting to sew something in it, and I saw the opportunity in this design. The green printed fabric is actually a woven nylon chiffon-weight fabric, and then I used a matte black spandex for the side panels. It is very possible to sewing woven and stretch fabrics together, and that is what I did here.
It was very easy to convert this top into a dress. After I assembled the top pattern sheets together I taped additional paper to the hemline. Using a long ruler as a guide I matched the angle of the bottom portion of the top and extended the side seams. I then measured down 18" from the waist point and marked a new hemline. To establish a new hemline / side seam length I put the ruler up to my body starting at waist, and then decided how long I wanted my new dress to be. It was easier to determine a new length form waist point as a reference than the existing top hemline.
I cut the center front and back pieces in the colored print, and the sides and sleeves in the black spandex. I also made a belt so I gathered my studded trim, textile adhesive and velcro.
The first seam I sewed were my princess panel seams. I clipped into the pattern at the waist notch as a matching point for my panels to sew together. Now, since these seams I was sewing a woven to a stretch fabric I placed my woven fabric on top and my stretch fabric underneath. If you try and sew it the other way with the stretch fabric on top the pieces will stretch and shift as you sew along.
Next I just sewed my center back seam together and then my back princess seams. I didn't need to add a zipper or anything closure in this dress because of the open neckline and then stretch side panels (I just LOVE working with stretch fabrics).
For the sleeves, I had to stitch the outside seams together first. So I sewed each sleeve piece 5 to the corresponding seam on sleeve piece 6. After the sleeves seams were sewed I needed to finish the bottom edge before I attached into the dress. So I turned 1/2" – 3/4" to the wrong side and coverstitched in place, you could also twin needle or zig zag.
Now it was time to sew my sleeves to the armholes of my dress. I started pinning the sleeves to the dress armholes from the top first and then down to where the sleeve hem hits the armhole. Before I sewed in place I measured and made sure that all sleeves seam lengths were the same. For the lower half of the dress armhole I turned to the wrong side 1/4" and topstitched with a stretch stitch in place. For the opening along the top of my dress I folded under 3/4" and coverstitched in place like I did for the sleeve hems. I even coverstitched over the woven fabric portion, although the stitch stretches and the fabric does not, it still works as a consistent finish. I also did the sam finishing coverstitch to the hem of my dress.
The dress was done! Now it was time to work on my accessory, a studded belt. You can get trim like this by the yard at your local fabric and notion store. I measured my waist and then added 3" for the underlap, I cut my trim to that length. With pliers I extracted 3" worth of studs. Now with my textile glue/adhesive I secured velcro to each side of the trim. Then from the right side I needed to trim the velcro a little bit because it was a bit wider than my trim. I stuck the two edges velcros together and secured for a couple hours with a clip so the glue could dry.
Here is my finished dress! It has a great fit (I sewed in size 38) and I love the contrasting panels. You can check out more project pictures here as well. The studded belt was a last minute decision to make, but I think it makes the dress edgier and more my style. Here I paired with some sparkle heels which I love and when I wear this dress out on Friday I'll need to also wear a little leather jacket and some sheer black nylons (it's still winter here)! As I was photographing this dress my pug decided he liked the dress so much he wanted to get in the picture.
Happy Sewing!
Meg
Meg Healy is BurdaStyle.com's Online Editor and eCommerce Manager. She has an education in fashion design and earned several awards for her technical skills in pattern making and sewing.