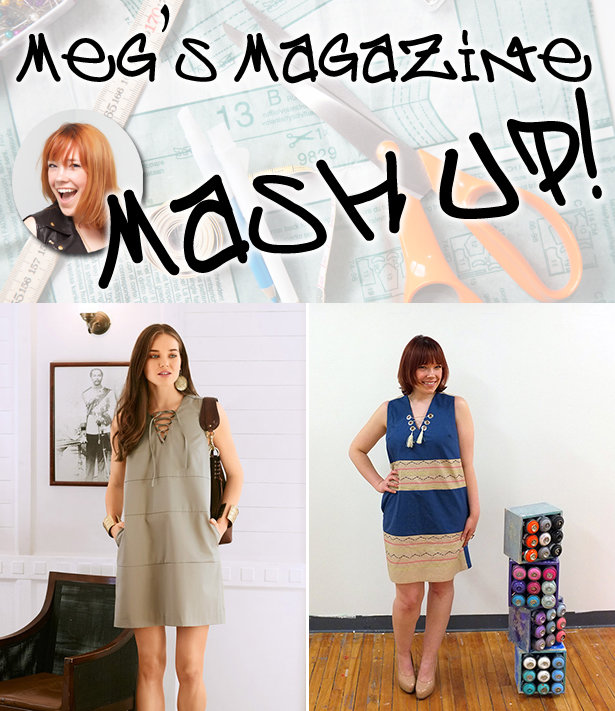 ShareThis
Hi BurdaStylers! I just finished prepping and packing for my trip to Atlanta tomorrow for The Original Sewing & Quilt Expo, so if you are in the area please stop by and say hello. I also photographed my finished dress this week and love the final result. Read on to see how I sewed my hem as well as inserted the grommets…
Last week I got a good chunk of sewing done on my Safari Dress mash up and I sewed in the combined facing, invisible zipper, as well as the in seam pockets.
To prevent the hem from further unraveling I serged around the bottom edge. I did this as soon as I was done with the side seams and slipped on the dress for a test fit (no alterations needed)!
I then pressed up the hem allowance up by about 3/8" all the way around.
To sew the hem I actually switched threads when it came to the side seams. I wanted navy thread on the back blue section and beige on the front. So I backstitched and switched on either side of the side seam.
Once the hem was sewn the dress was basically complete… expect for the front neckline lacing. I originally planned on hammering in rivets but realized they would be to small. Good thing I always have large grommets on stand by. I even still have so many left over from my Laced Designer Dress project from the Runway to Reality Look Book.
I laid out my grommets as I wanted them placed along my V neckline.
While they were placed how I liked them I used a fabric wax marking pen to mark the centers.
Next was to get out my grommet tool, hammer and wood plank (stolen from my boyfriend's wood working studio of course).
I used a combination of my sharp fabric scissors and x-acto knife to make a cross like shape across the grommet markings.
I pushed the grommets through the holes, placed on my tool base and inserted the backing piece on top.
… Hammer away!
My beautiful grommet.
I repeated for all 6 grommets and thankfully they turned out to be secured where I wanted them. Then I laced through my rope with tassels, there was just no way those tassels would fit through the original rivets I was planning on using.
Lastly I did all my hand stitching. I sewed the back facing along the zipper tape.
And also secured the loose facings to the side seam allowances so everything laid flat.
The finished lower section of my dress.
I do love my dress and the boxy loose silhouette. Really great for casual spring and summer days, it is totally comfortable and giving enough to wear all day… and then into the evening with a strapy sandal.
The embroidery really turned out better than I had hoped, and I love how all the colors of fabric and thread work together.
The lacing grommet detail really brings this dress to the next level and I can totally remove the tassel rope and lace in any thing I want. I do plan on sewing some strings from my left over fabric to lace through for a different effect. View more images of my project here!
So there you have it, my second Mash Up of 2017 complete… now what to sew from the 03/2017 issue in March. Any suggestions?
If you have sewed this pattern for yourself make sure to comment with the link to your project, I would love to see.
Happy Sewing!
Meg