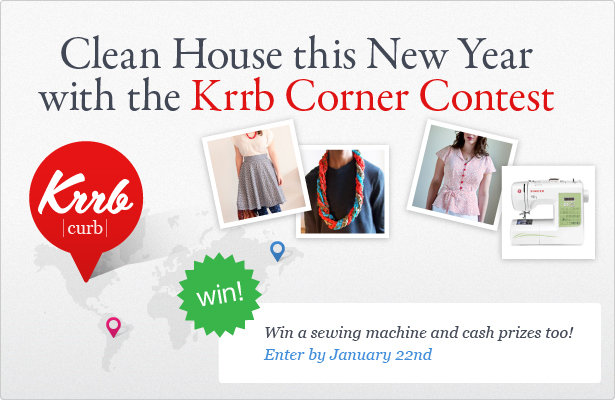 ShareThis
We are so excited to announce the winners of the Clean House with Krrb Corner Contest! Congratulations to all who participated, you now have more room to sew!
Krrb is a fun, friendly and safe place to buy, sell, trade, borrow or give to your neighbors — locally and in-person. Each person on Krrb gets their own personal 'corner' shop—think of it as a virtual garage sale—where you can post your own classified listings and interact with other users.
Get started now! Sign up for a free membership at Krrb.com, it only takes a few seconds. Krrb does not take a commission off your sales and the website is clutter-free with no advertising. Krrb uses a credit system for posting and relisting items. Credits can be earned or purchased. Just for setting up your member profile, you will automatically receive 23 free credits. Just for being a BurdaStyle member, they'll give you an additional 50 free credits, simply email them at gimmecredits@krrb.com. And there are many more ways to earn free credits.
For more information, see how Krrb works.
Krrb judged your corners and found six winners! Click on the images to see the winners corners.
The top corner, winning a SINGER® Fashion Mate 7256 + $200 USD is….
The five honorable corners, winning $50 USD each are…
A big thanks to Krrb for giving us the motivation to clean house!