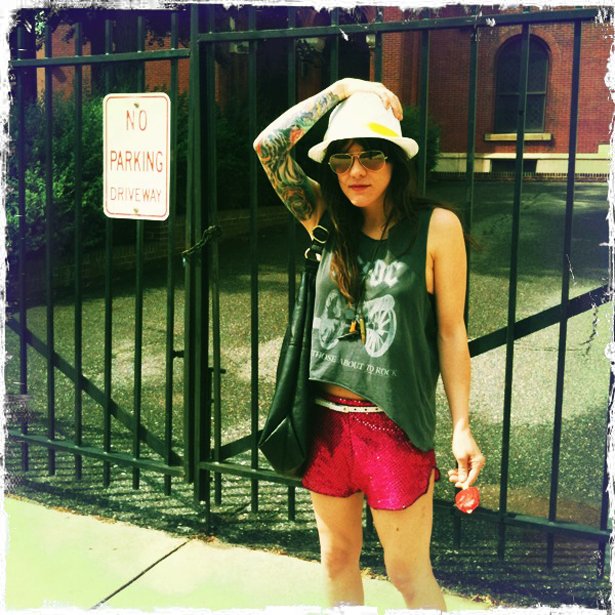 ShareThis
Reese is another talented designer we met during our fashion show adventures in Austin, TX during SxSW. She puts her spin on found objects – reconstructing clothing and creating mixed media projects, and spends her days immersed in fashion, music and art.
What is your name and where are you from?
Reese Juel, Philadelphia, PA – USA
What is your design medium of choice?
Accessories and reconstructed clothing, using found objects and mixed media.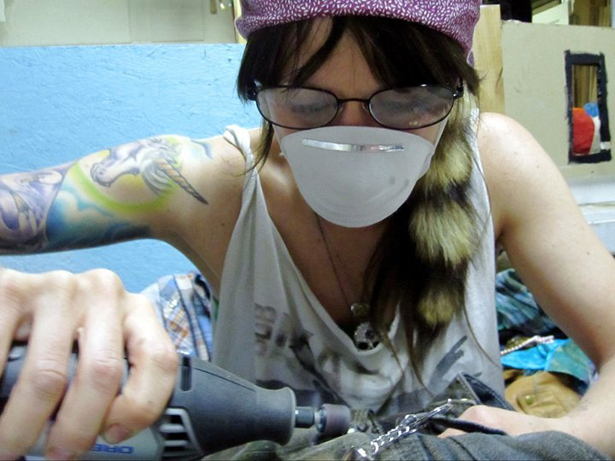 How/why did you start designing?
After receiving a BA in Graphic Design, and taking fine art and music classes, I decided, about 3 years ago, to apply my design skills toward incorporating my love for art, fashion, and music in someway. I've always have had to have some sort of edge to what I wear on a daily basis and I reconstruct or "funk" up my boring clothes, so I thought, creating seasonal collections and doing this with vintage and other clothes would be fun to make and try to sell.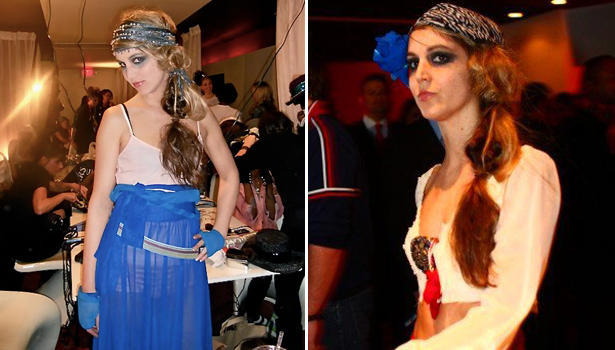 What is the most rewarding part of the design process for you?
Creating of course, coming up with something edgy and knowing how to style my clothes, customer's clothes, and clients (custom orders). I like using multiple techniques and materials, it, plus always having to make everything exciting in my personal life and in fashion design, to me, makes me feel good, like I'm able to share my natural talents and innovative ideas with other people.
How do you get inspired?
I'm never not inspired.. My boyfriend say's "Everything's always new to you, must be so nice". From street art, my drumming band boyfriend and hanging with local musicians and artists, architecture, random flora growing on city streets, sounds, to films & documentaries, colors, textures, conspiracies, and music in general. It's all interesting and inspiring to me, constantly, on many levels. I think my brain works super fast.
Do you have a "day job"?
No. I work on fashion, visual art, and music from my studio most everyday, they're so intertwined.
Do you have your own business (selling your designs, etc)? If so, how did you start?
Yes, up until 2 months ago I was doing mostly everything alone, with a medical diagnosis on both arms, six months after I started the business. After a long road, I met Jillian Taylor, singer of Ruby the Hatchet, who had embraced my style and custom ordered from me. Our friendship grew, while simultaneously respecting each other's profession and supporting each other's talents, we began collaborating. Our combined efforts and new direction for me as a solo designer resulted in a business partnership and new label called, Black Rabbit.
What advice can you give to people who want to make and sell their own designs?
Without sounding cliche, I can honestly advice people to go through the rough times and stick to your own vision.
How do you feel about new technologies like social media – are there benefits for smaller, independent designers? How do you think these tools have changed the craft and design industry for smaller designers?
Love it and I believe they are absolutely essential. The benefits they have had for me include: sales, exposure, creating a web presence, and keeping people up to date with images, feedback, and plus it's excitement that stirs up even more ideas. They've changed by making exposure to so many different talents. The thing that's weird is that I went to college to learn how to develop my skills, but these tools are available to everyone and some people, unfortunately don't know how to design well therefore, the consumer might not be educated or getting a quality product.
What are your goals for the near future? Do you want to expand your business, collaborate with other designers, etc?
My goal for the near future is to have my first solo art show with my mixed media and fabric on drumheads body of work. Art is my first priority, fashion comes from this. For me, since I have been successful, make money, I enjoy it, and it comes naturally, I intend to transform the business into fashion line with many people working with me, all with that edge factor. From there, I will focus on my art work and creatively combining them, without doing the sewing. That's were I'm at now, building Black Rabbit into this, with Jillian Taylor, who has incredible Rock N' Roll fashion sense.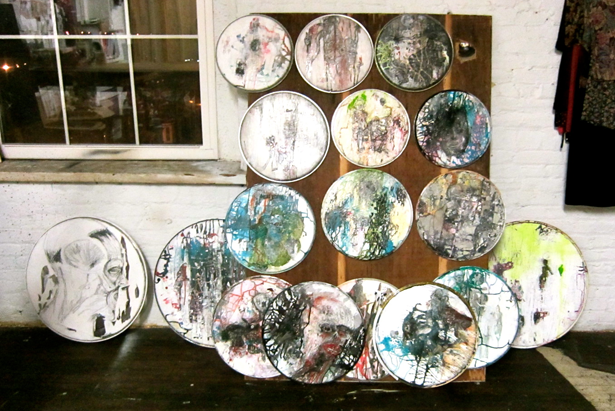 How do you feel about the fashion/garment industry? Do you aspire to be a part of the large business shuffle or would you prefer to keep your business on the smaller side?
My feelings are somewhat neutral. I love textiles of all kinds and the beauty of so many fabrics and garments puts a spell on me. The only downside for me is the epidemic of slave labor. That's something, as far as I can control, keep out of my products. It doesn't matter to me how big, a few people to however many – as long as I'm working with cool, non-pretentious people, and being socially responsible (using slave-labor free and eco-friendly practices like reconstructing garments), I'm happy.
Who are some of your favorite designers? Does anyone in particular influence your work?
Presently, my favorite deigner's: Dries Van Noten, Alexander McQueen, Betsey Johnson, and Coco Chanel, as well as my three Brooklyn fav's, Clare Bare Lingerie, Brenna Wallace, and I <3 Fink's amazing textiles.
How does your background and how or where you grew up influence your style and creativity?
I grew up partially in Texas (the big and the eccentric) , New Jersey (local bands and band friends), and Philadelphia (history, edginess, street art, personality, grime, and bands), which I would say influence my aesthetic of eclectic, comfortable, versatile, funky, Rock N' Roll clothing. Growing up with MTV and Grunge music is always contributing to my style and creativity also.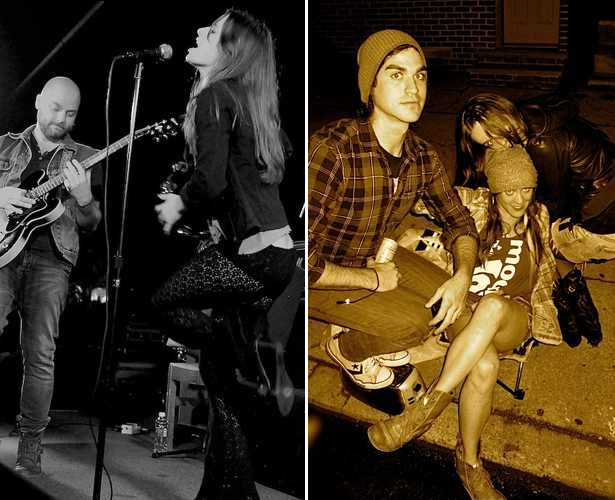 Do you have a "muse"?
Yes, rock, funk, and jazz music and fashion these artists wear. In particular, besides the 90's Grunge scene, I'm captured by Classic British and American Rock.
Do you have any final tips for our readers?
Yes, thank you for your support… and have fun with fashion!