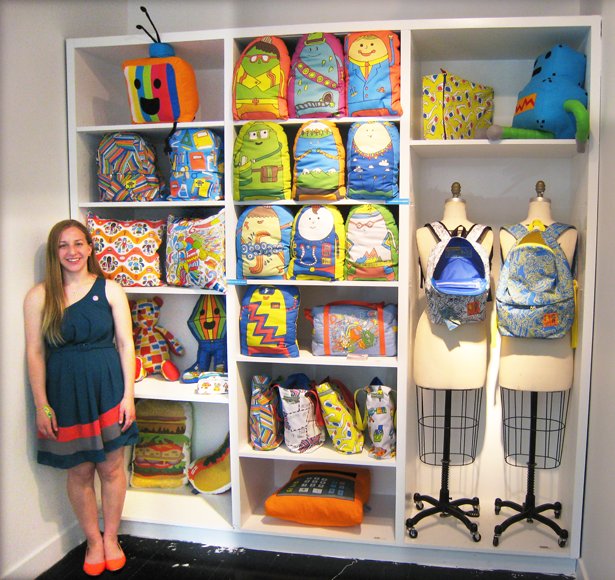 ShareThis
We met Julie Pinzur when she wowed us with her fun and whimsical designs at our indie designer fashion show in Austin, TX during SxSW. Drawing heavily from Japanese culture and style, Julie's line Mokuyobi Threads is a fresh take on bags, accessories and clothing that encompass a youthful and modern sense of humor and we are excited to share her talents with the BurdaStyle community!
What is your name and where are you from?
My name is Julie Pinzur and I grew up in the North suburbs of Chicago.
What is your design medium of choice? Clothing, handbags, accessories, etc?
All of the above. There really is no limit to what I can and want to make.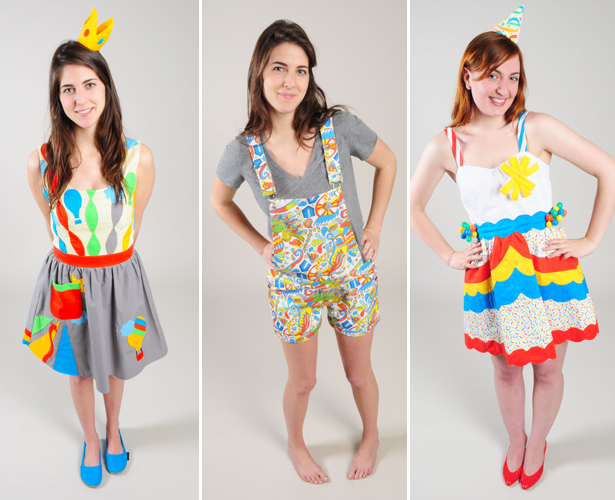 Outfits from Mokuyobi Threads by Julie Pinzur.
How or why did you start designing?
I started in the very beginning because I was interested in how things were constructed. Later in the game, when I incorporated my illustrations into the process, I had a lot of fun making something completely different and new and playing with how things can be put together.
What is the most rewarding part of the design process for you?
Seeing how what I love to do excites other people and makes them happy.
How do you get inspired?
I am inspired a lot by other artists and the world around me. I will see something that gives me a completely out of nowhere unrelated idea that gets me excited and it all starts there.

Julie's workspace.
Do you have a "day job"? If so, how do you balance that with your design work?
Right now I am just trying to make it work doing what I love: designing and creating, while doing some freelance work on the side.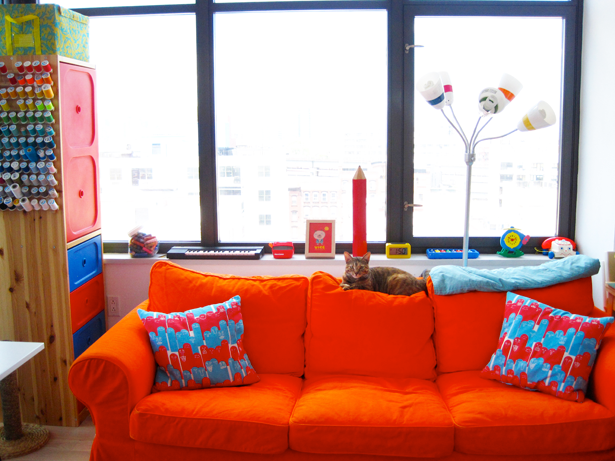 Do you have your own business (selling your designs, etc)? If so, how did you start?
I do, Mokuyobi Threads. One day while I was still in school I decided I wanted to go for it. I figured out a name and a logo, got it trademarked and went from there.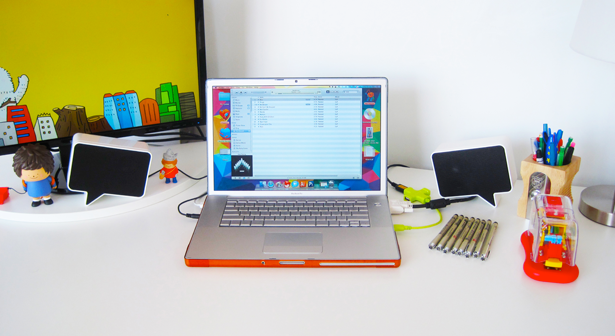 What advice can you give to people who want to make and sell their own designs?
Figure out your target market- who you want to buy your stuff. Cater to a specific group of people, learn about them and your life will be a lot easier.
How do you feel about new technologies like social media – are there benefits for independent designers? How do you think these tools have changed the craft and design industry for smaller designers?
I think social media is fantastic. It is a great easy way to promote yourself no matter the size of your design business. I think they made it a lot easier for someone to promote themselves without spending a lot of money.
Do you utilize these tools? How have they helped or hindered you?
I use these tools everyday. Whether its posting on facebook, tweeting, or blogging it only gets the word out more!
What are your goals for the near future? Do you want to expand your business, collaborate with other designers, be able to create and sew full time?
I am always working to expand Mokuyobi Threads. Collaboration is a great way to get to know other talents and make yourself known to people who wouldn't find you otherwise.

More of Julie's creations for Mokuyobi Threads.
How do you feel about the fashion/garment industry? Do you aspire to be a part of the large business shuffle or would you prefer to keep your business on the smaller side?
I went to Parsons and while I was there I took a lot of fashion classes. The vibe I got from the students wasn't where I was headed. I definitely prefer the smaller non-luxury side of business. It feels more real to me.
Who are some of your favorite designers? Does anyone in particular influence your work?
Some of my favories are Aaron Meshon, Ray Fenwick, The Small Object, Cupco, and Michael Sieben but there is no limit to what I'm inspired by. It can be anyone and anything! (as long as it's awesome)
How does your background and how you grew up influence your style and creativity?
Always being encouraged to be me really has helped me blossom into being whoever and whatever I want. The sky is the limit.
Do you have a "muse"? It doesn't necessarily need to be a person – but maybe a certain place, book, movie etc that inspires you.
I would say I'm more inspired by combinations of unrelated things than one specific thing. I keep a book of images that I print out, cut out and glue that are super inspiring to me. I'm on book #2 right now.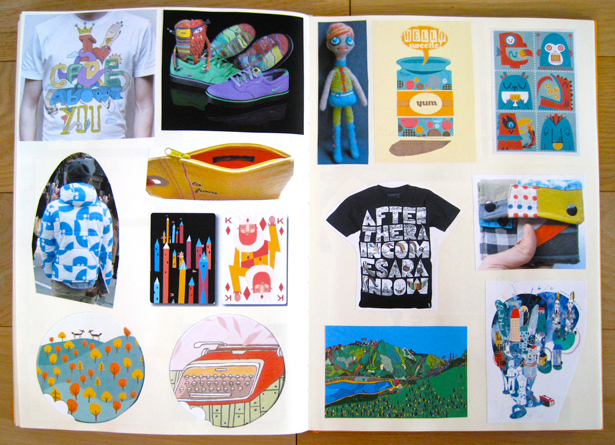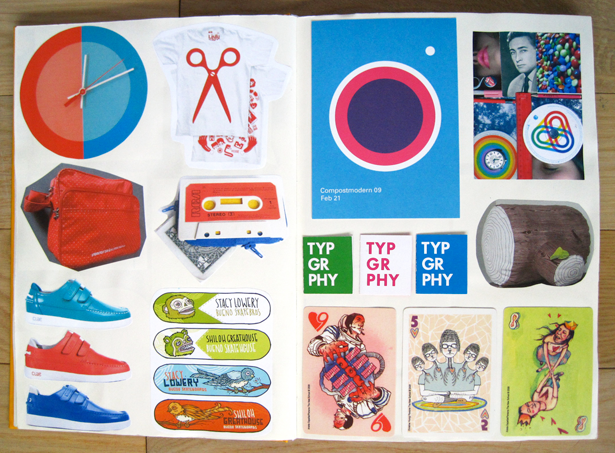 Snaps from Julie's inspiration books.
Do you have any final tips for our readers?
Be true to yourself and always do what you love to do!!
To see more check out the Mokuyobi Threads Etsy store and Julie's blog Zipper Teeth.