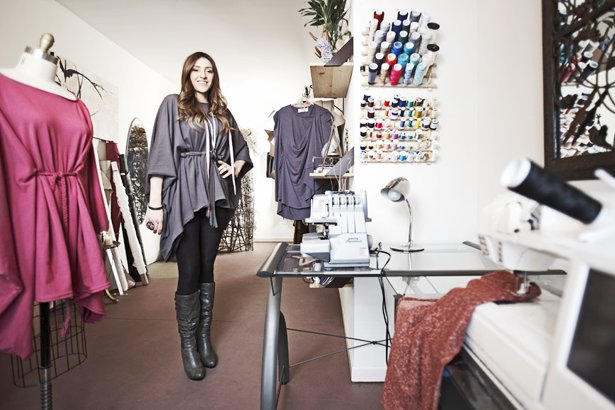 ShareThis
This summer we were invited to Las Vegas during the market trade shows Magic, Project and POOL to set up a DIY booth on the floor of the women/teen contemporary show, WWDMagic. It was a great opportunity to meet and interact with people from all over the fashion retail industry and also a chance to check out some fantastic up-and-coming designers in the process. One in particular who caught our attention was Detroit-based Fotoula Lambros. A self-taught designer who focuses on eco-friendly fabrics and avant garde design, we were instantly attracted to Fotoula's easy yet interesting style not to mention the enthusiasm she exudes for her city of residency: Detroit, Michigan.
We recently caught up with Fotoula, who just relaunched her website and has loads of other exciting things (including working on a film) lined up, to talk about inspiration, fashion, and design.
What is your name and where are you from?
Fotoula Lambros- Detroit, Michigan.
What is your design medium of choice?
Women's contemporary clothing, multi-functional garments, one-of-a-kind gowns and accessories …all made with natural/sustainable, textiles/materials.
How or why did you start designing?
I started learning design at the age of 16, from an Austrian Bespoke Tailor, Horst Greissier. It was the best two years of my design education experience. There was a technical program for Fashion Design and Garment Construction that was offered through my high school, and since I was always an art student, it was a perfect fit. For two years, four hours a day, I learned design and made my own garments. It was life changing.
What is the most rewarding part of the design process for you?
When I wear something out – whether at a coffee shop or an event – when someone stops for a moment to compliment what I am wearing, it is very rewarding, especially if the person didn't know I am the designer of it.
How do you get inspired?
I am inspired by culture. Whether it is from the local, urban level to the four corners of the universe. Life is inspiring because of the people, places and things that are apart of it.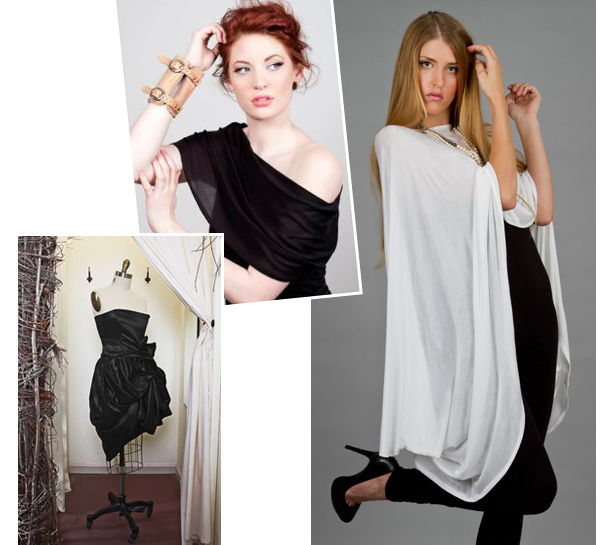 Do you have a "day job"? If so, how do you balance that with your design work?
I used to have a "day job", I was a manager and bartender at a great local bar called the Emory in the city of Ferndale (where I grew up in) It was fun for some time, the people I met were great, and very supportive of my design endeavors. The time came, where trying to be a designer with little time to design… just had to stop. I "jumped" about a year and a half ago, and haven't looked back since. I miss the money, but I feel blessed to be doing what I love, and that make my life feel enriched.
Do you have your own business? How did you start?
I have a few different things in my world. Fotoula Lambros Design is my brand that has many different silhouettes and function. We have just launched the E-Commerce site, where all can buy some really unique, eco-chic items.
I am also the founder of a concept called WORKROOM. The WORKROOM is a multi-faceted retail space that sees a product through development, all the way through to its retail avenue. As of yet, the concept is not a brick and mortar space, but we have a series of monthly Pop-Up Shops planned for the next few months!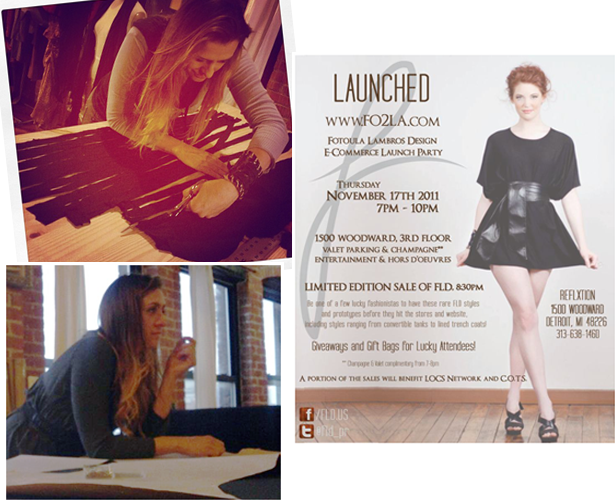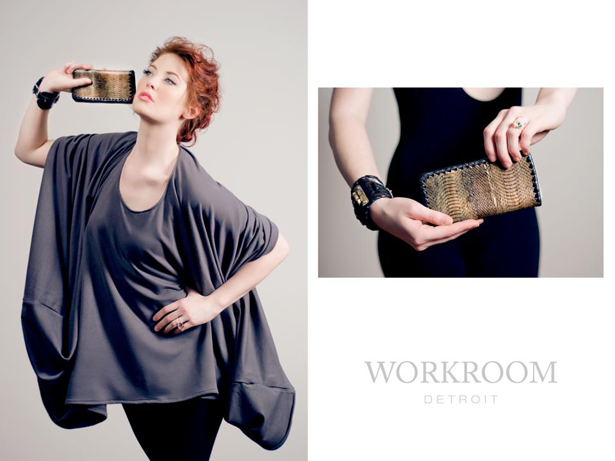 What advice can you give to people who want to make and sell their own designs?
Don't make crap =) I think that people need to be expressive in fashion but take into consideration the people that can one day wear your creation. It is great to be creative and push the limits, but making that message convey in a realistic aspect is the challenge of an artist turning something into a business. I do make clothing that reflects my own personal style and favorite silhouettes, but I think of the many different women out there… that can connect with my pieces who can incorporate that into their own everyday lives.
How do you feel about new technologies like social media – are there benefits for smaller, independent designers? How do you think these tools have changed the craft and design industry for smaller designers?
I thank the heavens everyday for social media. Life is moving pretty fast, and information travels even faster. I think it is great to connect with people, in real time, and share information that way, it's amazing. I think these tools are going to definitely change the game for designers and how they market themselves. It is and always has been, survival of the fittest.
Do you utilize these tools? How have they helped/hindered you?
I do utilize these tools, from @fo2la as my personal twitter handle, to @fld_pr for my biz…let's not leave out @workroomD…they are all out there and all my businesses are on Facebook as well. They help get the word out, since blogs and websites are great, up to the minute updates are even greater.
What are your goals for the near future? Do you want to expand your business, collaborate with other designers, etc?
All of the above are more goals, and more. I want to expand the products I create to include home decor, intimates, and other categories of products. I have always been a maker, and as long as I have two hands, I will be the maker of all the samples my product line carries. I take a lot of pride in the fact that I am a master crafter with needle and thread and other materials.
How do you feel about the fashion/garment industry? Do you aspire to be a part of the large business shuffle or would you prefer to keep your business on the smaller side?
I appreciate the fashion/garment industry for all its facets. There is a great thing about being able to create one of a kind, avant-garde pieces. I live for those pieces. At the same time, it is necessary to establish a successful business and its product line, when planning to distribute your products, and deliver those products. It is a lot of work, but that is why not everyone can do it. You need to understand the operations behind one garment and the phases it goes through, to get to its retail outlet.
Who are some of your favorite designers? Does anyone in particular influence your work?
I have favorites for different reasons. Coco for her fearlessness to not succumb to conventional style in dress, Alexander McQueen for his innovative designs that capture an essence in the blink of an eye. Donna Karan, for her ability to make clothing that flatters the female physique. I like to consider myself the Donna Karan of Detroit ;)
How does your background/how you grew up influence your style and creativity?
My background is everything as to why I am who I am. From the young artist that found a creative outlet in all types of art, and blossomed when fashion design was introduced into my teen years. To who I am today. The life that I have lived has prepared me for where I am today. It wasn't all easy, a lot of determination and will was involved to get me here. Detroit itself has helped evolve me to the current woman I am today.. with a strong work ethic, passion and drive.
Do you have a "muse"? It doesn't necessarily need to be a person – but maybe a certain place, book, movie etc that inspires you.
I have a few. My influence is from vintage silhouettes that reflect a modern lifestyle. Thoughtfulness is found in my work, and those who appreciate it, in support of the environment and an attraction to unique style. Someone who is outgoing but professional, edgy yet sophisticated.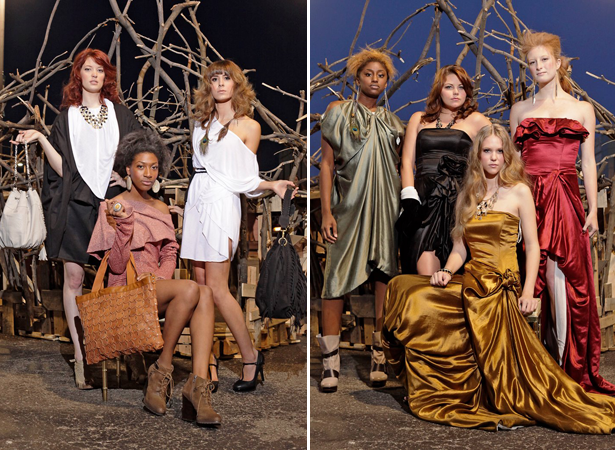 Do you have any final tips for our readers?
Want to be a designer? Get making. A school can introduce the design basics, but it is after long hours behind a sewing machine, and working with all types of fabrics and creating your own patterns, one can truly become a designer. Creating your own pattern comes from the knowledge you have behind how something is made. Once you understand fit, fullness, manipulation, and the many other facets of design…that is where you become innovative as a designer. Become a maker, not just a person who thinks they know fashion from all the magazines. Becoming a professional in this industry is from the time invested in developing your technique and skills. That is when your true talents are revealed.
You can check out more of Fotoula's work at Fo2la and WORKROOM Detroit.