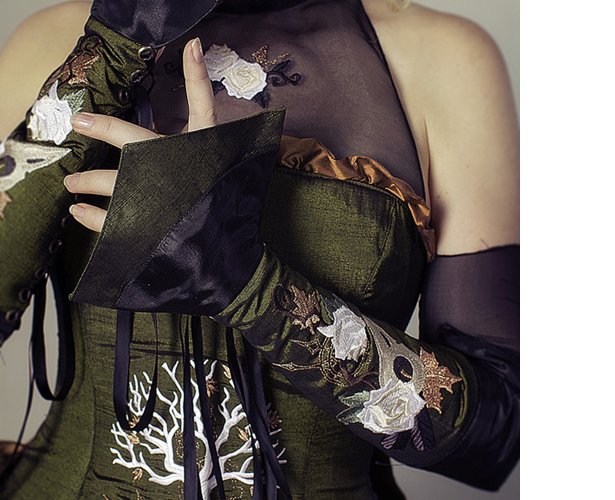 ShareThis
Niamh O'Connor, Art Director for the offbeat embroidery website Urban Threads, paired up with the design duo from KMKostumes to create a one-of-a-kind dress project to help facilitate the revitalization of machine embroidery. No longer relegated to quilts and crafty wall hangings, Urban Threads aims to push traditional machine embroidery out from it's dusty past and bring it to a new generation of fashion savvy designers and crafters (sounds a little like the beginnings of BurdaStyle, huh?).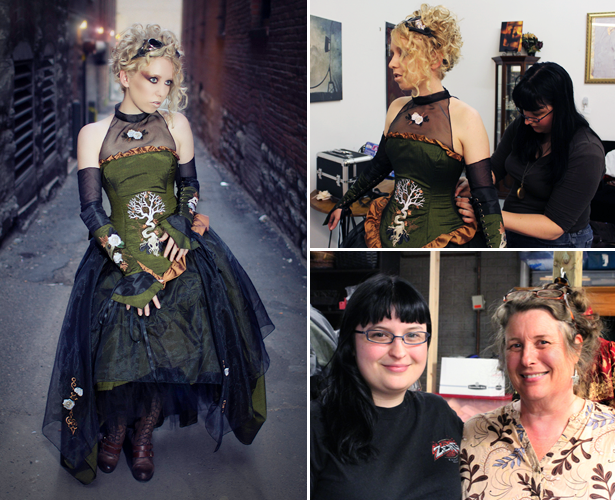 Left: photo by Fairshadow Photography. Top right: fitting the dress. Bottom right: the Minnesota-based mother/daughter team behind KMKostumes.

The piece in progress: "I wanted the designs to be functional and useful for any kind of application, but also to tie in beautifully with the theme and design of the dress. In the end we combined a gothic look with some steampunk. The dress itself is a play on Autumn and the symbolism of the decline of nature when juxtaposed with industry. We used a "clockwork" theme to play on the idea of the passage of time, as in nature, and of the rise of industry over the years. Autumn colors and motifs were a great way to work with dark imagery and decay without going too classically gothic," says Niamh.
---
Challenging the traditional conventions of the medium, they chose to create a steampunk themed dress that would show just how seamlessly you can apply machine embroidery to modern and alternative fashion while hopefully inspiring others to incorporate it to their own designs and creations.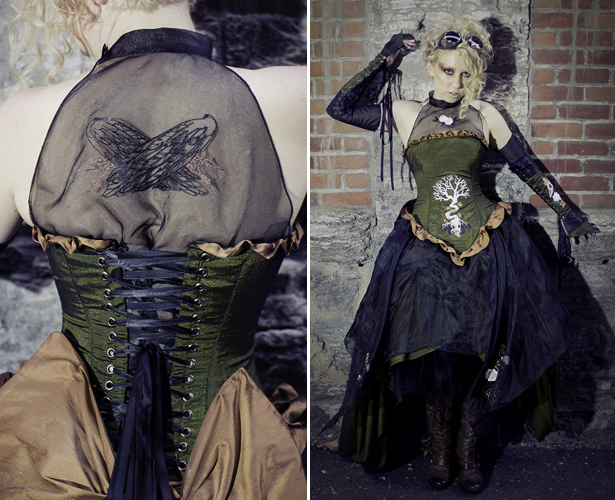 Photos by FairShadow Photography, makeup and hair by Sara Capers.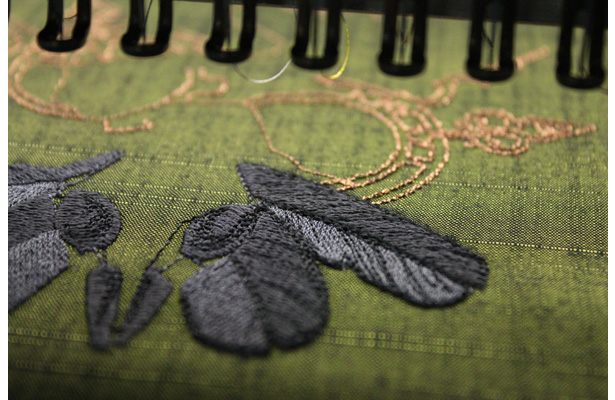 Top: embroidered piece soaking to remove stabilizer. " We decided a fun way to showcase a lot of the embroidery on this dress was to "float" it on organza pieces, to keep everything light but still let the dress show beautifully," says Niamh. Bottom: a design being stitched by one of Urban Thread's industrial machines.
---
Embroidery has been a part of fashion since the beginning of fashion itself, but machine embroidery has lagged behind the modernization of sewing, remaining a sort of conservative and outdated craft. And while machines are expensive, Urban Threads is working to connect designers with embroiders and sellers around the country who are willing to let them test out machine embroidery and how they can apply it to their craft before they lay down the big bucks to purchase their own.

Photos by FairShadow Photography, makeup and hair by Sara Capers
Urban Threads has loads of amazing patterns and projects on their site, including this fantastic Raven Lace Mask that reminds me a little bit of what The Knife wear when they perform. And if you don't have a machine but you still want to add some fresh embroidery to your sewing projects, Urban Threads offers loads of their machine embroidery patterns in versions for hand embroidery as well.
Inspired yet? Good because Urban Threads is offering one lucky BurdaStyle member the chance to score a $50 gift certificate to give their fun and whimsical patterns a try! Simply tell us how you would (or already do) incorporate machine embroidery into your garment projects by 9:30 am EST on Friday, October 21st and you'll be in the running to grab this awesome prize! Don't have a machine? Don't worry! The Urban Threads gift certificate is good for hand embroidery and stock art files too!
Thanks to Niamh, KMKostumes, Sara Capers and FairShadow Photography for letting us get a sneak peek at this fantastic collaboration! For more information and to get your hands on the brand new Clockwork Natura embroidery patterns and kits (which are available for both machine and hand embroidery), check out urbanthreads.com.