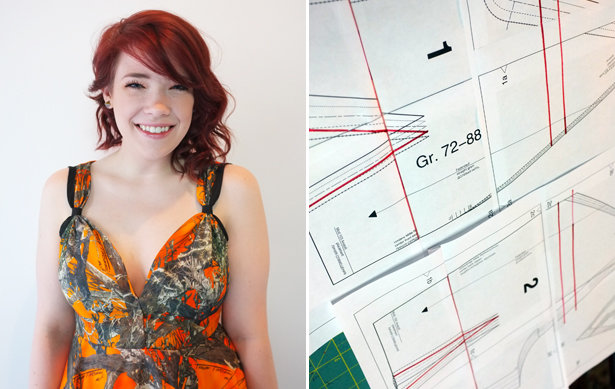 ShareThis
As soon as I saw our V Neck Flutter Dress pattern, I knew I wanted to sew it. The full circular skirt was so appealing and I have been looking to make a dress with a circle skirt for a while now since I also seem to make dress with a gathered, pleated or pencil style skirt. When I went to print and assemble this pattern I noticed that is was actually a BurdaStyle tall size pattern, but that didn't phase me one bit (I am not a tall size)… I simply made a few easy length adjustments and I was ready to go! See how I removed the extra length in my sewing pattern.
Here is an image of the dress pattern I altered, our V Neck Flutter Dress. On BurdaStyle.com it is available in sizes 72, 76, 80, 84, & 88. The thing about BurdaStyle.com's sizing is that all the sizes stay the same in width from petite to tall, it is just the vertical length that is changed to alter how tall or petite a pattern is from the regular size. Knowing this, it is really quite easy to then alter the length of the pattern and in my case remove added length to make the sewing pattern a Regular size instead of a Tall.
First you need to determine your BurdaStyle regular size (from your width measurements), you can refer to our size chart here for guidance. Here are the regular size to tall sizes conversion:
72 – 36
76 – 38
80 – 40
84 – 42
88 – 44
I always make a size 38 in regular BurdaStyle patterns, so for this pattern I used size 76.To determine how much length to remove simply measure the pattern from shoulder to waist, and then compare it to your front waist length measurement and remove the difference. For me I needed to remove 1 1/2" from my pattern.
First you need to draw your first adjustment line, draw this line perpendicular to the grain line and make sure it is long enough to reach either side of the pattern. I like to draw this line in the middle of the side seam between underarm point and waistline. Draw another line parallel to the first line and only HALF of the width of the length adjustment you need to make, for me I drew a line 3/4" away.
I like to do two separate adjustment lines each half of the total length adjustment amount because it makes the pattern shorter more to scale instead of taking the full 1 1/2" out all in one location.
Crease the bottom line and and fold to meet the top adjustment line. Tap in place and then redraw dart leg lines (if the adjustment lines go through a dart).
For my next adjustment line, I drew it above the bust line approx. mid armhole. I drew the secondary line the same 3/4" away, folded it up and taped in place. Every time you make an adjustment you also need to "true" the seam lines to make them smooth again because they become jagged.
For the back bodice of the dress I did the adjustment line right below the V line at center back so I wouldn't have to also adjust the facing.
I only made adjustments to my bodice pattern pieces, for the skirt all I adjusted was the hem length which I brought up by about 3". I am very happy with my final dress project, and as you may see I did some other design changes. I sewed on the sleeves to the dress and decided I didn't like them, so instead I removed them and sewed bias tape along the armhole edge to finish them. I tried on the dress once more and I had a bit of gaping at the armhole so I went with the flow and gathered the front piece in… problem solved and I love the end result!
Have you ever altered the length of a pattern? Maybe in another way?
Happy Sewing!
Meg