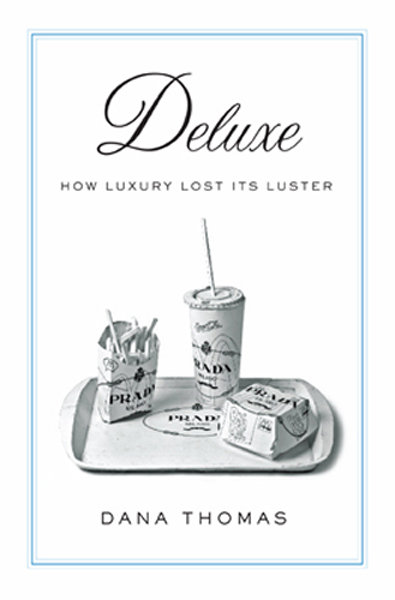 ShareThis
What is the meaning of luxury? Once upon a time, a life of luxury meant you were one of the exalted few – royalty, celebrity, titan of industry. And that which was luxurious could be defined as narrowly: Pampered service; goods precious and exceptional; everything ever more exquisitely refined. The refinements were the point. They threw a light on everyone else's most-nice things, revealing them as vulgar. The original definition of "vulgar" was, in fact, "common," and so for centuries luxury and vulgarity were opposed values, the elite versus the mainstream. But as it turned out, they were on a collision course: We are living in the age of mainstreamed luxury, which returns us to the original question: What is the meaning of luxury, now?
Newsweek
reporter Dana Thomas probes just that in her new book, Deluxe: How Luxury Lost its Luster. In it, she delves into the profit-motivated, branding-enabled massification of the luxury trade, visiting the labs where Birkin bags are sewn by hand, in France, the factories in China where more and more "luxury" goods are made, and the sweaty backrooms on Canal Street where knock-offs are sold. Along the way, Thomas wonders how we came to live in an era when, for a certain, large-ish group of young women, owning a pair of Louboutins or a Marc Jacobs Stam bag has gone from being a personal prerogative to a demographic imperative, and she explores the H&M and Target-driven trend of masstige, and its conflation high-design and low-price points. That's either a win-win, if you are on the side of plebes having access to beautiful things, or a lose-lose, if you believe in the beauty of craftsmanship.
Naturally, the Gucci store is repeated in Thomas's book – the tale of how Tom Ford reinvented a moribund manufacturer of leather stuffs for the few and, through savvy marketing and retailing, convinced the many they ought to buy into the dream. But Deluxe is precisely of-the-moment now because even Ford seems to be punching against his legacy by trying to re-brand luxury, itself. His latest launch is a men's clothing store defined by its theatrically doting service, atmosphere of exclusivity, and emphasis on the bespoke and hand-finished. The Tom Ford store also sells an item so Playboy recherché it's almost amusing – that ace piece of leisure-wear, the smoking jacket. At a moment when luxury has been defined down, Ford seems to be offering for sale the last priceless thing we have left: Time.