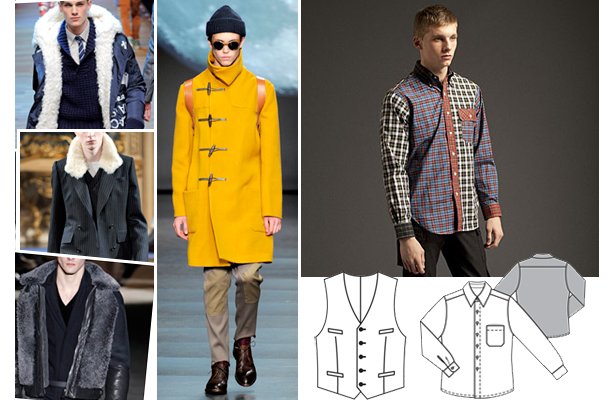 ShareThis
I've been so busy the past few weeks that I'm just now getting around to poking through pictures of the recent menswear shows in Milan. I love, and I mean LOVE menswear. I take influence from it, I occasionally buy some of it and I definitely steal a lot of it out of my boyfriend's closet. It's a shame that more boys aren't adventurous with their fashion choices, there are a lot of great designs and trends out there that can be easily pulled off with the right amount of attitude and sense of humor. Buck up boys, it's time to stop being afraid.
Today I had the time to catch up on the collections and I pulled together a few of my favorite (and slightly out-of-the-box) trends for the season, as well as some ways you can get the look with our BurdaStyle patterns for the fellas. Are you brave enough to try these out for yourself?
What to Try For Fall:
#1 – Don't be afraid of color:
Boys don't always embrace the brighter shades as much as they should. Whether for outerwear, small details or full on suits, designers are here to push you out of your comfort zone. Take a cue from the Italians and make injecting a few bright colors into your ensembles a regular sartorial decision.
Outerwear


From left: Paul Smith, Raf Simons (2 coats), Alexander McQueen, BurdaStyle's Adam Overcoat pattern.
Suits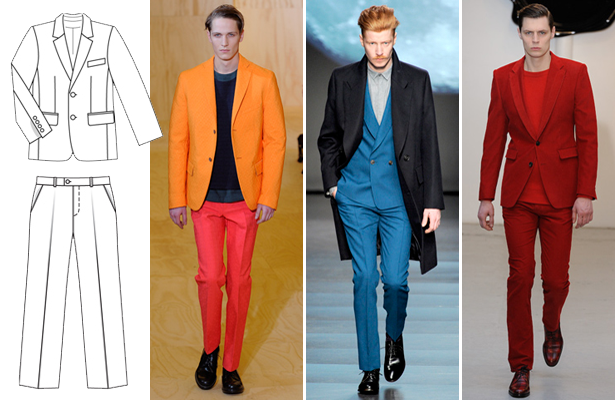 From left: BurdaStyle's Stintchcomb Jacket and Jochen Trouser patterns, Jil Sander, Paul Smith, and Viktor & Rolf.
Or Take Baby Steps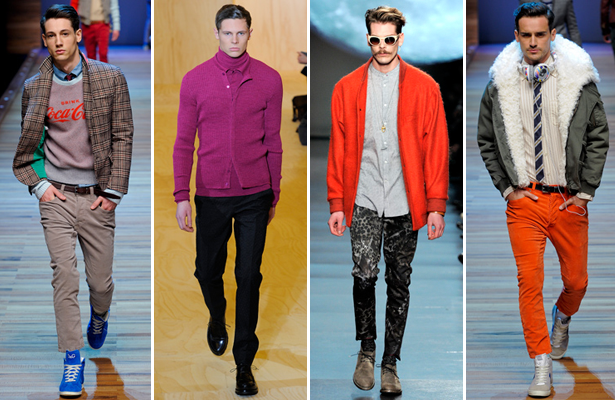 Afraid of bright colors? Ease your way in one piece at a time or with small details. From left: D&G, Jil Sander, Paul Smith, D&G.
#2 – Add Some Fur to That Collar
It's really cold outside and a fur collar will keep you warm. Enough said.

From left: Alexander McQueen, D&G, DSquared. From top down: D&G, Alexander McQueen, Louis Vuitton.
#3 – You Can Never Go Wrong With Plaids
Use one pattern or mix them up. Whether your color palette is subtle or bright, plaid is a classic pattern that stands the test of time.

From left: Martin Margiela, Moncler Gamme Bleu, Woolrich, BurdaStyle's Jason Vest and Jakob Shirt patterns.
#4 – Try Out a Chunky or Fair Isle Knit
Because I love a boy in a good sweater….or a good sweater I can steal from a boy.

Top from left: DSquared, Martin Margiela, Yigal Azrouel and Paul Smith. Bottom row: Junya Watanabe.
#5 – Take an Inch (or two!) Off Those Pants
Go ahead, blame it on Mr. Browne. Pair your ankle bearing pants with bright socks and killer shoes (like some great double monk straps).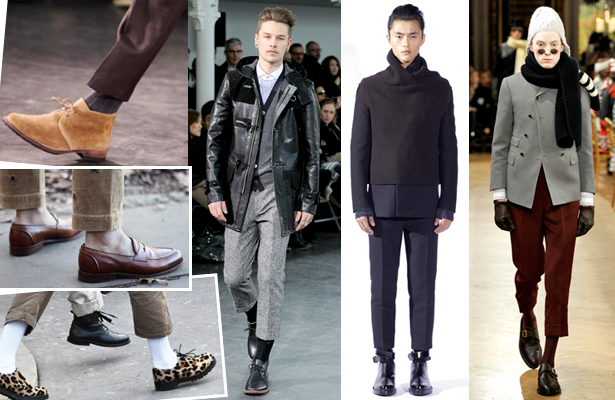 From left: Shots courtesy of The Sartorialist and Tommy Ton, Junya Watanabe, Phillip Lim and Thom Browne.
And Last, But Not Least
Make That Button Up in Denim, Invest in a Good Tweed, Try a Wide Brim Hat

Clockwise from top left: Paul Smith, Alexander McQueen, Viktor & Rolf, Paul Smith, Lanvin, DSquared.
So I want to hear from the guys of BurdaStyle: Do you keep it more basic or play around with your fashion and projects choices?