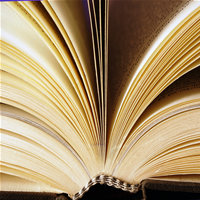 ShareThis
LIT GIRL
Growing up in Florida, there were only two things to do when it rained all weekend: Read a book, or go the mall with Ashley. The mall usually involved Kim and Carrie, too, and then some lounging over smoothies at the food court, and inevitably, the whole point of the mall, a visit to Contempo. Contempo was the place you'd go for, say, a pair of lace-trimmed denim shorty-shorts, and the matching vest, or for a floral baby doll made from fabric slick as an oil spill. I was not a Contempo girl. My tastes in high school were cautious and tomboyish; very Gap, in other words. But Ashley and Carrie and Kim lived for Contempo, and so off we'd go, me idling by the racks as my three live-fast friends plunged into the dressing rooms. I think my antipathy towards H&M was seeded in those rainy Contempo days: Here we go again, cheap, on-fad, disposable. Anyway. As noted, the other option was reading, and reading back then felt something like the opposite of Contempo. I'd curl up with whatever book had struck my fancy that day, and spend the afternoon in moody seduction, the seduction of the reader by the read. There was nothing trendy about it. It was pure.
Like most avid readers, I can measure out my life by the books that have meant the most to me. Ages 8 – 10, Harriet the Spy, From the Mixed-Up Files of Mrs. Basil E. Frankweiler The Westing Game. 10 – 12, the Anne of Green Gables years. Age 13, a weird lacuna of Agatha Christie. Starting in high school, the books of influence come faster, assigned reads such as The Stranger and The Scarlet Letter trading places with whatever I'd plucked from the shelf on a whim, Le Carre thrillers, my mom's old copies of D.H. Lawrence, Conrad and Lolita, short fiction by Cheever and Updike, because by this point, my grandma had gifted me a subscription to The New Yorker. For the most part, I think of these as the poetry years – I wrote a lot of poetry in high school, some of it not totally bad – and as I look back, I think of these years, too, as the ones where I began to cultivate a sense of my own despair. It seemed impossible to me, then, that a reader and a writer could be anything but bloody-minded; what were books about, after all, if not the darkness lurking below the surface of cheery reality? The books I preferred didn't end happily ever after; even if they ended well, the reprieve was hard-earned, and along the way, one felt, protagonist and reader alike had learned some terrifying things about the evil of Man. I loved Crime & Punishment.
Or, another way of looking at the high school years: Reading was the thing I did to shore up my own sense of superiority. Not that I didn't love reading; my love was sincere. But it was the very fact that I loved to read, and by extension, loved to think, that separated me from the Contempo girls, the ones I didn't like, and the ones I did. Kelly K may have had sleek blond hair, and a brand-new Celica on her 16th birthday, and the love of the boy I wanted, but I had my profundity, and when God rained hellfire on my family senior year, there was a silver lining in knowing I'd been right all along, that the world was a hard place, and that I had been selected, the hero of my life, to suffer toward special grace.
I don't read as much as I used to. Maybe I maxed out in college, maybe it's because I have better friends and more that feeds my soul. But books are still my escape when life gets too much for me, and I still catch myself, sometimes, sneering down my nose at people who wouldn't know great literature if it crawled up their noses and laid eggs in their brains. The people who don't read at all I pity; the ones content in their Oprah tastes, I'm fine with them, too. My wrath is reserved for the pretenders, the people who claim to love books because they love a book, a single one, bad. I know, trust me, it's snobby for me to say that. Elitist. Insufferable. But I'll go out on that limb because it offends me when people take credit for passions they don't have. I went to a book launch party recently, and though the place was jammed I could count on one hand the number of attendees who'd read a book of any kind thus far this year. I got the sense that most people there were doing a good job talking around books, mouthing phrases from reviews they'd skimmed as they helped themselves to more wine. Making the scene, pocketing a copy of the "it" thing by the new hot author, everyone milking self-satisfaction from each other; it all felt very Contempo to me. Cheap, on-fad, disposable.
I mean, a party's a party, sure, but I seem to be going to this party all the time. Art Basel Miami, Sundance, New York Fashion Week, SXSW; what once were conventions for the professional and the passionate have become stops along the moveable feast of international hipsterism, one more excuse for a late-night soiree in a scenic locale. I haven't been to all these parties, but I'm invited to them, and I know who goes. I fear we've entered the age of the hangers-on. Or, more accurately, another age, the whole thing mobilized this time by Wi-Fi, cheap flights and boutique hotels. Music and movies and fashion and art have long been scenes run on wannabes and groupies, but I'd held out some faint hope that books, due to the sheer effort of having to read them, could remain a last redoubt against cool. There have been cool books before, Bret Easton Ellis, Jay McInerney, maybe Paul Auster, that generation. The Beats, before that. But I can't recall a time when books have so much been treated as an accessory to a lifestyle, the same as the right haircut or pair of jeans. But this complaint isn't really about books. Literature will survive, I'm sure, good writers will continue to write, and I will retreat, when necessary, to the pages of whatever I feel like reading on that particular rainy day. What I'm arguing for, really, is eccentricity. Individuality, idiosyncrasy, strong opinions, strange obsessions, enthusiasm. I'm over cool. I've been to that party a few too many times. I'm ready for awesome. Aren't we all?
This week, BurdaStyle gets literate.