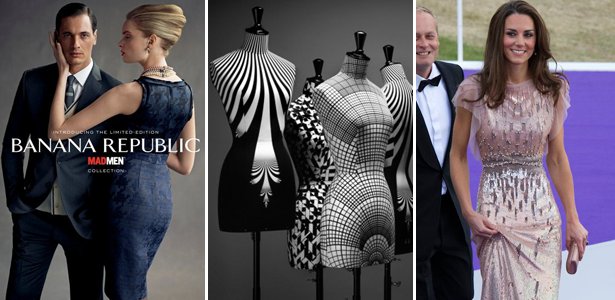 ShareThis
It's been awhile since we've rounded up links for your viewing pleasure and today we're playing catch up. Click through to see what we dug up this week…
-Did you know that costume designer Janie Bryant collaborated on a Mad Men inspired collection for Banana Republic? See complete collection photos here.
-While they may not be the most usable dress forms for sewing, these Stockman x Emmanuel Bossuet busts are seriously chic.
-For her impending first trip to the US, Duchess Catherine has refused to accept free clothing and is working with a select group of designers to help build her tour wardrobe. Which designers would you like to see dress the new royal?
-Former Dior designer John Galliano goes on trial this week and GQ decided to live tweet the details. I have a lot of respect for the stylish men at GQ (hey Glenn O'Brien, lets be friends!), but that seems a little gauche to me…thoughts?
-If you want to connect with other creatives in your area, newly launched social networking site Shneaky is for models, designers, stylists and photographers who are looking to collaborate on projects. Start a profile and upload pictures of your work, scope out what other people are up to and share your collaborations with the Shneaky community.
-How adorable is this striped bandeau bikini? See more styles from the line, Amourouse, in their Etsy store.
-Refinery29 enlisted the help of writer Nicolette Mason to pull together the best ways to break the "full-figured fashion rules". See all her great suggestions for Spring and read more about Nicolette's fashion adventures on her eponymous blog.
-Designer Azzedine Alaia gives a pretty candid interview to Virgine magazine, cutting both Karl Lagerfeld and Anna Wintour down to size. He also talks about the break-neck pace of the fashion industry and how it is stifling creativity and taking both an emotional and physical toll on designers – which I happen to agree with wholeheartedly. What do you think?
-Artist Daniel Kornrumpf makes some seriously amazing art using his embroidery skills. Check out Daniel's incredible embroidered portrait series here.
-For our Montreal-based members, make sure to check out the Jean-Paul Gaultier exhibit at the Montreal Museum of Fine Art now through October 2, 2011. Covering Gaultier's career since he started in the 1970s, the exhibit includes two iconic corsets from Madonna's 1990 "Blond Ambition" tour as well as other costumes the singer lent to the museum straight from her closet. Can't make it to the museum? Get a sneak peek at the exhibit courtesy of Videofashion Daily.
-Attention accessory designers – Henri Bendel is partnering up with Swarovski and opening up it's doors to "new and emerging talent" with it's first Online Open See. Submit your bag, hat, jewelry or small leather goods design for the chance to have your creation sold worldwide! Learn more about this fantastic opportunity and how you can take part here.