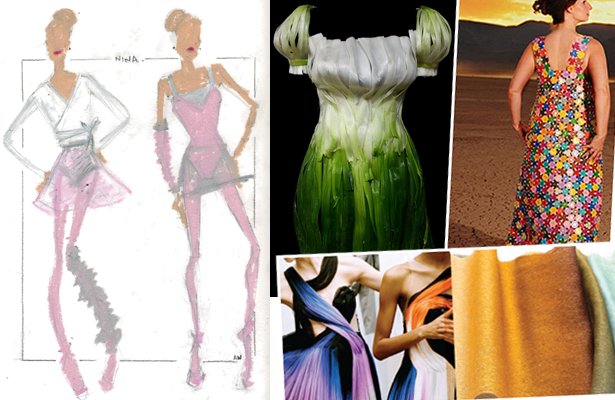 ShareThis
Lots of fun stuff this week. From an ambitious state-themed dress projects to a comprehensive guide for all the embroidery and needlework stitches you'll ever need, to great DIY projects to keep you occupied! Learn more after the jump.
-Artist Robin Barcus Slonina is currently on a mission to travel across the U.S. and create what she calls a "site-specific, interactive dress sculpture" in each state for her project, State of Dress. Check out her work so far, which includes the New York Trash Bag Dress and the Nevada Casino Chip Dress.
-Students and researchers at the University of Sheffield, London College of Fashion and University of Ulster collaborated on a project using a flexible, spray-on concrete material to create a dress that literally absorbs the air pollutants around it. Good for the environment, probably not so good for the wearer.
-Any shoe designers in the house? J. Crew's creative team, headed up by Jenna Lyons, recently traveled to Italy to work on footwear for the upcoming season. Check out their "About a Shoe" video and why they think the best ones are made in Italy. Do you agree?
-I'm sure we all have more fabric scraps lying around than we know what to do with. If you're looking for another creative way to use them up, try this Fabric Notebook Cover Tutorial from My Patchwork.
-Apparently there is a bit of controversy going on over who actually gets credit for designing the costumes for the Oscar nominated film, Black Swan . Amy Westcott, the film's credited costume designer, finally breaks her silence about working with Rodarte to the blog Clothes on Film.
-Speaking of Rodarte, the Mulleavy sisters have created an upholstery and drapery collection for Knoll fabrics inspired by their runway collections over the last 5 years.
-On Wednesday Punxsutawney Phil declared that Spring is indeed on it's way. Celebrate by clearing out those old sweaters and giving them new life with this crafty Throw Pillow Tutorial. After the brutal winter we've had here in the northeast, I can happily say I'm glad to see cold weather go!
- For all you hand stitching and embroidery mavens (or those wanting to give it a try), check out Sharon B's amazingly comprehensive guide to every type of embroidery stitch imaginable! She's even rated each stitches' degree of difficulty and provided pictures to help guide you along the way.
-Korean artist Yeonju Sung's "Wearable Food" project consists of a series of photographs of clothing made entirely from a specific food. Highly conceptual and at times even a bit uncomfortable (um, shrimp bustier anyone?) Sung says her work creates interchangeable stories between an actual and a made-up reality.
-Full skirts, do they ever really go out of style? Meghan from the blog Out of Order shows you how to make an adorable one in a few easy steps. Try it out for yourself this weekend!
-If you live in the Santa Monica, California area and you love vintage, you won't want to miss out on the Vintage Expo, happening this weekend at the Santa Monica Civic Auditorium. Check out some of the best vintage dealers from across the country and hopefully score some amazing finds in the process.
-Dutch designer Iris Van Herpen, architect Daniel Wildrig and MGX by Materialise have collaborated on van Herpen's second 3-D printed collection, entitled Escapism Couture, which debuted at the Paris Haute Couture shows a few weeks ago. Van Herpen is known for her conceptual and innovative collections and she strives to mix forgotten techniques with new innovations in technology to create truly stunning and unique pieces of fashion art.