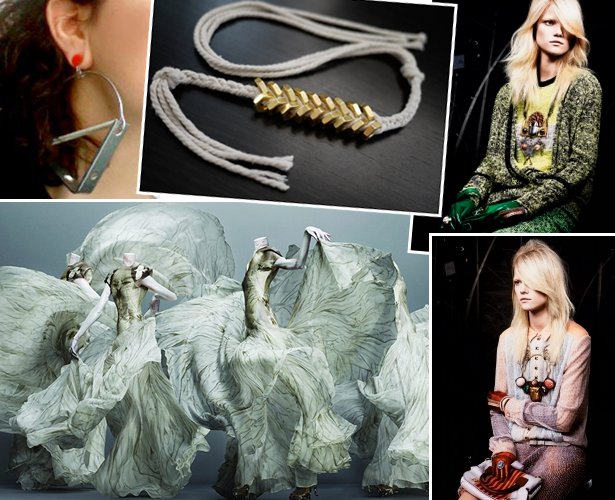 ShareThis
Chloe Sevigny interviews Jack McCollough and Lazaro Hernandez, The Met readies for McQueen's Savage Beauty exhibit and Abi from Vanilla & Lace makes the most adorable pair of bloomers – all in this week's roundup of great links from around the web.
See more after the jump!
-Rounding out another season of film and television awards shows, the 83rd Academy Awards take place this Sunday in Hollywood. The night when actresses (and a few actors) really pull out all the stops, it's the most watched red carpet event of the year. Predictions for dress selection have been floating around for weeks and outlets like Harper's Bazaar, My Daily UK and Stylelist have put in their picks. Michelle in Chanel and Natalie in Dior? What looks do you think will turn up on the red carpet?
-If you love sandblasted denim you may want to think about switching back to true indigo because both Levi's and H&M have stopped using the heath-harming procedure in their manufacturing and are teaming up with the International Textile Garment & Leather Workers' Federation to ban it's use throughout the fashion industry.
-In May, the Metropolitan Museum of Art will roll out it's latest Costume Institute exhibition with this year's spotlight on Alexander McQueen. Entitled Savage Beauty the exhibit will run from May 4, 2011–July 31, 2011 and celebrate McQueen's amazing contribution to fashion, and The Guardian got a sneak peak of some of the over 100 pieces that will be on display at the museum. Pack yourself in a friend's suitcase, stow away in an overhead bin, steal your parent's car; just make sure you get yourself to New York because this is one exhibit you do not want to miss!
-If you need your McQueen fix now, our UK members can tune in to Channel 34 tonight to see the documentary film McQueen and I. Including rare footage and interviews, the doc takes a look at McQueen's relationship with muse Isabella Blow as well as his rise to becoming one of the most revered designers of our time. Read a bit more about the film here.
-Proenza Schouler keeps on knocking it out of the park. Their shows are always the height of fashion week and their collections continue to get better and better. For the latest issue of Interview Magazine, friend Chloe Sevigny sits down with Jack McCollough and Lazaro Hernandez to talk about inspiration, working together and that one time Lazaro lost his dog at an art opening.
-Speaking of Proenza Schouler…Target is re-releasing 34 popular pieces from their past Go! International collaborations with designers like Proenza Schouler, Behnaz Sarafpour, Alice Termperley and Thakoon. The collection will be available in-stores and online from March 13th through April 10th.
Projects to try this Weekend
It wouldn't be a weekly roundup if I didn't add in some fun DIY for you to work on this weekend!
-Attention jewelry crafters! Did you know that hardware stores are great places to stock up on supplies? Check out these art deco-esque earrings made by Refinery 29 contributor Daniela Jacobs and Honestly….WTF's DIY Braided Hex Nut Bracelet.
-Start making too much amazing hardware store jewelry and you're going to need somewhere to put it. Crafty bloggers momtastic and Love People. Like Things show you two great ways to make your own jewelry organizers with some things you may have just hanging around the house.
-Who doesn't love looking good on a budget? Rachael from talk2thetrees is the master of fashion on the cheap and her guide to making the perfect summer dress for only $6 will have you whipping these up all season long.
-For our BurdaStyle knitters – a step-by-step guide to double knitting. And if you're looking for some extra yarn, why not take a second glance at those sweaters you don't wear anymore. This guide will show you how to properly unravel a sweater so you can save and reuse the yarn for another project.
-Sometimes lugging around a purse is more of an inconvenience than it's worth, and it's also not always easy to stuff everything we need in our pockets. This Cargo Scarf from Instructables is the perfect solution to your personal storage dilemmas.
-And last but not least, Abi from Vanilla & Lace made the most adorable pair of bloomers from a pattern by Colette. Download the free pattern here and try a pair for yourself.
Everyone have a great weekend!