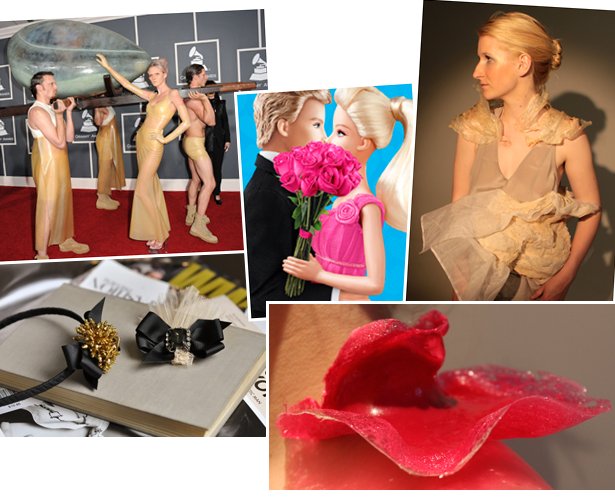 ShareThis
Lots of things happening this Valentine's week! Hope everyone had a great one. Now, on to the weekend!
Check out some of my favorite stories and projects after the jump.
-I just want to take a moment to remind everyone that Lady Gaga showed up to Sunday night's Grammy Awards Show in a giant Hussein Chalayan egg and both Florence Welch and Nicki Minaj rocked Givenchy Couture (Welch in Spring 2011, Minaj in Fall 2007). These music ladies are turning into some serious fashion heavy-weights!
-Need an apron? Aussie website Frugal and Thriving offers 39 different tutorials so you can find the one that's just right for you. Oh, and they're all free!
-Speaking of sewing and food, recent graduate Emily Crane's Micro-nutrient Couture project is high fashion you can eat (sort of). Mixing ingredients like kappa carrageenan and beef gelatin (mmmm, yum) Crane creates avant garde "garments" that, from a distance, really do look to be made from fabric.
-Did you hear? Ken and Barbie got back together! And on Valentine's Day nonetheless. Everything seems right with the world again…
-Sophia from Phosphene is M+J Trimming's Blogger of the Month for February. Check out her adorable DIY projects here.
-If you're looking for a quick project to keep you occupied this holiday weekend, check out a few I found:
1. Make a pouf – courtesy of Design Sponge
2. Make a bag. Small, medium or large, this great list from Whip Up covers all your bag needs.
3. Make a zippered pouch from Pretty Modern.
4. Stamp a Tee. A great no-sew project to liven up any basic.
-Threads Magazine went behind the scenes at the Western Costume Company in Los Angeles and their rows and rows of fabulous vintage pieces. Talk about a treasure trove of inspiration!
-And on a completely different note…did you know that Kim Kardashian is paid roughly $12,000 to tweet about a product? That's just one of the ways the Kardashians pulled in $65 million last year. Whew.
All for now – enjoy the weekend!