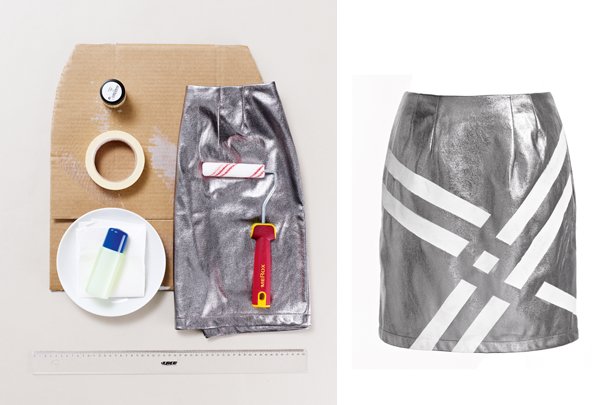 ShareThis
Add some pizazz to a new or old leather skirt!
All you need is:
- Leather skirt
- White fabric paint
- Paint ­roller
- Masking tape
- Cardboard
- Plate
- Acetone nail polish remover
- Paper towels
- Vanishing marker
Cover work surface with paper. Cut cardboard to shape of skirt and slide into skirt.
Step 1:
Using a ruler, mark the lines and place the masking tape on the skirt 4cm apart.
Step 2:
Brush the surface with acetone nail polish remover. This pretreatment makes so that the color adheres better,
Step 3:
Paint the skirt between the tape lines with roller and white paint. Allow to dry – done!
This Metallic Skirt and Paneled Skirt would work perfectly for this project!
Happy DIYing!