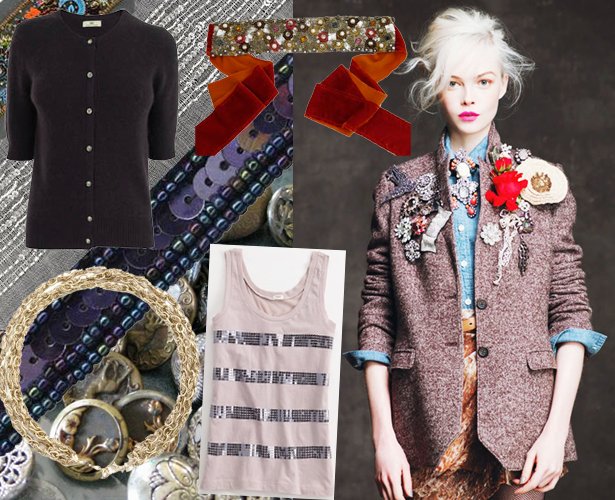 ShareThis
If you're anything like me, you leave that whole "What am I wearing for New Year's Eve?" dilemma until the last minute. Don't have time to whip up an amazing frock or dash off to your favorite boutique to scoop up a new outfit? I threw together some super quick and easy DIY ideas for fun accessories that are sure to perk up whatever you pull out of your closet!
As a jewelry designer, I always have loads of extra chain lying around – so tossing them all together into a simple chain belt is a no-brainer. This can also be done with long necklaces, or if you have a few short ones you can grab some jump rings and link them together. If you have none of the above on hand, your local craft store is sure to have miles of different chain to choose from, just make sure to remember to grab a clasp and extra jump rings, just in case.

Add a bit of sparkle to a basic tank with ready-made sequin trim. Measure out how far you want your rows apart and simply tack the trim to your tank with a few simple stitches. This way, if you decide after New Year's that you want your old tank back, you can make a few snips and off comes the glam.

Cardigans are a great staple but you don't want to bring down your ensemble by having to throw a boring sweater over a fabulous dress. Stay glam and warm by replacing standard issue buttons for fabulous vintage or crystal ones and give your cardigan an easy makeover.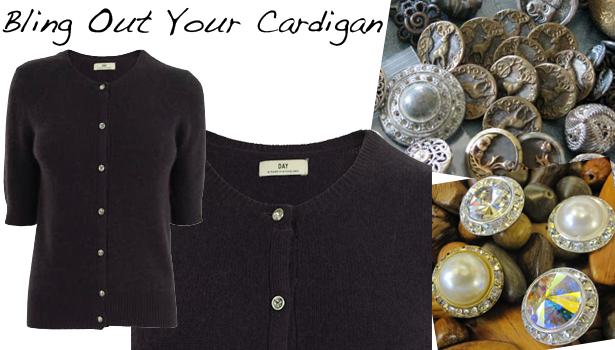 Belts are always a fun way to dress up a basic piece. A wide piece of ribbon, some embroidered trim and you can quickly make your little black dress (or skirt, or pants) party-ready.

I used to collect vintage brooches and loved to toss a handful of them onto my jackets before I went out. It's a great way to glam up your outerwear and a sure-fire conversation starter.

Did you DIY your New Year's ensemble? What will you wear to ring in 2011?