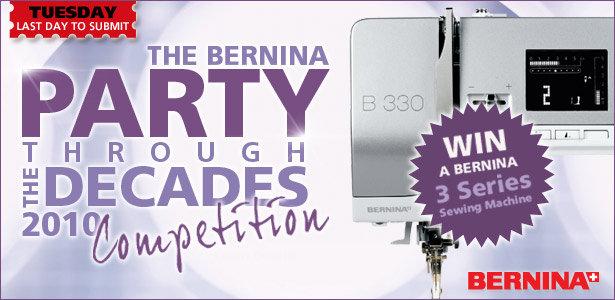 ShareThis
We hope you're rounding the corner on finishing those party looks because today is the last day to get your submissions in for the Party Though the Decades Competition presented by BERNINA!
Remember to include a photo or mood board collage of what inspired your look, along with high-resolution head to toe photo of your finished piece, your username and a link to your project on BurdaStyle. Entries must be sent to submissions[at]burdastyle[dot]com by 11:59 pm EST on Tuesday November 23rd to be eligible to win fantastic prizes from BERNINA and BurdaStyle!
1st Place- $300US cash prize
2nd Place- $100US cash prize
3rd Place- $50US cash prize
One lucky winner will be chosen as a sponsor favorite by BERNINA to win the new BERNINA 3 Series sewing machine.
And for a last minute kick of inspiration, check out what members of our editorial staff picked as the fashion eras that spark their creativity.
Step up to a machine that won't hold you back: The BERNINA 3 Series. The affordable new line combines superior performance, outstanding durability, and incredible Swiss engineering.