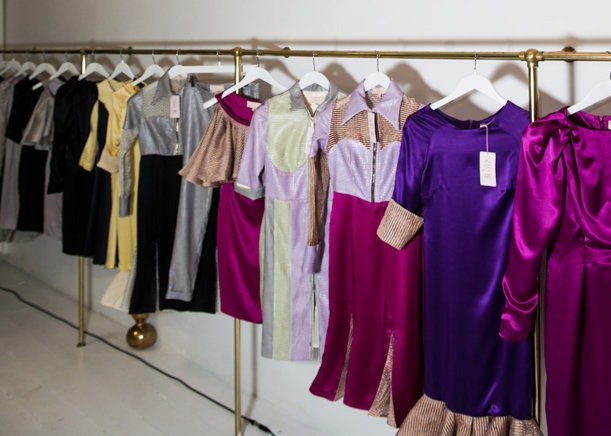 ShareThis
In Thursday's Web Seminar Learn how to transfer the fit and design of a ready-to-wear garment to a paper pattern! Sign up now for Knock-Off: Creating Patterns from Ready-to Wear-Designs!
Do you have that pair of pants or other garment that you find yourself wearing all the time because you just love the fit and or placement of garment details? What if there was an easy way to transfer the fit of your garment to paper and create sewing pattern from it, well there is and in this live web seminar you'll see this process demonstrated right before your eyes. There are multiple techniques for doing this and Meg has tried them all! She has perfected this technique and will share with you the easiest and most accurate way to convert a ready-made garment into a sewing pattern (that you can then further alter).
The technical term in the industry for this process is called "Knocking Off" and it is a common practice for large clothing retailers that want to "copy" a hot trend. In the manufacturing process they use similar techniques to vastly shorten the pattern-making process by transferring the style and fit of the garment so they can capitalize on the trend. Learn the practices of the industry and do this for yourself! It is a great pattern making technique to know and is great if you want foundation patterns that are developed from already perfect fitting garments in your wardrobe.
Can't attend the live web seminar? Everyone who registers will receive a recording of the event in a thank-you email that goes out on the Monday after the live event, along any downloads or resources referenced during the web seminar, and will have the ability to ask any follow-up questions via email.
What You'll Learn:


The various "Knock Off" methods
Copying a knit garment
Copying a pair of pants
Copying a dress
Additional alterations you can do to perfect and further modify your copied patterns
Click Here to register for Thursday's live web seminar at 11:00am EST
Who Should Attend:


Sewers looking for alternative methods in creating sewing patterns
Pattern makers looking to transfer the fit of garments into reusable patterns
People comfortable working with drafting tools
How to use buttons and button hole techniques to create a more couture look
Sewers and pattern makers with an understanding of garment construction
Have a question about a specific technique? There will be a Q&A session at the end of the web seminar where you can ask Meg any questions you have, and no question goes unanswered!