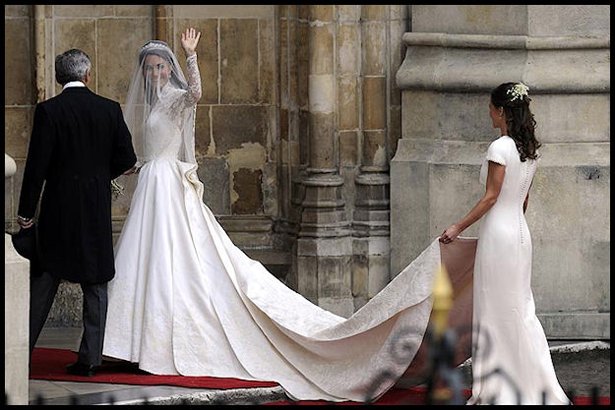 ShareThis
After weeks of speculation, new Royal Kate Middleton finally revealed her dress designer choice to the world when she walked down the aisle this afternoon in Sarah Burton for Alexander McQueen. First let me say that I am not a sucker for weddings, nor do I consider myself a hopeless romantic, but when Ms. Middleton stepped out of that car I couldn't help but gasp for breath. She looked truly stunning – balancing perfectly between the modesty expected of her by the Royal Family and contemporary style, Middleton was the picture of a princess. See more pictures and videos courtesy of the BBC after the jump.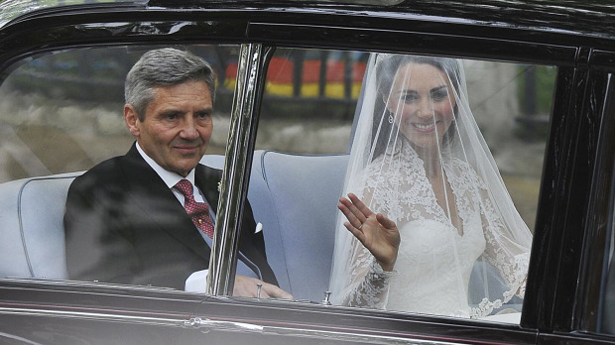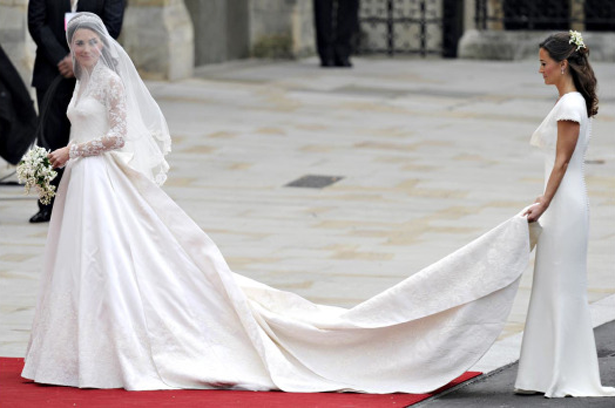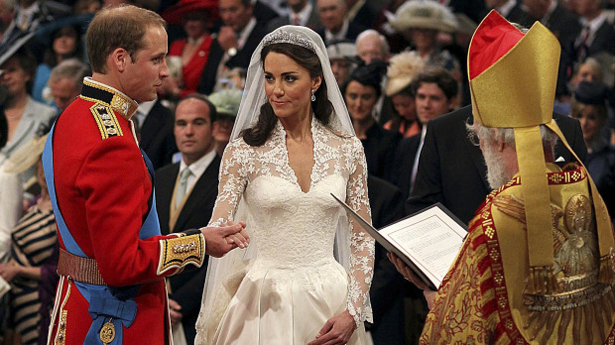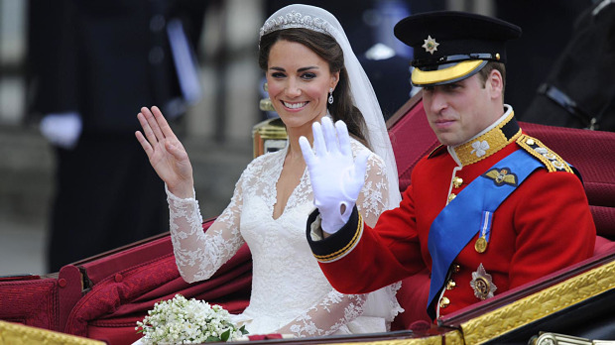 The McQueen dress was made from ivory and white satin gazar with hand-cut English and French Chantilly lace crafted by the Royal School of Needlework. They used a Carrickmacross lace-making technique, which originated in Ireland in the 1820s. The train on Middleton's gown measured just over 8 ft, with the back of the dress finished with 58 gazar and organza covered buttons. You can read more about the details on Kate's dress, as well as the dress her sister and Maid of Honor Pippa wore, here.

I love how when one of the commentators says the dress is Burton for the McQueen you can hear the other go "Yay!". What did you think of Kate's dress? Do you think McQueen was the right choice? What other designer would you like to have seen dress the new royal?
Middleton's pick is well timed, as the Met's retrospective of McQueen's work, Savage Beauty, opens this coming Monday with the Costume Institute Gala.
And I was just speaking to a friend the other day about how well Sarah Burton has transitioned into her role as the new head designer for McQueen. She has found a way to continue with the legacy McQueen built while brining in her own, more feminine spin. Case in point, her Fall 2011 collection for the house which garnered accolades from across the board and had critics, buyers and fashion lovers praising her fresh yet respectful vision for the McQueen name.
Between her stunning collections and the worldwide fame her dress for Middleton will no doubt bring, Burton is well on her way to solidifying her own place in fashion history and I look forward to her continued evolution at McQueen.
Photos courtesy of Reuters, BBC and metmuseum.org