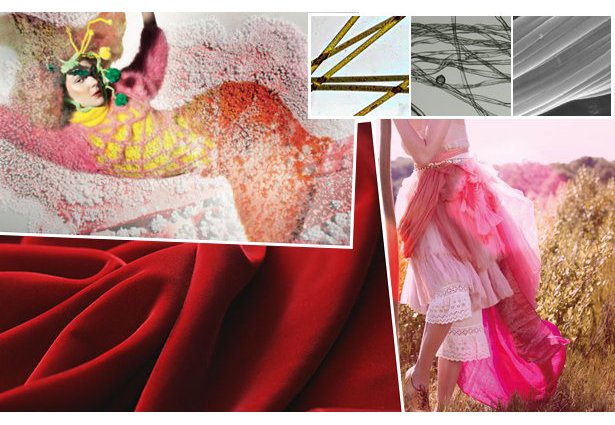 ShareThis
Jeremy Fordham is an engineer who is excited about encouraging dialogue in unique spaces. He contributes to resources promoting Ph.D. programs and is an advocate of sustainability and green energy.
Fabrics are an essential part of everyday life. From their functional purposes as clothing, carpets and curtains to their to aesthetic incarnations as wearable art, fabrics have enriched human existence for centuries. While cotton, wool, silk and linen have been utilized by cultures around the world for generations, scientific research over the last century has yielded a plethora of new, synthetic fibers. While these innovations have made lives infinitely richer, they have also greatly complicated the arts of sewing and fabric design.
As those who have attended online Ph.D. programs in this area know, fiber composition and chemical structure not only affect the lifespan of the fabric, they affect how easily the fabric can be dyed, woven and stitched. They affect whether a fabric must be steam treated, dry-cleaned and even dictate the temperature of the water in which delicate fabrics must be washed. However, while fiber science is certainly complicated, understanding some basic principles will make it possible to select the best fabric for any design endeavor.
Chemical Structure
Put a piece of cotton cloth under a microscope, and you'll see the individual thread fibers that form its structure. As this World of Molecules article points out, in its most basic form cotton is simply cellulose with a unique crystalline structure that lends it strength, flexibility and absorbency, making it ideal for weaving and dyeing.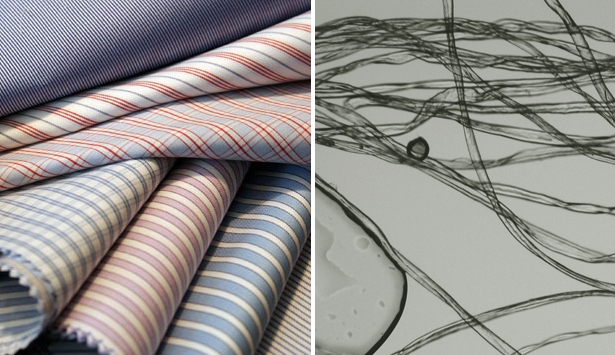 Cotton fabric, cotton fibers magnified 100×.
Just as cotton's unique properties make it an ideal material for spinning into thread and weaving into cloth, each fabric has a unique molecular structure that makes it ideal for certain uses. As this ScienceDaily points out, silk is actually stronger than steel, but it is flexible and feels luxurious against the skin. Why? It's a protein with a complex and singular molecular composition that moves sinuously despite its rigidity and sheer strength.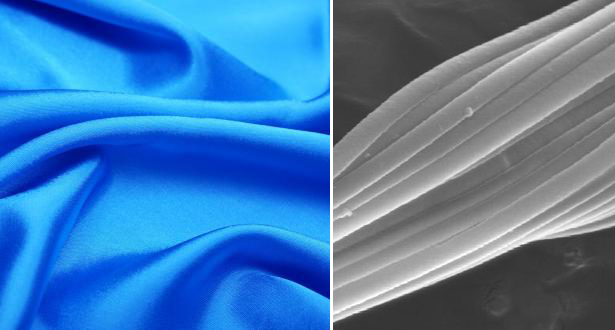 Silk fabric, silk fibers magnified 30,000×.
Understanding the properties of these and other naturally occurring fabric materials has led to many innovations in the manufacture of synthetic fabrics that take their chemical inspiration from their natural counterparts. For instance, polyester takes its name from the fact that it is chemically constructed of polymer chains linked together by ester compounds. This material can be used to manufacture plastic soda bottles just as easily as it can be used to create fabric for clothing. Polyester is remarkably durable when doused in water, making it ideal for practical outdoor wear, however it breaks down when exposed to alkaline substances like sodium hydroxide.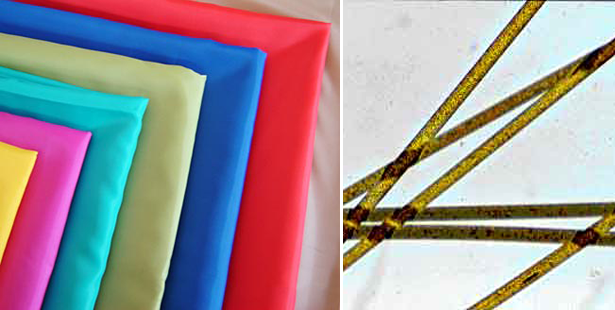 Satin Polyester fabric, polyester fibers under a microscope.
Shrinkage
A fabric's chemical structure even affects shrinkage. For instance, many fabrics are labeled "dry clean only" not because one wash will destroy the fabric but because multiple washes will slowly cause the fabric's fibers to break down, leading to shape change and shrinkage. According to an article on American Dry Cleaner by Norm Oehlke, wool, a protein-based chemical, suffers from progressive shrinkage and felting shrinkage, which often means that dry cleaning is essential to its maintenance. Cotton, on the other hand, shrinks most on its initial wash, which is why many cotton garments display the words "pre-shrunk" on the label. One creative way to avoid shrinkage in fabrics is to weave together the chemical structures of cotton and polyester, creating a cotton-polyester hybrid that will not shrink.
Many of the synthetic fabrics manufactured today are designed to tolerate washing, but some varieties may shrink. For instance, rayon may shrink when washed and stretch when it gets wet. On the other had, spandex suffers far less wear from moisture than its equally stretchy counterpart, Lastex, because of its slightly different chemical structure. Clearly, knowing how the chemical structure of a fabric is essential to understanding how it will respond to washing or dry cleaning. Without proper care, garments, carpets and any other fabric-based material will be destined for rapid destruction.
Fabric Thickness
Cotton is the "fabric of our lives", but just how many varieties of cotton are available? The answer, according to the International Trade Centre, is upwards of 500. Cotton can be broken into six main categories, and those categories provide usage constraints. Gauzy, 100 percent cotton shirts are so thin as to be almost sheer and durable; 100 percent cotton denim jeans might be made from the same material, but structurally, they're very different. These constraints affect the setting that should be used to sew with specific cotton. Just as you wouldn't use a jackhammer to drill the hole to hang a picture, you wouldn't use the same settings to sew a shirt as to sew denim jeans.

Cotton-based fabrics: denim, gauze, cotton jersey.
Fabric thickness is perhaps the most obvious signal that different fabrics must be treated in different ways. Just as gauzy cotton and denim are different, so too are chiffon silks different from raw silks. While the differences are easy to spot physically, they originate at the molecular level, causing the fabrics to be structurally different. Thus, while a stronger, thicker denim needle might be used to sew denim cotton, an extremely fine needle is needed to sew gauzy cotton. Short stitches will be used to hold the denim together, while long stitches will help prevent snagging of the gauzy cotton. The structure of the fabric ultimately affects how it is used.
Thousands of years have passed since the first cotton and flax fibers were cultivated and used to create clothing, but our understanding of them is only now beginning to evolve. Far from being the realm of fashion designers and textile artists, innovations in fabric have been developed through a partnership between these creative thinkers and the scientists who search for why something works, and look for new answers to solve perplexing problems. The story of the development of polyester is just one example of how fabric design and chemical research have collided over the years with results that have, and that will continue, to change our lives.
~Jeremy