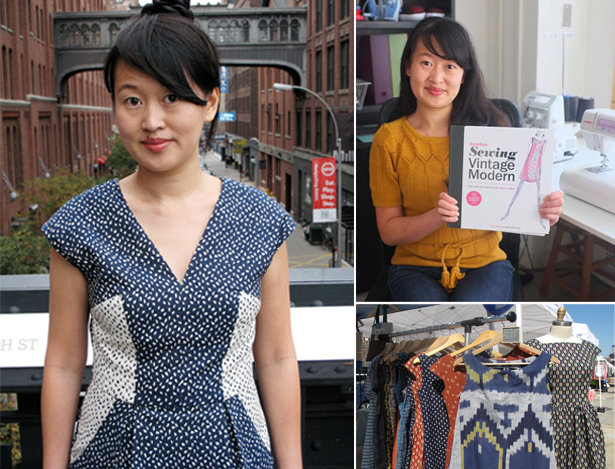 ShareThis
This week, we interview BurdaStyle editor Jamie Lau, who is the co-author and lead designer of our latest book BurdaStyle Sewing Vintage Modern.
1. Tell us a little about yourself and your personal style.
I'm originally from San Francisco and grew up in the Mission District. I moved to New York about ten years ago for undergrad, and continued on for graduate school at Columbia University studying something that was definitely not fashion-related. If you met me back then, I probably would have told you that I wanted to be a human rights lawyer (who also happened to have a penchant for fashion).

I would describe my personal style as feminine, but a tomboy at heart. When first getting to know me, people usually start to notice pretty quickly that I only wear dresses. And on days when I wear pants, people really notice. I like comfortable, easy-to-wear cuts (think A.P.C., Steven Alan, and Japanese aesthetics), but styles that are also elegant and timeless. I don't find super tight, body-hugging clothing to be flattering on me, and usually go for something more demure with a standout fabric.




(Left) Jamie wearing her Sunny Disposition Dress, (Right) Jamie modeling her Peter Pan Collar Pinafore dress variation

2. When did you start sewing?
I took my first sewing class in the fall of 2007 and got a sewing machine as a birthday present the following spring. I was intimidated with the whole bobbin winding and threading process at first, but once I tackled that, I was on my way to making an insane amount of reversible tote bags for friends so I could practice sewing in a straight line. I eventually got involved with the local craft fair scene in San Francisco and started selling sewn accessories from my line Jamie Lau Designs. I then delved into learning patternmaking and draping while I was still working full-time so that I could progress into designing clothing – my true passion – and eventually left the cubicle to become a career changer.




Photos of some of Jamie's earlier creations, clockwise from the left: 1. Eiffel Tower reversible tote, 2. Passport covers, and 3. Tote bags from the designer's very first craft fair

3. What is your design process and sewing experience?
For me, it's all about figuring out a good cut and then moving on to fabric selection. I like clean lines and tend to gravitate toward styles that are adaptable with a multitude of fabrics as the seasons change. Working on BurdaStyle Sewing Vintage Modern was perfect for me because I am a firm believer that you really can create an entire wardrobe (or collection) around your basic pattern blocks by simply altering necklines, lengthening hems, color blocking, etc. My wardrobe staples, in fact, happen to be two of the styles I designed for the book – the Jamie Shift Dress and the Elizabeth Gathered-Waist Dress.

The next step is my favorite, as I find fabric shopping the most enjoyable and cannot help but be drawn to expensive fabrics. I love color and I love prints – everything from the abstract to something with a more defined repeat. It's amazing how diverse cotton can be and I particularly like working with Japanese fabric since it's so high-quality and has a nice texture to it, in addition to beautiful prints. I also like working with cotton ikats, lightweight wool, and have been getting into sewing in luxurious metallic brocades since they have such a nice body to them.

I'm an extremely detail-oriented and thorough person (as you can tell from the technical instructions in the book), so my sewing experience is oftentimes a long and arduous one accompanied by music (anything from Neil Young, WFMU, to unbearable psych rock) or a TV show that I can watch multiple episodes of in the background. It's usually an all-day affair, kind of like when I used to work in a darkroom developing photos, and I've been known to sew for sixteen-hour stretches at a time. I always tell people that it's not the actual sewing that takes long, but the prep work (laying out the pattern and cutting), and of course the pinning and pressing.




One of Jamie's most recent creations – a variation of the 1950s Elizabeth Gathered-Waist Dress in a metallic brocade

4. What are your fashion inspirations?
I think the silhouettes, lines, and cuts of vintage Balenciaga are genius. I also like the geometric and architectural influence of '60s designers such as Pierre Cardin and André Courrèges, as well as Miuccia Prada. As for other inspirations that dot my mood board, I love the richness and colors of William Eggleston's photography and film stills from French New Wave movies. I like the challenge of mixing prints, or playing around with colors that pop by pairing with another that's more muted. When traveling, I also love to scout out hidden away local gems, haberdasheries, and of course, go fabric hunting.




Pages from Jamie's personal mood board and fabric inspiration book

5. Who are your style icons?
Françoise Hardy and Hiroko Matsumoto.




More pages from the designer's personal mood board and fabric inspiration book

6. What was your favorite project to design for the book?
In terms of the designs, I worked mostly on the dresses and tops in the earlier decades (the 1920s to 1960s) and the 1980s. It's a tough choice as I really think the 1930s styles are quite stunning, but I would have to say my favorite is the 1960s Jackie Dress. I feel like the sample garment photographed for the project truly embodies what this book is all about. When I found this French brocade in the Garment District, I instantly knew that this was "the one" to truly make our modern Jackie O. look come alive – an unexpected print and fabric reminiscent of a pixelated Tetris motif in what would otherwise be a traditional silhouette.




(Left) The 1960s Jackie Dress from BurdaStyle Sewing Vintage Modern, (Right) The 1920s Louisa Drop-Waist Dress pattern that the Jackie Dress is based on

7. In addition to working at BurdaStyle, what else do you do?
I teach sewing and draping classes at 3rd Ward and Textile Arts Center in New York. I also design for my line Jamie Lau Designs, specializing in handmade dresses. I do custom orders as well and am currently getting ready for my last holiday fair of the year – the Renegade Craft Fair Holiday Market in San Francisco this coming weekend.




Jamie's display of dresses at a recent holiday fair in New York

8. If you were to give a beginner one piece of sewing advice what would it be?
Can it be two pieces of advice? Snip your loose threads and be diligent about pressing along the way to get those nice, clean finishes. Refrain from taking any shortcuts. Otherwise, you may have to take out the seam ripper.

Jamie Lau is a designer, sewing instructor, fashion editor, and author based in Greenpoint, Brooklyn. Check out her website, and follow her on Facebook, Instagram, and Pinterest.