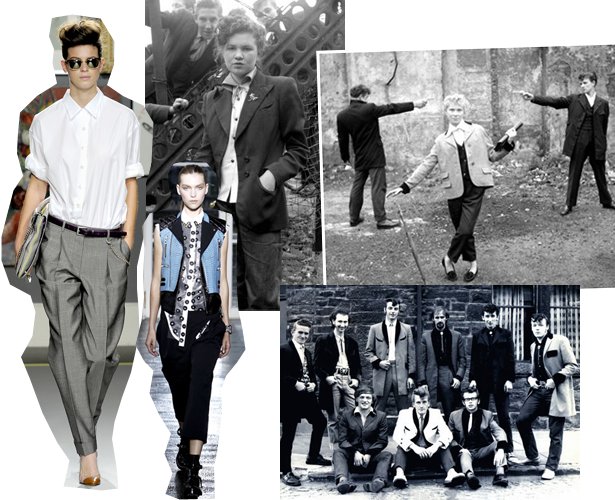 ShareThis
There seem to be a lot of trends from the 50's being referenced in fashion right now. They say every decade cycles back around at some point, and I suppose with all the stresses of our modern world looking back towards the relative innocence and simplicity of the 50's is comforting in a way.
Teenage rebelliousness was just starting to come to a head. The sexual revolution wouldn't break until the 60's, but you could feel an undercurrent of the youth movement making it's way towards the surface. Kids were adamantly pushing against the status quo, embracing a look and attitude that was highly influenced by the new sounds of rock music and American counterculture – from their icons (Marlon Brando, James Dean) to their hairstyles (I believe it was coined the "Duck Arse") to their music and fashion (Bill Haley, Johnny Ray, creepers).
The youth culture of 1950's London was where the Teddy Boy was born. Known for their signature drainpipe trousers and Edwardian jackets, this subculture was considered the first "juvenile delinquents" and while they were a very small movement in terms, their influence carried over into other youth cultures and rebellions well beyond their own time frame and geographic location.
Smuggling store-bought trousers to friends and relatives who knew their way around a needle and thread to have the legs openings tapered in to no larger than 15 inches – 'baptizing' new jeans by sitting in a bath and letting them shrink to your body, these were just a few ways the Teddys differentiated themselves through fashion. Long Edwardian style jackets, touches of velvet and a penchant for bolero ties (blame it on the influence of American Western films) were also signatures of the Teddy Boy look.
The Teddy Boy movement wasn't confined to just the fellas. Girls itching to break out of the "humble housewife" confines of the pre-sexual revolution feminine ideal embraced the freedom and rebelliousness of the look and lifestyle in their own, slightly more girlish, way.
With their pegged pants, oversized jackets and bouffant hairstyles, Teddy Girls (and the Teddy movement in general) were the British equivalent of the American Greaser subculture of the same era.
Paying homage to the original rock 'n roll rebels, designers from Paul Smith to Nicolas Ghesquiere to Tomas Maier updated the look in more modern cuts (Smith and Marant) and interesting materials (Maier for Bottega Veneta and Nicolas Ghesquiere for Balenciaga) for their recent Fall and Spring runways.
Create your own Teddy Boy influenced look with classic BurdaStyle patterns:

Patterns from left: Jakob Shirt, Jason Vest, Osman Tie, Stinchcomb Jacket and Jochen Trousers.

Patterns from left: Jackets – Cropped Denim Jacket, Oversized Blazer, Marilyn Trousers, Skinny Ankle Trousers, Jakob Shirt and Franzi Vest.
What's your favorite counter-culture fashion movement? Would you have been (or were you) a rock 'n roll rebel in the 50's?