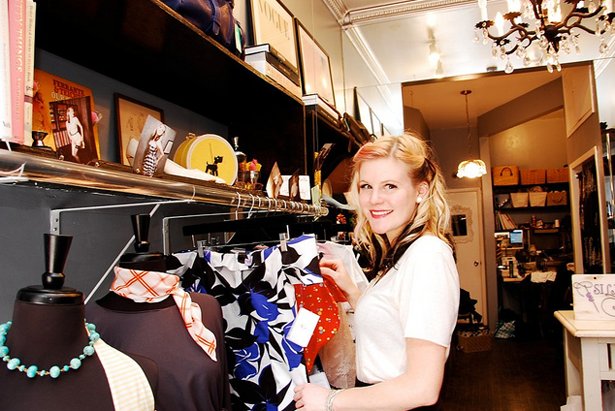 ShareThis
How many of you have dreamed of quitting your day job and sewing full time? Well, Kristen Elmer did just that when she left her job as a buyer at Lord & Taylor to focus on her dream of designing. A year later, Kristen has set up a pop-up shop in Nolita where she will be selling her line, Silk & Cyanide, through the month of April.
Like many of us, Kristen's grandmother taught her to sew, and for her 8th grade graduation she was given a sewing machine. Kristen's early endeavors into fashion were a family affair, with her sister sketching designs and Kristen bringing them to life with fabric and thread. She participated in fashion shows during high school and spent her time modifying vintage finds, but when it came to college Kristen didn't feel that design was a viable career choice.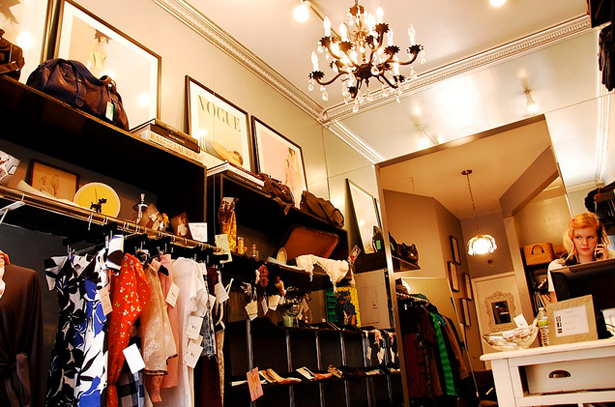 Inside Kristen's pop-up shop at 278 Mott St
Opting to study finance, Kristen headed from her hometown of Chicago to New Orleans to attend Tulane University. While in college, Kristen was exposed to the world of costuming and went on to spend time creating costumes for theatre and burlesque productions.
"I had no costuming exposure before going to Tulane. I was referred to the department by a counselor when I mentioned my plans for being in fashion after school and knowing how to sew. From there I worked for two different costume shops associated with Tulane and another theatre company in New Orleans.
In the burlesque environment you learn that the inside is just as important as the outside. When I originally costumed in theatre, internal sewing was mostly based on function rather than perfection. No one will see it except the actor, so it really isn't critical. In burlesque, everyone has the opportunity to see the inside because it's taken off on stage – so it has to look good – no serging, no tags, no frayed edges. Burlesque performers seem a bit more proud of their costumes and they're a lot more personal – there is more ownership involved and the design process is more hands-on and collaborative."
Kristen moved to New York three years ago and secured a job as a buyer for the then fledgling Macy's online store. As the site expanded and the rigidities of corporate structure sank in, Kristen realized that world just wasn't for her. After a stint at Lord & Taylor, Kristen gave up the life of large-scale corporate fashion and decided to focus her attention on building her own line and championing smaller designers.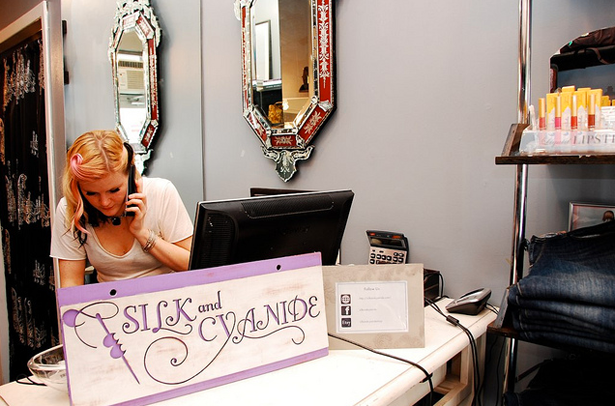 "In buying you essentially run your own small business, and I was exposed to a lot. I would recommend that people work in their industry first, just be careful not to get sucked in. But, sitting in a cube 50+ hours a week stifles creativity and you're dealing with a lot of uninspiring, close-minded people. Neither (Macy's nor Lord & Taylor) is known for innovation and that starts in the office. When that doesn't jive with how you work it can be frustrating for both you and your managers."
She freelanced for awhile and this past August took a job at a small store in Nolita called True Boutique where she recently started selling a few of her own pieces along side the carefully curated selection of smaller labels. When the economy took a turn for the worse, the owner of True decided it was time to move on and with one more month left on the lease, Kristen was given the opportunity to take over the space to create a pop-up shop featuring her designs.
"Since quitting my job my cash flow has absolutely changed, but it's not the end of the world if you're prepared for it. When you get sucked into corporate culture you start getting convinced that there aren't many options outside of your work, but once you're out you see how many opportunities there really are. This decision has changed my life because I'm so much happier! I didn't realize how much I had lost parts of myself and now they're coming back to life. It's the most amazing and rewarding feeling waking up every morning and finally feeling on the right path."
Kristen's work is vintage inspired with a slightly modern edge. The flair for the dramatic she no doubt picked up from her time in the theatre and burlesque atmospheres as well as her love of alt cultures play strong supporting roles in her aesthetics. She's draws most heavily from the 50's, 60's and 80's, but her designs are tweaked to be updated, fresh and above all else, comfortable.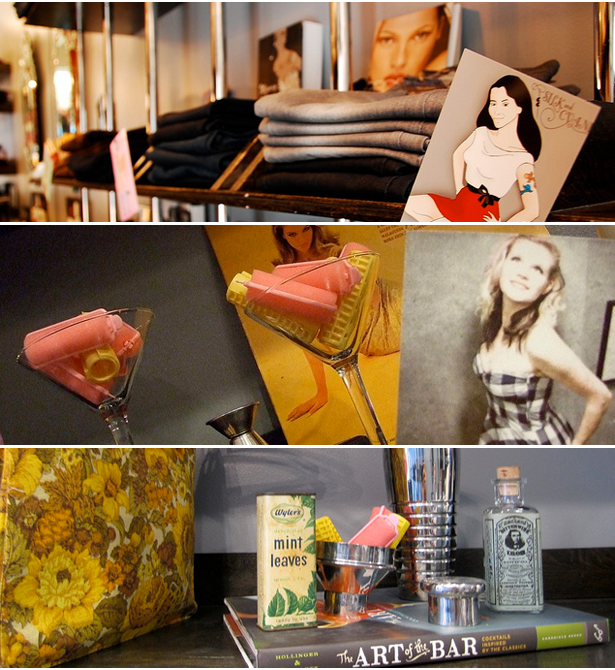 Kristen's decor for Silk & Cyanide is heavily vintage inspired and includes items handed down from her grandmother as well as a great selection of heavy-duty fashion books and framed vintage magazine covers.
"Sewing wise, fabric is a huge inspiration. I lean more towards draping and just cutting something out rather than drawing it first. Fabric will either inspire something, or I'll have an idea and hunt for the perfect fabric and go from there. A hole in my closet can spark my creativity also, it's like a light will just go off. And I like anything that sparkles or is a little over the top, which costuming tends to be."
I create for girls who are confident and know their personal style. People who are out to change the world and be the best dressed to boot. I create with a few people in mind, myself included. I'm lucky to be really inspired by some of my closest friends, and what I make is inspired by and for all of us."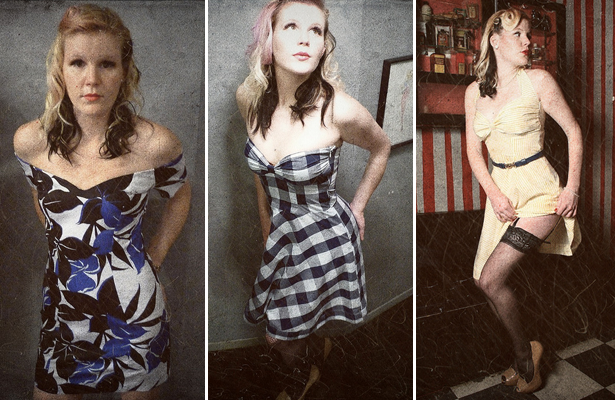 Kristen modeling her Silk & Cyanide designs
While Kristen's other influences include high profile designers like John Galliano, Alexander McQueen, Christophe Decarnin for Balmain and Tom Ford circa Gucci, she says she doesn't feel connected to the fashion industry and in a lot of ways is very alienated from it.
"I think the fashion pace I move at is a lot slower. I can be fairly cautious with new trends and have a tendency to look both ways – past and future. Also, I'm never going to be what the fashion industry promotes and I think alienation can spurn alienation. I feel like I want to say "screw you back" which makes the things I wear and make more out there. It spirals."
Kristen's workspace is a small basement nook in her Brooklyn apartment where she houses two industrial machines, a serger and a Singer tabletop machine ("I always prefer a vintage or industrial machine. My Singer tabletop works pretty well for a newer machine, but the more metal the machine is the better in my opinion!"). New York has been, as for most transplants, an adjustment and space is a highly coveted commodity, but there are many benefits in the city for young designers and for Kristen it's a great place to build her business.
"I think NYC is such a Catch-22. There are times when I think this place is the best, other times I think it could be easier elsewhere. Ultimately, if you can make it here, you can make it anywhere, and I think New Yorkers love and search out new designers and unique pieces. I think the crowd here tends to be a little more adventurous and has fashion forward tourists, which probably makes it a better spot for what I envision than any other city in the country. And I can get everything done here if I so choose. The industry has really shrunk, and I really think this is one of the only places where you can get everything from buttons to small production within a few blocks."

A snap from Kristen's Pop-Up Shop launch party
Carving her own path and making some serious headway over the last few months, Kristen recently worked on costumes for the off-Broadway production of Three Sisters starring Maggie Gyllenhaal and Peter Sarsgaard and is currently working on building up her own line's presence, both online and off.
"I'm hoping to launch an online store outside of Etsy in May to continue to sell other pieces outside of what I make and design. And I've spoken to a few people about being featured in other boutiques. I would like to have an established online and brick and mortar business. I think online is the way of the future, but there's nothing like running and merchandising an actual store."
We wish Kristen the best of luck and look forward to seeing what she's up to next! If you're in the New York City area make sure to check out Kristen's pop-up shop at 278 Mott St – open Monday through Sunday until April 28th and see more of her work as well as inspirations and insight on her blog.
All pictures by Ada Li