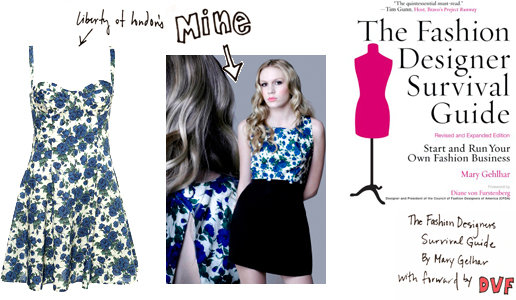 ShareThis
Someone asked me the other day how do you create a print on fabric. Basically there are 2 ways to achieve a print or design on fabric: the design is either woven into the fabric, i.e. plaid, or it is printed onto the surface, like screen-printing. Today you can virtually print anything onto fabric with digital printing, stamping onto fabric, an iron-on transfer or by screen-printing. One thing I find difficult for sewing hobbyists or small design labels is if you want to create small quantities of printed fabrics there have never been many resources. Here in New York the minimum order for printed yardage is in the 100s and sometimes we don't want that many yards, or we can't afford to print that much.
I've been investigating a bit and have found a couple of printing resources as well as helpful tools.
KarmaKraft
You can upload your artwork to be printed onto an array of fabric choices including cotton jersey and organic material. They also have a Cut & Sew service for those not in the know-how of that sort of thing. It's an interesting approach…
Spoonflower
I've mentioned Spoonflower before and I find it a relatively inexpensive way to print onto fabric. Though they lack a wide variety of fabric types you can still go onto the site and upload your prints & play with composition. It's a good way to visualize how your artwork would look on fabric.
Pantone
Pantone has a beautiful website which inspires & excites. I log in to figure our nice color combinations when I'm stuck.
The Fashion Designer Survival Guide
Written by Mary Gelhar with a forward by DVF, this book is a very informative read for designers including quotes by yours truly- I've been published!
Pictured above is a Liberty of London dress from their new collection and a Dahl dress I designed using the Liberty floral print fabric I bought here in New York. I thought it was funny when I saw they came out with a dress in this print!