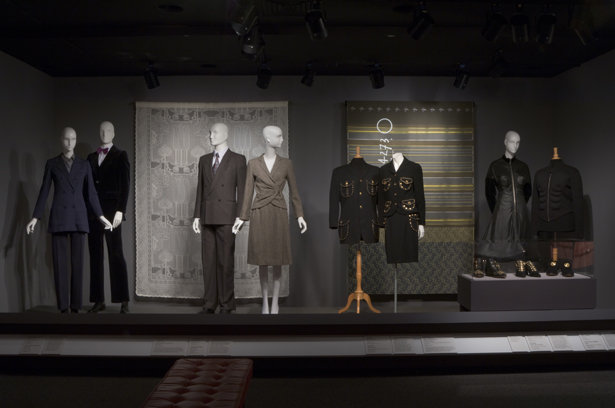 ShareThis
I recently attended the His & Hers exhibition talk and tour, one of the many free fashion culture programs organized by The Museum at the Fashion Institute of Technology. His & Hers examines the relationship between gender and fashion, addressing notions of masculine and feminine dress over the past 250 years. Exhibition co-curator Jennifer Farley led us through the Fashion and Textile History Gallery, starting with complimentary "his and hers" pairings from Yves Saint Laurent, Giorgio Armani, Versace, and Jean Paul Gaultier (pictured above). Saint Laurent, whose work is featured prominently throughout the exhibition, believed that men and women could dress similarly without dressing the same – a theme explored in His & Hers.
The exhibition proceeds chronologically, with the earliest piece dating back to circa 1760. Up until the late 18th century, fashion was a fairly reliable indicator of social status, with upper class men and women dressing similarly in many respects. For instance, a brocaded silk court dress is displayed alongside a green striped velvet man's suit embellished with lace and multicolor floral embroidery. Though the use of lavish textiles and adornments may be associated with femininity today, it functioned to display wealth and status in 18th-century court wear.

Left – Man's dressing gown, multicolor roller printed cotton, c. 1845, USA. Right – Black wool and silk satin tuxedo, ivory silk satin wedding dress, 1898.


We start to see a distinction between men's and women's wear in the 1800s, particularly in the latter half of the century. With the introduction of new synthetic dyes, women gravitated towards new, bright colors. While women's interest in fashion was considered frivolous at the time, menswear began to sober towards the dark and somber (with the exception of colorful, exotic garments worn at home, such as the dressing gown pictured above). Nearing the end of the 19th century, the strong influence of men's tailoring could be found in women's suits and sportswear.




Left – Louiseboulanger, ensemble: day dress and jacket, brown silk, 1929, France. Right – His: Cucci, man's tuxedo, navy slubbed silk, black satin, black wool, 1957, Italy. Hers: Fontana, evening dress, grey silk taffeta and raffia, c. 1957, Italy.


Enter the early 1900s. Paul Poiret explored the concept of a "corsetless" silhouette with an approach towards dressmaking that emphasized draping techniques as opposed to traditional tailoring and patternmaking. In the 1920s, we start to see a bit of androgyny in the fashion industry with the de-emphasis on curves and the social acceptance of women in trousers. The idea of the broad shoulder to make everything else look smaller originated in women's wear in the 1930s and would follow suite in menswear trends shortly after (think zoot suits).




Left – Pink cotton bouclé hostess apron by Bonnie Cashin, 1950s, black and red wool man's sweater, c. 1958, and white and red cotton sateen playsuit by Sportsmaker, c. 1955. Right – Purple wool man's suit by Jacques, c. 1965, and red wool woman's suit by Tape Measure, c. 1967.


The 1950s brought an even stronger demarcation between men's and women's wear, a contrast seen in the pairing of a boxy cut gray flannel suit for men with a tailored Christian Dior dress which featured seaming and belting to highlight the small waist. Dior had a preference for dressing "flower-like" women and with the advent of the "New Look," the emphasis shifted once again to ladylike dresses and the hourglass silhouette. As seen in the Tom Brigance playsuit pictured above (one of my favorite pieces in the exhibition), the shirred cummerbund panel highlights the diminutive waistline.




Left – Mr. Fish, man's suit, stenciled beige velvet, c. 1970, England. Right – Miami Vice, man's suit, white linen, magenta cotton knit, aqua cotton, 1989, USA.


The 1960s represented a rise of an international youth culture, with many styles closely linked to pop music. The "Peacock Revolution" brought more variety in color and a mod look, a rare instance in fashion when menswear appropriated elements of women's fashion. British boutique Mr. Fish boasted clients such as Mick Jagger and employed the use of boldly patterned fabrics and meticulous tailoring (as seen above with the stenciled velvet suit). Women during this time embraced hot pants in response to the midi length, a move to reclaim their legs so to speak. Sets of jumpsuits were also introduced for both men and women, though the concept of unisex dressing never really took hold.




Left – Yves Saint Laurent, woman's tuxedo, black wool, black satin, ivory silk, c. 1982, USA. Right – Jean Paul Gaultier, man's skirt, navy felted wool, black leather, c. 1987, France.


Saint Laurent, a strong proponent of trousers for women, introduced his Le Smoking in 1966. This style of tuxedo suit gained traction in the fashion world, with emphasis on a long, minimalist look and a hint of sex appeal given the element of androgyny (the piece pictured above belonged to model Tina Chow). Gaultier, who frequently references masculinity and femininity and biologically what's "his and hers" in his work, introduced skirts for men (pictured above) in 1984, though this never achieved mainstream success. With the growing presence of women in the workforce in the 1980s, power suits came into play to balance professionalism with femininity. In addition to the fitness craze going on at the time, menswear also leaned towards a softer, more deconstructed look, as seen in the pastel men's ensemble from the American television series Miami Vice (pictured two rows above).




Left – Red checked silk, brown tweed, and brown corduroy woman's ensemble and brown corduroy man's suit. Both by John Bartlett, Fall 2010. Right – Olive wool coat and chartreuse net dress, olive wool coat, denim shirt, and black wool trousers. Both by Burberry Prorsum, Fall 2010.


Despite a history of breaks in gender boundaries, runway collections continue to be categorized as menswear or women's wear. Nevertheless, the continuing trend of appropriating masculine elements of tailoring in women's fashion, for instance, can still be found in the work of contemporary designers such as John Barlett and Christopher Bailey for Burberry Prorsum.
Photos courtesy of The Museum at FIT.
His & Hers is on view in New York until May 10, 2011 at The Museum at FIT located at Seventh Avenue at 27th Street, New York, NY 10001.