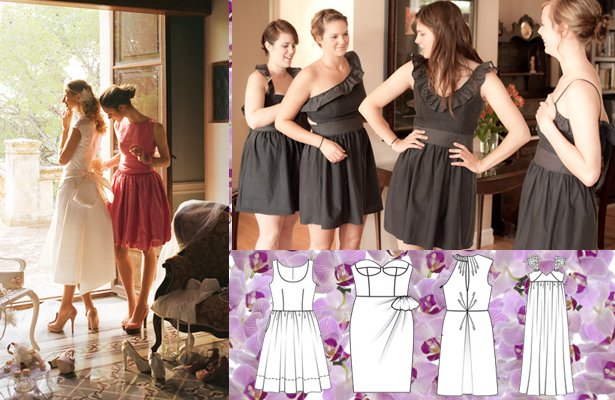 ShareThis
So it's Springtime and wedding season is in full force. My boyfriend's sister is getting married this summer and I've been going back and forth for weeks over what to wear. To be honest, I haven't been to many weddings during my adult years and the puffy floral dress with matching dyed shoes I wore to my aunt's wedding when I was 5 years old doesn't do much for inspiration today.
Weddings are touchy subjects for many women (have you seen the show Bridezillas?) and the last thing you want to do is either a) under dress or b) over dress. If you're heading to a wedding this summer, I put my own guest attire hunting skills to the test and pulled together some great BurdaStyle patterns and fun styling ideas that will hopefully help you make a great look to get you through the season in style.
There are really only two strict rules when getting dressed for a wedding and they are:
1. Do not wear white
2. Do not outshine the bride
Easy enough, right? Well, you would think so but when it comes right down to it, figuring out what to wear to a wedding is tough. Much of it depends on what time of day the wedding is, where it is and the family's background (you don't want to show up to a super-religious ceremony in a low cut dress and spike heels). Once you have your invitation in hand you can figure out what level of glam you need to aspire to and go from there. If dress isn't specified on the invite, check the time of day and where the ceremony is located to get a better idea of how to outfit yourself.
There are three standard breakdowns for wedding attire: Casual, Cocktail/Semi-Formal, and Formal/Black-Tie.
Casual/Outdoor – A casual wedding would seem like the easiest to dress for, however don't be deceived by the word "casual". There are no flip flops and tee shirts allowed (unless specified, of course) so think more along the lines of a chic outdoor party than couch surfing on a Saturday afternoon. Cute, summery dresses in bright colors or bold florals are always a good choice. And definitely check the ceremony's location when choosing your footwear because 4 inch heels on soft grass is just a disaster waiting to happen. Repeat after me: wedges and flats are my best friends.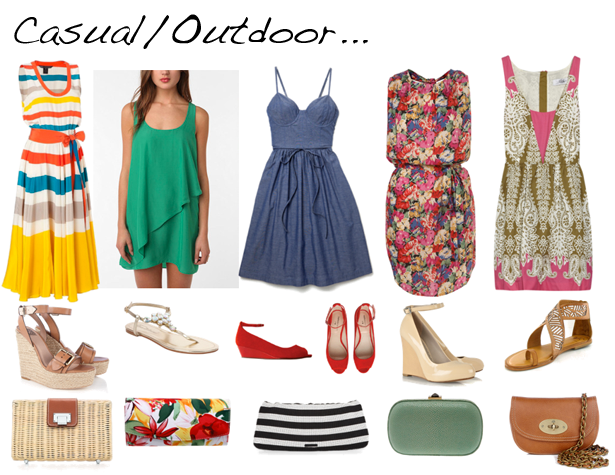 From left: Dress – Marc by Marc Jacobs, shoes – Pour la Victoire, bag – Tiffany; dress – Urban Outfitters, shoes and bag – Debenhams; dress – Steven Alan, shoes – Marais, bag – BCBG; dress – Topshop, shoes – Marc by Marc Jacobs, bag – Kara Ross; dress – Tibi, shoes – Diane von Furstenberg, bag – Mulberry.


Patterns from left: Tank Dress with Gathered Skirt, Ruffle Back Dress, Knee Length Dress with Pockets and Low Back Dress.
Semi-Formal/Cocktail – Late afternoon and evening (indoor) weddings can be classified as a semi-formal/cocktail affair. Get dressed up as if you're going out to a really nice dinner or drinks with friends at a swanky club. Remember to keep it classy, no plunging necklines or micro minis, and keep the colors darker – think jeweled tones, silvers and of course, black. You can have a bit more fun in this category so experiment with interesting shapes, cool accessories and, since you have nothing more treacherous than a dance floor to contend with, killer shoes.

From left: dress – Maison Martin Margiela, shoes – Isabel Marant, bag – Hunting Season; dress – ALLDRESSEDUP, shoes – Christian Louboutin, bag – Diane von Furstenberg; dress – Notte by Marchesa, shoes – Giuseppe Zanotti, bag – Fab; dress – Asos, shoes – Rubert Sanderson, bag – Judith Leiber

Patterns from left: Dress with Asymmetrical Collar, Ruched Front Evening Dress, Bustier Dress and Bow Back Dress.
Formal/Black-Tie – This is when you get to pull out all the stops: sleek gown, sweeping up-do, and a serious dose of sparkle (whether with your shoes, bag or jewelry) – it's like your own night on the red carpet. Long gowns are usually best for Black-tie occasions, but you can get away with a dressy cocktail frock or even a sleek pantsuit in a dark color. And fabric is key – I would stay away from cotton or linen for a formal affair.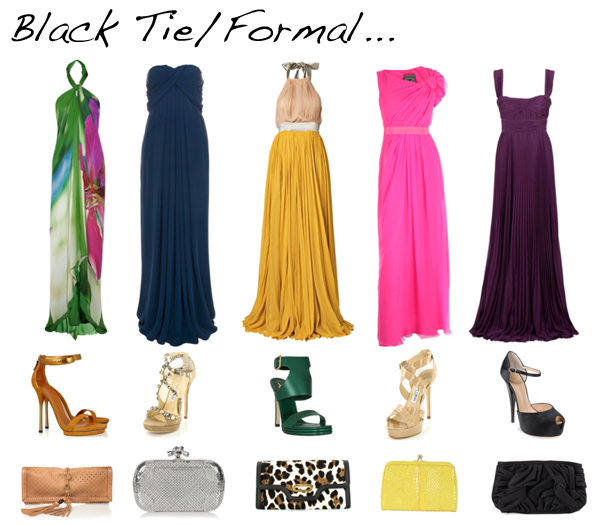 From left: dress – Roberto Cavalli, shoes and bag – Gucci; dress – Matthew Williamson, shoes – Jimmy Choo, bag – Bottega Veneta; dress – By Malene Birger, shoes – YSL, bag – Jimmy Choo; dress – Maxmara, shoes – Jimmy Choo, bag – K Wick; dress – Elie Saab, shoes – Guiseppe Zanotti, bag – Shop Fris</span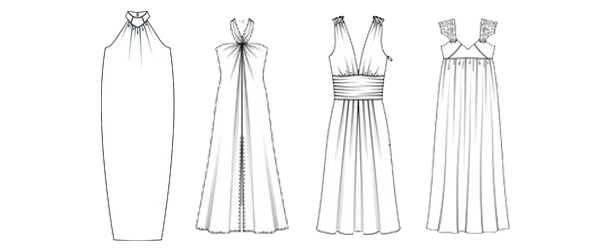 Patterns from left: Sleeveless Column Dress, Criss Cross Halter Dress, Drape Dress, and Jeweled Evening Dress.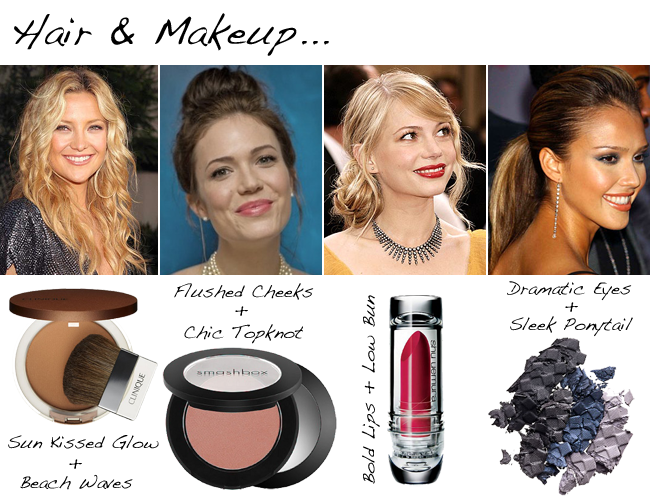 From left: Kate Hudson, Mandy Moore, Michelle Williams and Jessica Alba. All photos via Hairdresser on Fire.
Products from left: Clinique True Bronze in Sunswept, Smashbox Blush Rush in Paradise, Shu Uemura Rogue Unlimited in 165m, Revlon Colorstay eyeshadow quad in Sultry Smoke. All photos via Allure.
For outdoor and casual weddings, keep your hair and makeup as fuss-free as possible. Don't expect that there will be mirrors to check your lipstick, and the wind will undoubtedly whip whatever hairstyle you left the house with into a frenzy, so loose waves or up-dos and minimal makeup are the way to go. Tinted moisturizer (plus concealer if needed), bronzer and lipgloss will have you set.
Semi-formal and formal occasions require a bit more glam. Bold lips or smoky eyes should do the trick – separately though, put them together and you walk a very thin line between glamour girl and drag queen. As for your hair, you can either go super sleek or loose and a little mussy – it really depends on your style. However, I wouldn't recommend straight up bedhead, so make sure to maintain your frizz!
AND since there were some lovely ladies out there looking for sleeved dresses and flat footwear options, I pulled together a few more ideas….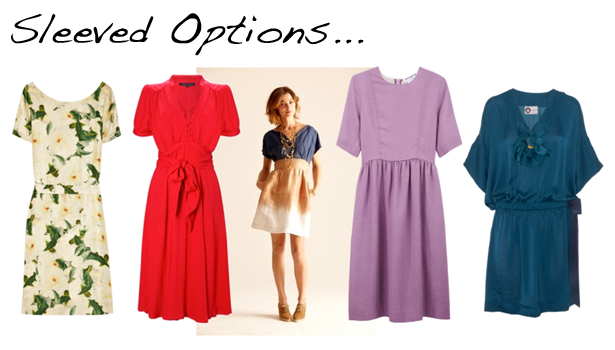 From left: Erdem, French Connection, Calypso, Charles Anastase and Lanvin.


Patterns from left: Dress with Peter Pan Collar, V-Neck Dress, Kimono Dress, Drop Waist Dress.

From left: 3.1 Phillip Lim, Jaeger, Eileen Fisher, Giambattista Valli.

Patterns from left: Peplum Jacket, Cropped Jacket, Wide Lapel Jacket, and Shirt Jacket.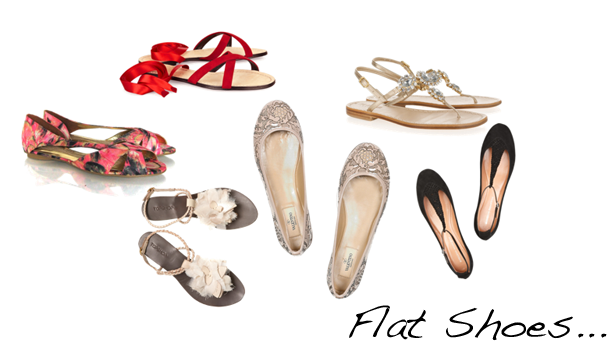 Clockwise from left: Tulsi, Dolce & Gabbana, Musa, Sigerson Morrison, Valentino and Topshop.
Anyone else headed off to a wedding this summer? If so, do you plan on making your dress or ensemble? Or if there are any wedding guest veterans out there: share your advice for what to make/wear for the occasion!