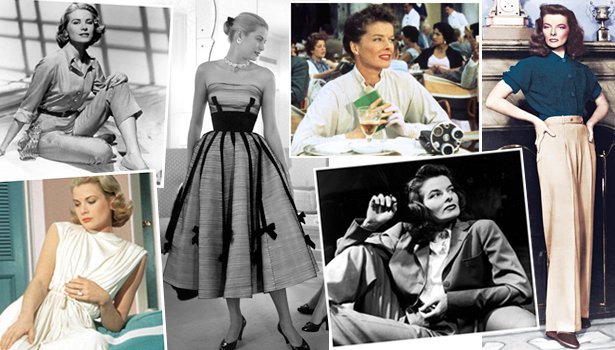 ShareThis
November is a month full of stylish birthdays: Marie Antoinette, Vivienne Leigh, Hedy Lamarr and Lauren Hutton just to name a few. Two icons of style who would be celebrating birthdays this week as well are Katharine Hepburn (Nov. 8) and Grace Kelly (Nov. 12).
Visibly at opposite ends of the style spectrum, both ladies were – and still are – regarded as icons in their own right and continue to influence legions of stylish ladies and designers alike. Whether you're keen on Grace's ladylike charms or Katharine's rebellious swagger, you're sure to find loads of sartorial inspiration from these Hollywood stars.
Grace Kelly was born on November 12, 1929 in Philadelphia, PA. Her father was an Olympic athlete and her mother spent time as head of the Physical Education Department at the University of Pennsylvania. Grace modeled during high school and spent time in the famous Barbizon Hotel for Women in New York. She began acting in movies for powerhouse production company MGM in the early 50s and was nominated for her first academy award for her role in Mogambo. Kelly starred in three Hitchcock films – Dial M for Murder, To Catch a Thief, and Rear Window and won an Academy Award in 1955 for her role in The Country Girl. 1956 would mark her last year in the film biz, as she married Prince Rainier and took the title as Princess Grace of Monaco.
Kelly has left an indelible mark on fashion, most notably to the masses with the equally iconic Hermès Kelly bag and her fantastic costumes in Rear Window, and you can periodically feel her classic, feminine influence pop up in designer and runway collections.

Patterns clockwise from top left: Sleeveless Blouse, Wrap Blouse with Ruffled Collar, High Waisted Trousers, Full Skirted Dress, Three Quarter Sleeve Coat.
---
It wasn't until her memoir was published in 1991 that Katharine Hepburn revealed her true birth date as May 12th. She had spent nearly the entirely of her life telling people she was born November 8th, which was actually the birthday of her older brother Tom who committed suicide in 1921. Regardless of her actual date of birth, I'll take any excuse to sing the praises of Hepburn's individual and fearless style.
Born in 1909 to an accomplished surgeon (father) and an active feminist (mother) in Hartford, CT, Hepburn was a self-proclaimed tomboy and avid golfer. She studied philosophy at Bryn Mawr College but was determined to pursue an acting career. After spending some time in the theatre, she was spotted by a scout for Leland Hayward and snagged her first film roll in A Bill of Divorcement which made her an instant star. Acting in over 40 films throughout her career and receiving 4 Best Actress Oscars, Hepburn was also named the greatest female star in the history of American cinema by the American Film Institute.
While Kelly's style was prim and proper, Hepburn pushed the envelope of women's fashion by sporting boyish trousers and oversized jackets. Never one to fall in with conventions, Hepburn's choice to wear trousers instead of skirts at a time when it was deemed inappropriate to do so did much to contribute to our modern ability to wear just about whatever we want, no matter what our gender.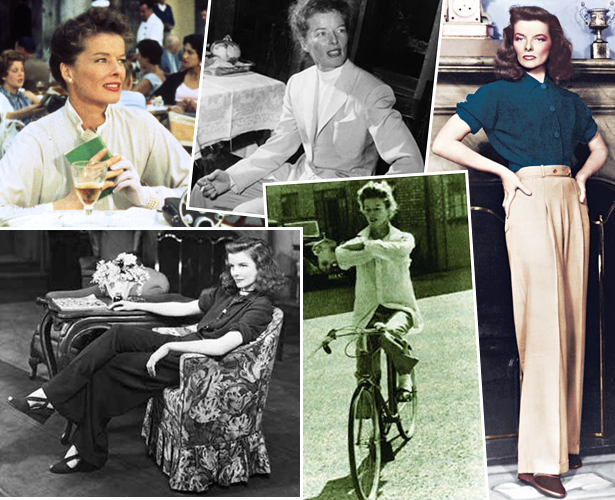 Patterns clockwise from top left: Safari Blouse, Swing Trench Coat, Wide Leg Trousers, Double Breasted Jacket.