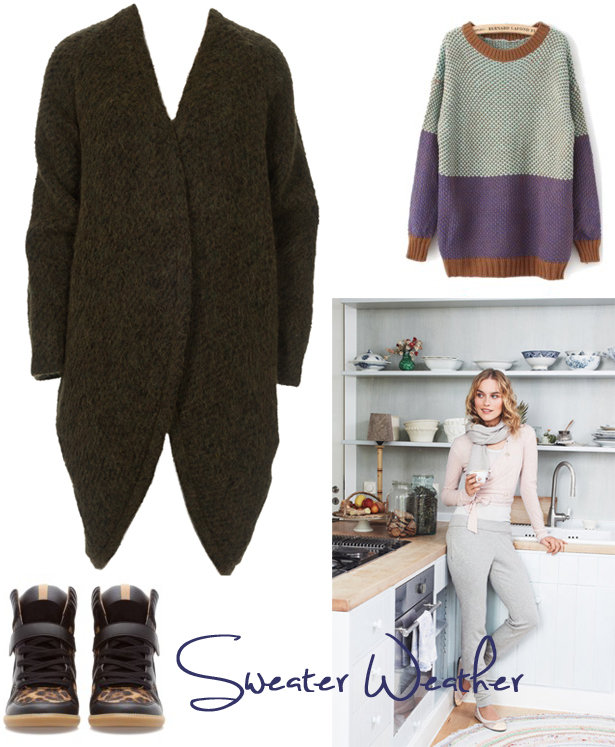 ShareThis
Not all trends come at the price of comfort. See how to wear oversized sweaters with preppy, sporty, and bohemian style!
Style blogs are full of cozy sweaters this time of year. A slouchy, oversized knit is so comforting, especially when you have to face a busy day of work, school, or errands in the snow. With a few key pieces, you can turn your favorite slouchy sweater into an on trend outfit!
One look popular on street style bloggers is the high-low pairing of an oversized sweater with a frilly skirt. The unexpected contrast between airy chiffon and a heavy knit makes a great day to night party look. Sequins are huge this fall, and the Sequin Skirt is so fun and feminine peeking out from a chunky sweater. Love the texture play, but don't like the sparkle of sequins? Try the Double Layer Skirt in taffeta and lace for a grown up take on glam, or get a hint of lingerie style with the Lace Shorts over a pair of tights.
Nothing is better on a brisk day than casual, comfortable layers. Plus, the more you pile on, the more you can show your personal style! Start with a henley, and layer on a cozy cardigan like the forest green Cocoon Cardigan or the grey Swingy Cardigan (both above). For maximum comfort, go for a skirt like the Swirl Maxi. Cutoffs and opaque tights are a little edgy for a casual concert, and High Rise Pants are polished enough for work. Broken in oxfords or moccasins are a good fit for this bohemian outfit.
For sporty, tomboy style, pick a brightly colored pullover. Our go-to pattern is the Crewneck Sweater, but you could go for a colorblocked style, or even a vintage sweatshirt from your favorite sports team. This is the simplest look to put together— just throw on a pair of fitted jersey sweats or stretchy black pants (we hate to call them jeggings) and sneakers. If you live somewhere warm, a fun pullover and a beanie might be all you need to keep warm all winter.
What do you think of oversized sweaters? Are they a style do or a definite don't? We're fans of layers at BurdaStyle, but we want to hear from you!
Happy sewing,
Mandie