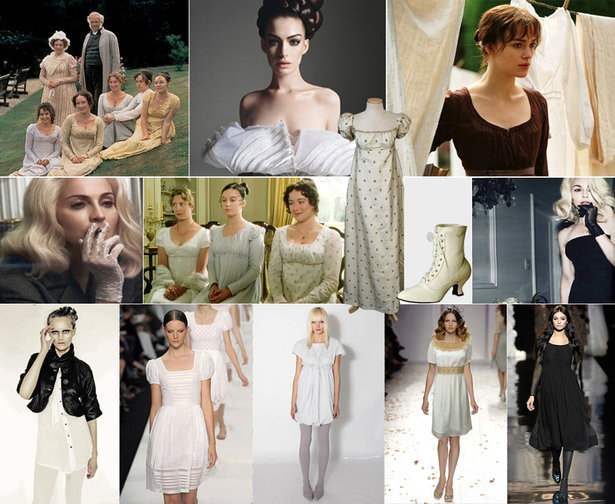 ShareThis
Last Spring my boyfriend & I bought a home in Clinton Hill, Brooklyn. After looking at dozens of old brownstones which had been raped & pillaged over the years (i.e. modernized with cheap, synthetic materials & cheated of their original charm), we found a diamond in the rough: a modest brownstone circa 1877 with most of it's original details intact, but desperately needing some love and tons of work. Over the months we have been reviving this old house of it's strong points and step by step, day by day, making it more livable and improved.

Our bedroom is finally finished and so far it's my favorite room (as I love to sleep), and we can lay in bed at night and watch films. The point of this post is that I have become completely obsessed with films which were set in the time our house was current, and Jane Austen's novels behold the stuff of which I am fawning over: Victorian decor & Regency dress. (Though the Regency was from 1811-1820, the fashion aesthetic appears in these films more broadly via artistic license. It was the time of transition between the Georgian and Victorian eras).

Think empire waists with gathered, waterfall skirts. The dresses were modest, lacking the forced silhouette of extremely tight corsets with bursting cleavage, and underneath a simple chemisette (a side opening half-blouse) was worn, which made for a Classical look, inspired by Grecian draped gowns. Normally made from embroidered fine white lawn, muslin or batiste these dresses were primarily made in white (which can easily soil), which symbolized social status. Austen's heroines always wear a small, cropped jacket over one of the empire waist dresses when outside, lace up leather boots and a pair of short leather gloves.

Above is a collage I've created of Regency dress and how to interpret that into a modern wardrobe. Our Francesca Dress offers a very similar silhouette. Enjoy!