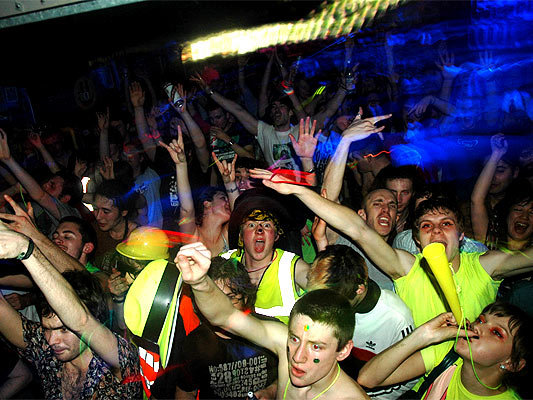 ShareThis
This week, BurdaStyle gets its groove on.
PLAYLIST
BANGFACE
Everything I know about rave can pretty much be summed up by three things: The movie 24 Hour Party People, glowsticks, and the Pulp song "Sorted for E's & Wizz." The few raves I went to weren't really raves, at least not in the view of a girl sorted for neither e's nor wizz. The first one I attended set the tone: A few people dancing in a pasture to bad four-on-the-floor techno you could barely hear, as disinterested dealers elbowed through the crowd trying to make eye contact with buyers. I remember one girl throwing up on some weeds near the blanket my friends had laid out; I remember another one, shirtless, sitting in the dirt staring at her hands. People passed 40s around and, yes, there were glowsticks. You have to handicap for the fact that this was Central Florida, but even so the whole event had the aura of late-era desperation to it, revelers trying hard to live the dream before it died. About a month later, I asked my mom, in so many words, whether I could go to a rave the following weekend. That's how little the rave scene impressed me: I didn't feel compelled to lie to my parents about it.
When I moved to London after college, I got a new window onto rave – not by going to raves, because that ship had sailed – but by befriending people who'd made the scene in its halcyon day. As they described it, rave wasn't just a party: It was a protest against everything that got you down; it was Dionysian, communal, a pure expression of life to the fullest. Or, as I understood it, a recurrent Woodstock, but less muddy, with better drugs. I suspected a generational case of rose-colored glasses, a suspicion confirmed by the Pulp song and then exploded, utterly, by 24 Hour Party People, Michael Winterbottom's amazing exegesis of the Madchester scene. The movie isn't sedated by happy nostalgia, not at all, but as it plots the rise and fall of the club Hacienda, 24 Hour Party People does make real that rave was legit, a cultural moment of abandon never to be relived.
London club Bangface is trying its best to prove that rave can be revived. I haven't been to Bangface, so I can't in good conscience tell you anything about it except that kids in the U.K. are going crazy for the club's all-night throwdowns, making pilgrimages from everywhere and dancing 'til they pass out. I vouch for nothing, but even so, I recommend checking Bangface out: If it's all hype, small loss, but if Bangface is for real, well, best to catch the hedonic wave now, on it's way up. Believe me: There's nothing worse than getting to this kind of party when it's about to be over.
Playlist's best of the rest, Lousy Hipster iMix Edition:
1. Klaxons, "Golden Skans." Um, I'm not totally clear why England's NME christened The Klaxons the kings of "neo-rave." Track "Atlantis to Interzone" on last year's Xan Valleys EP had some banging techno interludes, yeah, and The Klaxons principals do cotton to baggy clothes in a fluorescent palette. In a style over substance world, I guess that's enough. Mostly, The Klaxons make sort of anodyne, dance-infused Britpop, and mostly, I think it's kind of obnoxious; the band name-checks Pynchon, like, constantly. But "Golden Skans," off the Myths of the Near Future LP just released Stateside, does indeed vibe Madchester: This is a great party tune, the sound of a good night on great X, everything bright and blurry and going too fast.
2. LCD Soundsystem, "Someone Great." Let us now bow down before James Murphy, the main man in LCD Soundsystem, impresario of DFA Records, and the guy who's managed the rare feat of simultaneously taking potshots at the hipsters, birthing a new generation of them, and leading the whole douchebag scene out onto the dance floor. You could write a dissertation about first LCD single "Losing My Edge" all by itself, so vexed is the song's relationship with its maker, its intended audience, and itself. ("I hear that you and your whole band sold your guitars and bought turntables./ I hear that you and your band have sold your turntables and bought guitars./ I hear that everybody you know is more relevant than everybody I know…") "Someone Great," off new record Sound of Silver, is not vexed at all. It's an intimate, rhapsodic love song with lyrics so disarmingly simple, they can't help but break your heart. Never mind that the backing loops and chopped beats are more sonically adventuresome than anything else coming out of New York City at the moment; this is only a dance number if the dancing you want to do is the slow kind.
3. Hot Chip, "My Piano." My hands-down favorite dance track of the past few years is Hot Chip's "Over and Over." The song took a while to catch up with me, and that's what I like about it; "Over and Over" is the kind of track you just find yourself jamming to, and then you don't mind when you can't get the chorus out of your head. All of Hot Chip's stuff is like that, sedating you into a groovy feeling, and it's also cool in the best way possible – slick as hell, made by nerds, and a bunch of funky nonsense. If Spike Jonze were a band, and that band wasn't the Beastie Boys, he'd be Hot Chip. New track "My Piano," from the band's forthcoming DJ Kicks remix compilation, sees Hot Chip traveling into darker and more analog territory, and it's the best Hot Chip thing since "Over and Over," hypnotic and addictive. Myspace only, for now.