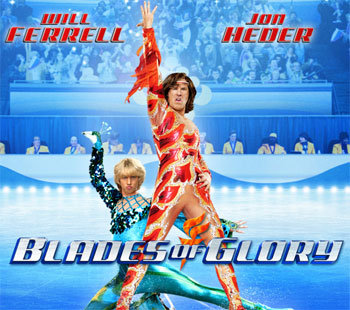 ShareThis
This week, BurdaStyle takes off, goes off and gets off track.

PLAYLIST

BLADES

OF

GLORY

As long as we're on the subject of winter sports, I'm going to admit to an obsession with Blades of Glory. Coming from a girl who's seen Foreign Film winner The Lives of Others twice, once to watch and once to take notes, this is an odd confession. I usually take a pass on the big comedies. Moreover, I'm a Will Ferrell skeptic. Playing George W. on SNL: Awesome.

Talladega Nights, eh. His song at the Oscars: Definitely the evening's highlight, but that's not saying much. I couldn't get into Anchorman and I spent much of Stranger Than Fiction wondering what a "real" actor would have done with the part. But all my ambivalence toward Ferrell went out the window when I saw the Blades Of Glory trailer. Together with Jon Heder, who I despised in Napoleon Dynamite, a movie I would have strangled if you could in fact strangle a movie, Ferrell and Blades of Glory are giving me something to look forward to all March long. Oh yeah: And Will Arnett of Arrested Development, his screwball wife Amy Poehler, and a script that

looks to be a takedown not only of pro figure skating but also gay marriage politics and homophobia in general… I'm, like, freakishly enthused, and queuing up that trailer has become my favorite fashion procrastination. Don't know what to say about Dior? Play it again, YouTube.

Playlist's best of the rest, 100% Off-Topic Edition

1. "PORNY." Speaking of procrastination: When I see a new word that I like I feel it's my duty as a writer to circulate it. Thus, "porny," courtesy of James Wolcott's column in Vanity Fair. He had lots to say, but I got stuck on "porny," the ace descriptive for our exhibitionist times. Dolce & Gabbana's fall show: Porny. Anna Nicole coffin pix: Porny. Do me a favor: Use it.

2. FUNKY SQUAREDANCE. As long as we're on the subject of random things I've come across while not thinking about fall fashion: Roman Coppola is a wackadoo. I mean this in the best way possible. At his website, you can learn about his ideas for things like a sports car limo, and his invention the Photo Bubble, an actually useful filmmaking tool, and you can watch his Dada-esque video for the Phoenix song "Funky Squaredance." If blogs were music videos, they'd be "Funky Squaredance." But only the good ones. Link it.

3. THE MIGHTY BOOSH. And as long as we're discussing stuff you can watch online instead of doing other more productive and remunerative things, I give you: The Mighty Boosh. It's possible that this BBC show makes perfect sense to people who have sniffed a whole tube of glue, but for the rest of us it's just gleefully bizarre. Two failed hipsters live in a flat with their roommates, a wizard and a gorilla, both deejays, and no, it's not a cartoon. The talking moon is a guy with whipped cream all over his face. Watch it.